After another exciting season, the show returns with Jurassic World: Camp Cretaceous Season 5. Nobody had imagined that the animated kids' spinoff would be so successful. But season after season, it surprised everyone by bringing a thrilling and monstrous storyline to the small screen. The fourth season ended on a cliffhanger, leaving everyone on the verge of their seats. It looks like things will be quite challenging in the fifth run. Let's take a look at what will happen next in the fifth run.
Based on Michael Crichton's Jurassic Park, the series follows the struggle of Darius Bowman. After winning a video game, he gets an opportunity to visit an exclusive adventure dinosaur camp, Camp Cretaceous on Isla Nublar. There Darius also meets with five teenagers, Yaz, Ben, Kenji, Brooklynn, and Sammy, who were also selected for the lifetime opportunity. However, when the dinosaurs break free of the place, the campers are left to deal with the situation alone. They need to find a way out.
Jurassic World Camp Cretaceous Season 5: Renewal Status!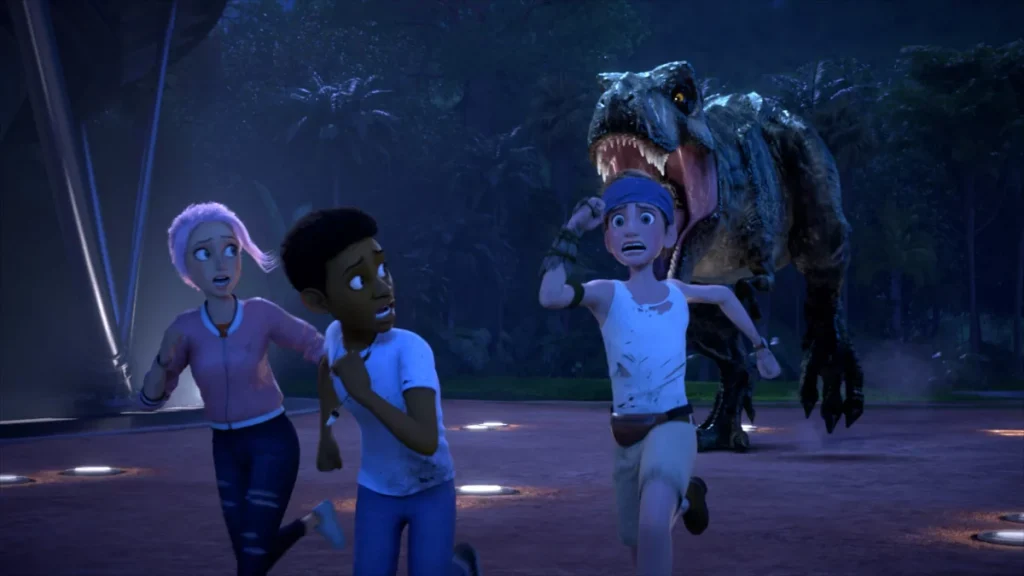 The fourth season aired back in December 2021, and fans were excited to know the future of the show. However, Netflix took a couple of months to decide the show's future. Back on May 3, 2022, Netflix announced that Jurassic World: Camp Cretaceous would return for the fifth season. However, the giant streaming platform soon revealed that the fifth season would be the show's final season. However, they will conclude the story with a feature film. 
Jurassic World Camp Cretaceous Season 5: What Will Happen Next?
Recently, showrunner Scott Kreamer revealed that Jurassic World Camp Cretaceous Season 5 would bring challenging situations to people's lives. As per the showrunner, the Camp Fam will face new threats. They will deal with more dinosaurs. Their relationship will be tested, and bonds will break or change forever. Despite the efforts and struggles the survivors had done, they will be challenged highly. The danger will never be so real, and the stakes will be higher than expected.
Will Kenji Accept His Father?
Throughout the show, Kenji's father seemed extremely busy with his work. He wasn't there during Kenji's upbringing. But in the fourth season, Kenji learned that his father was behind the experiments subjugating the dinosaurs. This revelation will leave him in a devastated state. His father will try hard to manipulate him so he can switch sides. But it looks like things would be quite hard for Kenji. Now it remains to see which side Kenji will select.
Brandon And Darius Reunion
Darius finally found Kash's phone and called his older brother Brandon. However, before speaking to him, Kash hung up the phone. Later in the episode, Brandon appears to be packing his bag, which seems like he will head to find his brother. But it remains unclear how Brandon will find the island and how he could manage to save his little brother and bring him home.
Jurassic World Camp Cretaceous Season 5: Who Could Be In The Cast?
All the main characters will return in the fifth run. Paul-Mikel Williams will return as Darius Bowman with Sean Giambrone as Ben Pincus. Kausar Mohammed will return as Yasmina "Yaz" Fadoula with Jenna Ortega as Brooklynn. Ryan Potter as Kenji Kon will join Raini Rodriguez as Sammy Gutierrez.
Jurassic World Camp Cretaceous Season 5: Release Date
Netflix has already announced the release date of Jurassic World Camp Cretaceous Season 5, which will air on July 21, 2022. However, the giant streaming platform has yet to announce when the feature film will air. Further, it remains unclear how the kids will deal with new problems in their life. Stay tuned. TechRadar247 will keep you updated.