Conor Anthony McGregor is one of the biggest players to have appeared in the UFC ring. The Irish man is a former UFC champ in the featherweight and lightweight. He is currently ranked 9th in the UFC lightweight rankings after getting knocked out for the second time in July 2021. Knocking out an MMA giant is a big feat, and Dustin Poirier has managed to down it twice after being knockout by Conor Mcgregor in 2014.
Dustin went one up on McGregor after defeating him twice in the Lightweight category at UFC 264 and UFC 257. Shockingly, Mcgregor has been knocked out only twice. And both of them have come against the former UFC Lightweight Champion. Hence, it is safe to say that Poirier had turned out to be McGregor's Kryptonite. Let's take a detailed look at these rare occasions which have witnessed McGregor on his knees and failing to get back up.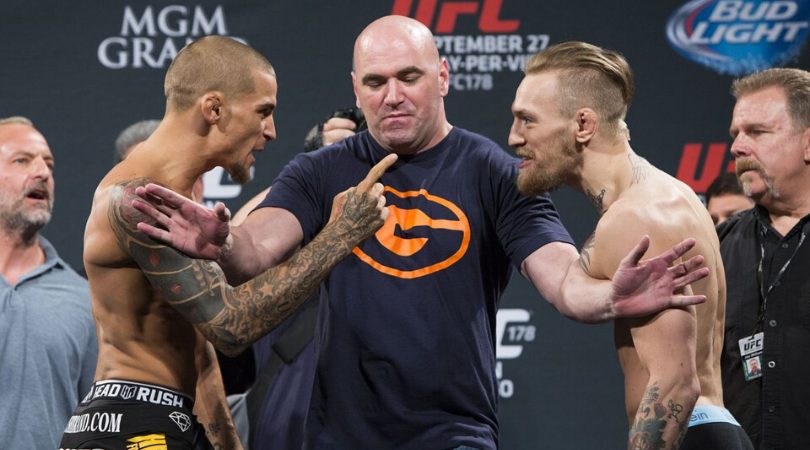 Conor McGregor Vs Dustin Poirier
The three occasions that McGregor and Poirier faced each other in the UFC ring have ended in a knockout. McGregor emerged victorious in their first bout at UFC 178, back in 2014. He knocked Poirier during their first encounter. Little did we know that the rivalry would turn out to be one of the most intense battles in the history of UFC.
It looks like Dustin Poirier waited for seven long years before he got an opportunity to get the pack back from McGregor at UFC 257. Dustin Poirier challenged McGregor after making it to the top of UFC rankings. This time, Poirier had the upper hand as he forced Conor to taste his first knockout defeat in UFC for the first time ever. He emerged victorious by knocking the tough Irishman out during the second round.
Conor seemed to be in good form during the initial round. However, Poirier came strong in the second round after draining out Conor's energy. He landed a series of punches pushing bleeding McGregor on the ground as the fight came to an end.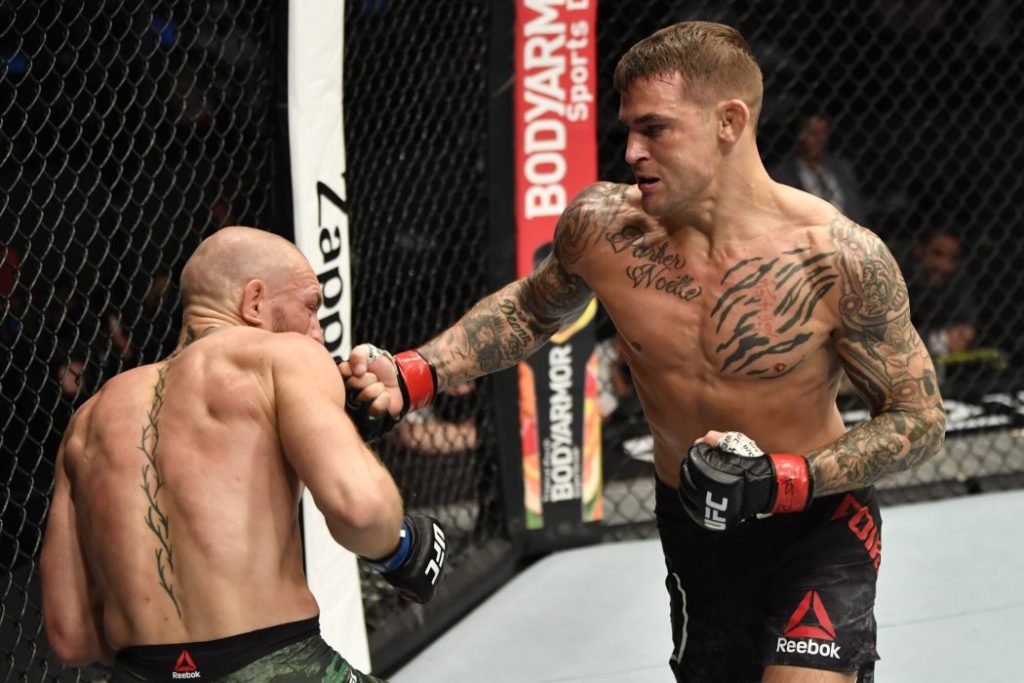 Fans were shocked to see the highest-selling UFV pay-per-view star getting defeated badly. Retired UFC legend Khabib Nurmagomedov also took a shot at McGregor after his embarrassing defeat against Dustin. McGregor was defeated by Khabib back in 2018. The defeat even gave rise to a huge fight which led to both the professionals being suspended for a long time. He accused McGregor of changing the team and betraying the people who stood beside him.
Meanwhile, McGregor spoke with Jon Anik in the Octagon after the fight. He was gutted by the loss and hailed Poirier to be a better fighter on the night. McGregor also addressed his fans on Twitter following his defeat in January 2021. The fighter revealed that it was not his night, but he hoped to improve on a great contest between him and Dustin. He was looking forward to their third fight and shared that Dustin is a hell of a competitor.
Conor McGregor Gets KO For The Second Time
After facing the first Knockout of his career, McGregor was dedicated to winning over Dustin during their trilogy fight. The lightweight champs went up against each other seven months later for their second fight in 2021. Sadly for McGregor, he had to face the second KO of his career with the hands of Dustin Poirier. He knocked McGregor out during the first round this time.
The two champs battled against one another for five long minutes before Dustin began an assault leaving McGregor on the floor again. However, a lot of people questioned the legitimacy of the decision-making in Louisiana. All three judges scored the round for "Diamond," and two of them ruled in Dustin's favor with a 10-8.
McGregor and the fans began demanding a rematch soon after the fight. Undoubtedly, the battle between McGregor and Dustin has grossed some massive PPV numbers for the UFC. Hence, it won't be a massive surprise if we get to see the fourth encounter between McGregor and Poirier in 2022.
Fans Response To McGregor's Defeat
Fans were not very pleased by watching the Irish superstar being knocked out twice by the same opponent. The fans felt that McGregor lacked intent, and clearly, Poirier looked to be a better fighter in the ring. Moreover, fans across the globe were busy criticizing McGregor's performance during the fight.
The fans who did not expect Conor to get slumped so easily shared many memes on Twitter. Meanwhile, the fans also thought that McGregor needed to work a bit more on his form and motivations. Thus, if we get the fourth fight, it will be extremely exciting to see who comes up as the winner during one of the most entertaining fights in UFC history. Hopefully, McGregor does not end up getting knocked out thrice in a row.