The first season of The HBO Max comedy-drama series Minx followed Joyce Prigger teaming up with Porn publisher Doug Renetti to revolution porn in 1970s Los Angeles. The first season of the series, which ended on April 17, left Bottom Dollar Publications struggling against several lawsuits. Now it will be interesting to see what Minx Season 2 has in store for the fans.
Minx Season 2: Renewed?
The first season of the comedy series concluded on HBO Max on April 14, 2022. Meanwhile, in regards to Minx Season 2, here is what we know. As of now, HBO Max has not released any statement about the renewal of the series for next season. But fans have a reason to be excited as the producer of the series Paul Feig has clarified that the show has been planned as a multi-season project.
Paul stated, "When you set up a show and you go in and pitch it, you have to be able to pitch up to Season 3 and Season 4. Not in great detail, but to go. 'Here's where this show is going.' So, yeah, we know where Minx is going."
On the other hand, showrunner Ellen Rapoport also said, "I think what happened was so interesting. How the whole country took a real conservative shift with Reagan being elected president and how the feminist movement really splintered in two with the pro-pornography and the anti-porn feminists." Therefore, there are very strong chances of the show's return, but we will have to wait for the official confirmation.
What To Expect From Minx Season 2?
At the end of the first season of the series, Multiple lawsuits and objections hampered the working of Doug's company Bottom Dollar Publications. Meanwhile, Joyce decided not to go back to Bottom Dollar as she didn't like being controlled by Doug. However, Doug gave away the magazine to its creator as he realized that Joyce could not be replaced in Minx.
Elsewhere, Shelly shared an intimate moment with Bambi before she returned to her husband Lenny again. Tina's application was accepted by The University of Chicago. And Westbury was still fighting against Doug's publication house to ban porn in the San Fernando Valley.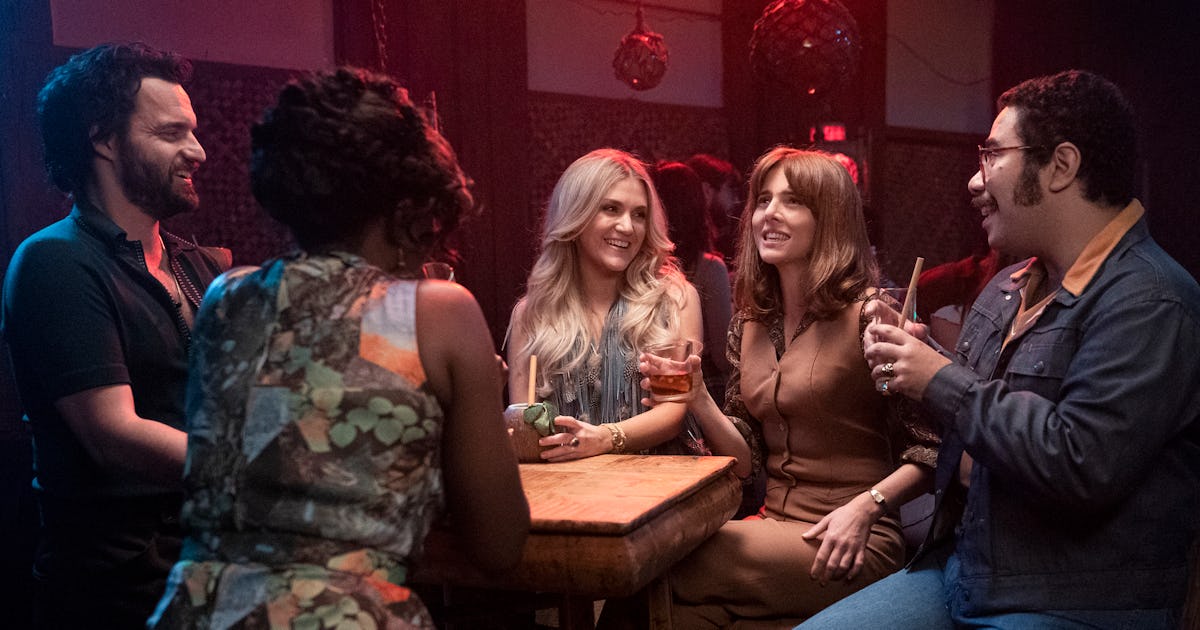 When the show comes back with Minx Season 2, the story will be continued after season one's events. We will learn what is the future for Bottom Dollar Publications and Minx in the midst of ongoing lawsuits and protests. The second season could also focus on Joyce building her independent career in publishing with Minx without any interference from Doug.
Doug may battle Westbury's attempts to prevent his publications from saving his business. He may also have to deal with Tina's potential relocation from Los Angeles to Chicago, which will undoubtedly impact their relationship. Shelly is anticipated to keep working on her relationship with Lenny. On the other hand, Bambi and Richie might team up with Joyce to publish Minx.
Why Do Fans Love Shelly?
Minx is a one-of-a-kind show since it has two out-of-place characters who assist in introducing the viewers to the world of pornography magazines. Joyce's older sister, Shelly, is a stay-at-home mom with two children. She also contributes her own enthusiasm to Bottom Dollar as a result of her unique position.
Shelly is astute and patient, whereas Joyce scorns her for conforming to conventional expectations for women. She repeatedly demonstrates that she is capable of subverting them. She's a straight shooter. On the other hand, she always comes from a place of love and compassion. Even though she does not belong in the pornographic world, Shelly is never condescending and is always eager to help her sister realize her aspirations. She is the most likable in the end because she has so much to give to the world. Particularly her younger sister, who is always in need of a shoulder to cry on.
Also Read DMZ Season 2: Renewed By HBO Max? Showrunner Patino Teases The Show's Future