Rowan Atkinson has finally returned to the comedy genre after a long wait with a quirky Netflix titled Man vs. Bee. The first season of the series ended with Trevor (Rowan Atkinson) getting out of prison and going on a vacation. However, the bee is still there to irritate him. Now, it will be interesting to see what happens in Man vs. Bee Season 2. 
Created by Rowan Atkinson and William Davies, Netflix's Man Vs. Bee is a hilarious comedy drama series. As the name suggests, the show is based on the simple yet funny concept of a man taking on a bee. The series has received much acclaim for Rowan Atkinson.
Will There Be Man vs. Bee Season 2?
The first season of the series premiered on Netflix on June 24, 2022. Now, talking about the potential return of the show with a second season, Netflix has not made any announcements yet about Man vs. Bee. However, it is not surprising given Netlifx's history. The streaming giant usually waits for a few months to analyze how a show has been performing before greenlighting it for another season. 
But if you are looking for a glimmer of hope for the second season, you will be glad to hear what director David Kerr said. He stated, "Both man and bee survive at the end of season 1. So yeah, the possibility of Man vs Bee season 2 is there… ultimately, it comes down to Rowan, who will rarely be rushed into anything,"
What To Expect From Man Vs. Bee Season 2?
The first season of Man vs. Bee revolved around Trevor, as he was trying to kill the bee, as the latter has become an insufferable affliction to him. After getting failed in many of his attempts, Trevor attracted the bee to a wooden compartment and blasted it using a bomb. However, the bee managed to get out alive. After that, he tried to use fire to kill it, but the entire mansion caught fire.
Trevor is sent to jail because of all the damage he has caused to Nina and Christian's property. At the jail, he overheard a thief admitting that Christian had paid him to steal the paintings so that he could conduct insurance fraud. Christian was detained when Trevor reported it to the authorities. Trevor took a trip with his daughter Maddy after being released from jail. Meanwhile, Trevor returned to his attempt to kill the bee when it returned to annoy him.
Upon its return, Man vs. Bee Season 2 may depict the bee continuing to disturb Trevor while he pursues it. He could attempt to repair his connection with Maddy following a "bee-interrupted" vacation. Trevor could begin a new endeavor before being stung by the bee once more. He could try different tactics to kill the bee if his previous efforts have failed, but this will probably cause further accidents. We may anticipate the bug to put Trevor's patience to the test again in the second season.
Cast Details!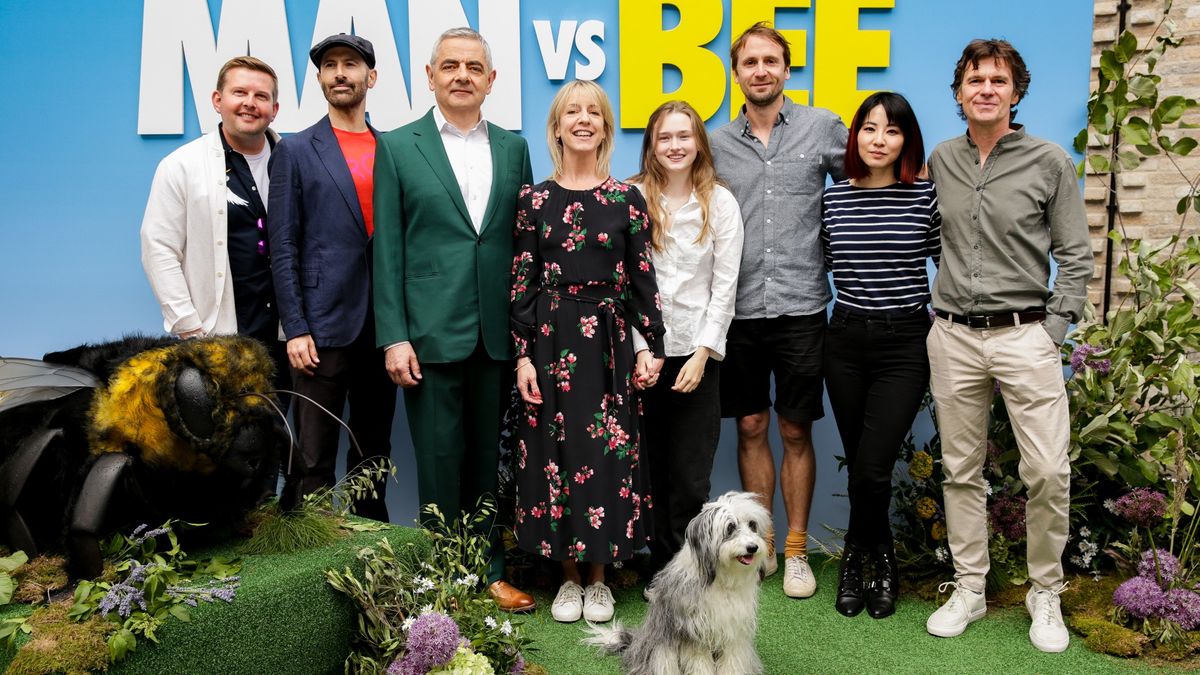 The cast of Netflix's comedy drama series features Rowan Atkinson in the lead role of Trevor Bingley, and Jing Lusi playing Nina Kolstad-Bergenbatten. Meanwhile, the show also stars Julian Rhind-Tutt as Christian Kolstad-Bergenbatten, Greg McHugh plays The Gardener, and India Fowler as Maddy.
In addition, the cast also includes Claudie Blakley as Jess, Tom Basden as the Police Officer, and Pixel as appears as Cupcake. If the series returns with Man Vs. Bee Season 2, we can expect most of the main cast members to return in their respective roles. At the same time, there might also be some new faces in the second season.
Also, Read Chad Season 2: Release Date Out! Find What's Next For Chad?