After a long and tiresome day at work, what we all crave is a feel-good comedy to take away all the fatigue. Netflix's sitcom Family Reunion provides just that, which is why the show has been a big hit among fans. And they are now waiting for Family Reunion Season 5, ever since the fourth season ended.
Created by Netflix's Family Reunion is a heartwarming family sitcom drama that debuted on the streaming platform in 2019. The show revolves around the hilarious McKellen family as they relocate from Seattle to Georgia to live as a joint family and the misadventures they come across along the way.
Is Family Reunion Season 5 Renewed?
The fourth season of the comedy series dropped on Netflix on August 26, 2021. Meanwhile, talking about the future of the show, luckily, we have the one that fans have been waiting for. According to reports, Netflix has greenlit the series for a fifth season. Unfortunately, however, the season will also be the final installment of the show.
Family reunion Season 5: What Might Happen?
The last episode of the fourth season of the comedy series was about M'Dear's birthday. However, she did not want to commemorate it because of the recent death of a close relative. At the same time, the kids found out about their parents having financial difficulties and declaring bankruptcy.
To support their parents, they all acquire jobs. However, given that Moz is starting a new career, their parents tell them they should not worry. M'Dear made a choice to go to her unexpected birthday celebration, and the whole family had a good time. Cocoa and Moz's announcement that they are expecting a second child brings the episode to a close.
Upon its return, Family reunion Season 5 will resume the storyline from where the fourth season ended. Season 5 will also include stand-alone storylines in each of its episodes. The McKellan family is about to become crazy with the impending arrival of a new child. The transition to Moz's new work may be challenging, and Cocoa's pregnancy may make it challenging for her to handle C by Cocoa. Grandparents will make an effort to assist with child care as the youngsters try to discover new things at school.
Who Will Star In The Fifth Season?
The cast of Netflix's family sitcom features Tia Mowry in the role of Cocoa, Anthony Alabi playing Moz McKellan, and Talia Jackson as Jade McKellan. Moreover, we also see Isaiah Russell-Bailey as Shaka McKellan, Cameron Wright playing Shaka McKellan, and Jordyn Raya playing Ami McKellan. Then there is Loretta Devine as Amelia/M'Dear, Richard Roundtree as Grandpa McKellan, and Warren Burke in the role of Uncle Daniel.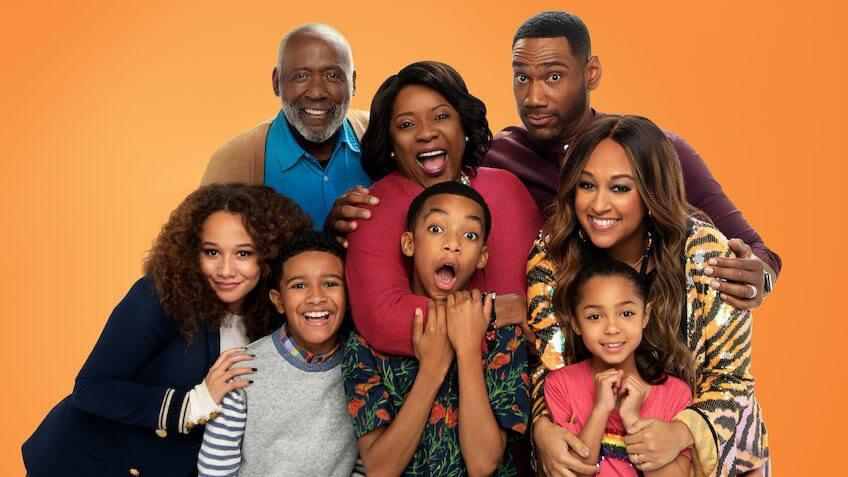 The cast also includes Lexi Underwood as Ava, Lindsey Da Silveira as Mikayla, and Telma Hopkins essaying Maybelle, among a few others. As far as we know, most of the main cast members are expected to reprise their roles. At the same time, there might also be some new additions to the cast in Family Reunion Season 5.
Family Reunion Season 5: Release Date
As of now, no release date has been announced for Family Reunion Season 5. But we assume it might be released in two parts, the first of which could debut in mid to late 2022. Till then, stay tuned with us for more updates about your favorite Tv shows.
Also Read Shaq Life Season 3: Has TNT Renewed The Series? What's Next For Shaquille O'Neal? Find Out Below