The first season of the British thriller drama series The Undeclared War premiered on Channel 4 in July 2022. As exciting as the first season of the show was, the ending left viewers with some unanswered questions. So, let's discuss what happened at the end of the first season of The Undeclared War.
The Undeclared War Ending Explained!
The Undeclared War ended by leaving fans jaw-dropped. At the same time, the season did not provide all the answers and left many things to the audience's imagination, even though they answered some of the show's most significant puzzles to date. Fans now know what absolutely fake Russia's end goal is, which may be wonderful or excruciating for others.
At the end of the first season, GCHQ was shattered to see John Yeabsley seen on TV in a Russian program. In the show, he openly claimed that British intelligence doctored an organized cyberattack on Russia. And they have deliberately been deceiving and troubling Russia all this time. On the other hand, the talented intern Saara was shocked that John had betrayed them. Regardless, she quickly deduced that Russia had fabricated the broadcast since it showed him making very obvious grammatical mistakes, something the careful John would never do.
Not long after, Russian television started to report that Britain had been targetting hospitals. And other important facilities in Russia in vindication of their "false" hacks. The relationship between GCHQ and the US National Security Agency during the assaults is in jeopardy due to data releases. It makes everything worse. To identify the source of the leaks in a seemingly worthless series of "junk" codes, Saara visits Gabriel, a fellow GCHQ employee, at his residence.
They found something interesting in the "garbage". It was a code for collecting and emailing GCHQ data. Saara was terrified and attempted to cut off the Russians, as they were covertly watching all this on their big screen. Meanwhile, Vadim Trusov is one of the Russian people observing it. In spite of one of the Russians threatening and assuring her coworkers that they already have "more than enough" information. Saara is ultimately unable to break the FSB's link totally. And Gabriel eventually takes over. Ironically, by the time the end of The Undeclared War reached its last moments, war was surely about to be declared.
The Undeclared War Cast!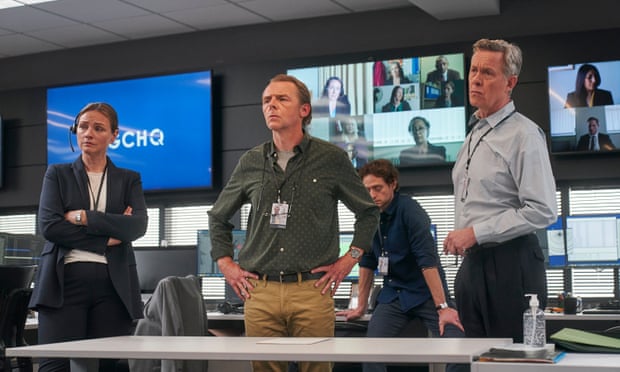 The cast of the thriller drama series stars Hannah Khalique-Brown as Saara Parvin and Simon Pegg plays Danny Patrick. And Maisie Richardson-Sellers appears as Kathy Freeman. Meanwhile, there is also Edward Holcroft as James Cox, Adrian Lester portraying Andrew Makinde, and Alex Jennings essaying David Neal.
In addition, there is Mark Rylance playing ohn Yeabsley, Alfie Friedman portraying Gabriel Davies, and Kerry Godliman as Angie McMurray. Furthermore, viewers see Joss Porter as Phil, German Segal as Vadim Trusov, and Tinatin Dalakishvili as Marina Veselova.
Also Read Defending Jacob Season 2: Will There Be Another Season? What's Next For The Barber Family?