American comic artist Jerrod Carmichael has been the talk of the town since his comedy video came to the surface. He finally opened up about his dating rumors and talked about his sexuality. Is Jerrod Carmichael gay? The audience wants to know about this for so long as he always kept his private life under wrap. So finally, fans will learn more about him. While everyone is curious about his personal life, Jerrod once again shocked the audience with his appearance in Golden Globe Ceremony. The open monologue said, "I'm here 'cause I'm Black." Is it? Let's see!
Early Life
Born in Winston-Salem, North Carolina, on April 6, 1987, Jerrod Carmichael has an older brother named Joe. He grew up poor and frequently mentioned that topic in his stand-up comedy. Surprisingly, Jerrod hosted a morning news show in his fifth grade on his elementary school's local access channel. He later graduated from Robert B. Glenn High School. Jerrod talked about his early comedic influences, including Bill Cosby, George Carlin, Richard Pryor, and Sinbad.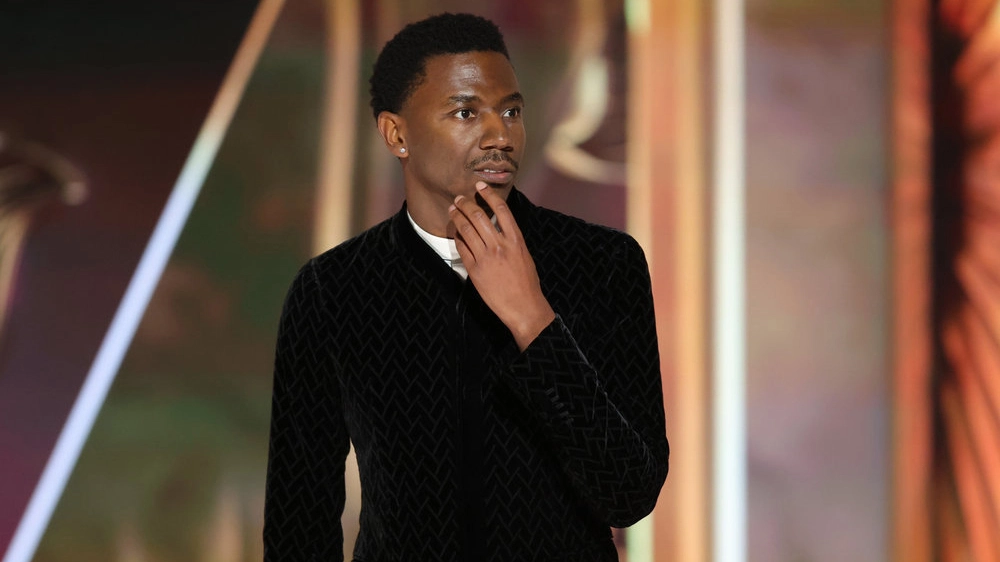 Jerrod Carmichael Career
Carmichael decided to pursue his dream of being a comic at 20. So he moved to Los Angeles and started his journey by performing at an open mic night in West Hollywood. He continued to perform stand-up acts in various clubs that exposed him to the entertainment industry. He appeared in New Faces in 2011. Later he appeared in The Goodwin Games and had his breakout role in the movie Neighbors in 2014. The same year he debuted in HBO stand-up comedy special Love At The Store. Jerrod then appeared in several comedy shows and served as EP for Rel, a Fox sitcom.
He was well-recognized and notable for focusing on subjects like the Black Lives Matter movement, gun rights, LGBT issues, politics, and the reality of being Black in America. Jerrod was also famous for his unusual style of comedy acts. He later appeared in the Creator's fifth album IGOR where he narrated the show with short phrases to help find the logic in the title character's state of mind. Later Jerrod directed, created, produced, and starred in the HBO docuseries Home Videos in 2019, and the same year he appeared in Sermon On The Mount. After the release of Rothaniel, Jerrod hosted Saturday Night Live for t he first time. While he remained popular for his great comic skills, he was also surrounded by rumors suggesting Jerrod Carmichael was gay. Is he? Let's see.
Is Jerrod Carmichael Gay?
Many of his fans always seemed curious to know about his dating life. They wanted to learn whether Jerrod Carmichael was dating someone. Most importantly, the audience wants to see if he's with a man or a woman. But Jerrod always kept his dating life private. Thus it remains unclear whether he's single or dating someone. While people seem eager for his dating life, he finally opened up about his sexuality. Is Jerrod Carmichael gay? Well, in 2022, he came out gay. His friend Ari Katcher, who helped craft a comedy special, encouraged him to write about his sexuality.
He remembered he had never talked about being gay on stage before. So it was his first time coming up with such a performance. But before revealing Jerrod Carmichael is gay, he learned how to say it and turn it into an act. Not only this, but Jerrod also discussed this topic on The Breakfast Club, that he accepts himself and his work, and he will going to present things as honestly as he can. Jerrod also mentions that he generally found a connection with men only and was romantically involved with them. But speaking about his romantic life, he remained mum. He never talked about it in his interview.
First Black Host In White Organization- Golden Globe
Jerrod is famous for his witty comic scripts, and he proved he's the lord of comedy with his wit when he got a chance to host the 2023 Golden Globe Award. The award ceremony appeared a couple of years after the Hollywood Foreign Press Association came under fire. It was due to the lack of diversity and unethical financial practices after the "black lives matter" protest that came to the surface. But Jerrod used this opportunity to mock everyone and said he got this opportunity to host such a great thing because they needed someone Black to host it. He cleverly stated that he didn't call the organization racist, but it is what it is.
What are your thoughts on Jerrod Carmichael's comment on getting a chance to host Golden Globe? Is he secretly dating someone? Comment down your thoughts below. Stay tuned. TechRadar247 will keep you updated.