The Big Bang Theory spinoff is finally approaching closer to the events that will lay the groundwork for the parent series. Young Sheldon Season 6 has already explored a lot, mainly focusing more on Missy and her rebellious nature. Well, in the parent show, Sheldon once said that Missy was a rebellious teenager, and now Young Sheldon Season 6 Episode 22 will prove it when she leaves her brother all alone. Further, Sheldon will make a surprising move. But it doesn't end here, as fans soon find themselves in a tornado. How? Keep reading to know that.
Young Sheldon Season 6 Episode 22: What Will Happen Next?
The upcoming episode, "A Tornado, a 10-Hour Flight And A Darn Fine Ring," will serve as this season's finale. Sheldon seems nervous as he's slightly afraid to travel, and George Sr. notices this. He tries to comfort Sheldon, but he makes him more worried during this process. George tells Sheldon that it's a 10-hour flight to Germany, so he needs to stay calm. And the funniest part is Mary is also traveling for the first time. So Sheldon needs to take care of her during this time, which surprises Sheldon.
Meanwhile, Missy and Sheldon have a fight which creates indifference between them. Sheldon tries to amend with her and tells her that he misses her. He also explains that he won't be there during the summer, so they should start talking. But Missy has no plan to forgive Sheldon and decides to cut all ties with him. While Sheldon and Mary leave for Germany, the rest of the Cooper family faces a tornado that heads straight for Medford.
A Quick Recap!
The previous episode opened up with Mary and George visiting Dr. Sturgis and informing him that they couldn't send Sheldon to Germany. They also begged him to drop this news on Sheldon that they couldn't accompany him to Germany for the summer program. Soon the scene shifted to Meemaw and Georgie having a small chit-chat before learning that someone had broken into the casino and stolen the cash overnight. It left the three of them devastated, and they decided to find the thief as soon as possible. At Cooper's house, Sheldon tried to learn German in his bedroom, so he brought Missy's tape recorder. Soon it led Missy to learn about her brother's plan and encouraged him to follow his dream.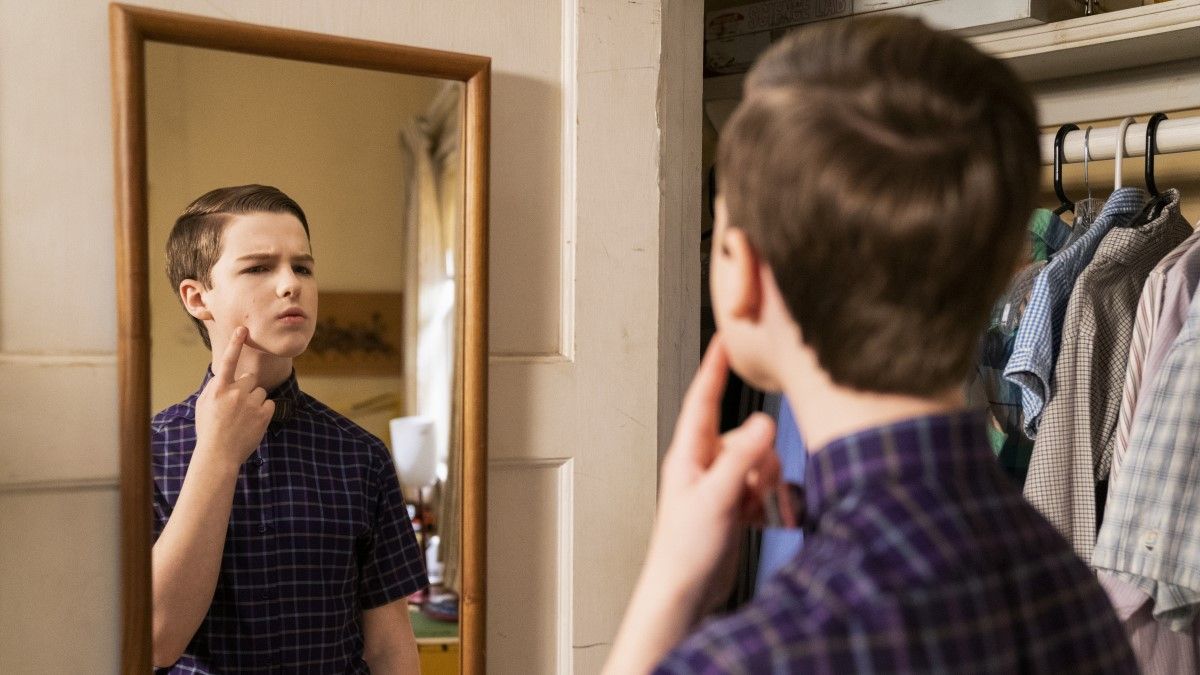 Following that day, Sheldon prepared snacks for his parents to make them change their minds. However, they informed him they couldn't send him to Germany because of financial constraints. Later that evening, Georgie and Dale shifted the money from the gaming area to Meemaw's place and kept an eye on it. Whereas Missy and her new friend Tanya sneaked out at night, the latter also encouraged Missy to try cigarettes. But Dale and Georgie confused Missy and Tanya for burglars and scared them off. Sheldon prepared to sell his old stuff the following day, and Missy and Mary helped him with the work. But it didn't go as per the plans. However, Pastor Jeff and Dr. Linkletter showed up with the money.
Young Sheldon Season 6 Episode 22: Release Date
Young Sheldon Season 6 Episode 22 will air on May 18, 2023, at 8/7c. The upcoming episode will be the second part of this two-part finale. It will finally reveal how the Cooper family deals with the newfound challenges. The hour-long finale will be available to stream on CBS. Meanwhile, the subscribers can catch it on Paramount+. You can also watch it on DirecTV, FuboTV, and Spectrum. Stay tuned. TechRadar247 will keep you updated.