GMMTV has recently brought their best eight different BL stories compilation under one roof, Our Skyy. Well, this latest Thai-BL drama has everything which fans love to see. Each episode focuses on the characters of eight different shows and how their lives get tangled up. Now in Our Skyy 2 Episode 14, fans will get a chance to see "A Tale Of Thousand Stars" characters back on screen, where they will reveal more about their chemistry and how things are going between them after their show ends. Isn't it interesting that fans were clamoring to know about their fate? And now they will get all answers. So what are you waiting for? Let's head to see how things will move now.
Our Skyy 2 Episode 14: What Will Happen Next?
In the closing moment of Our Skyy 2 Episode 13, Pran headed to a village to cover a story for his play. He intends to work on Teacher Tian's story, which brings "A Tale Of Thousand Stars" character on board. So now Our Skyy 2 Episode 14 will focus on Tian and Phupha's story arc and where they are now after their respective show ends. The preview of the upcoming episode hints that Pran meets Tian and is glad to see him.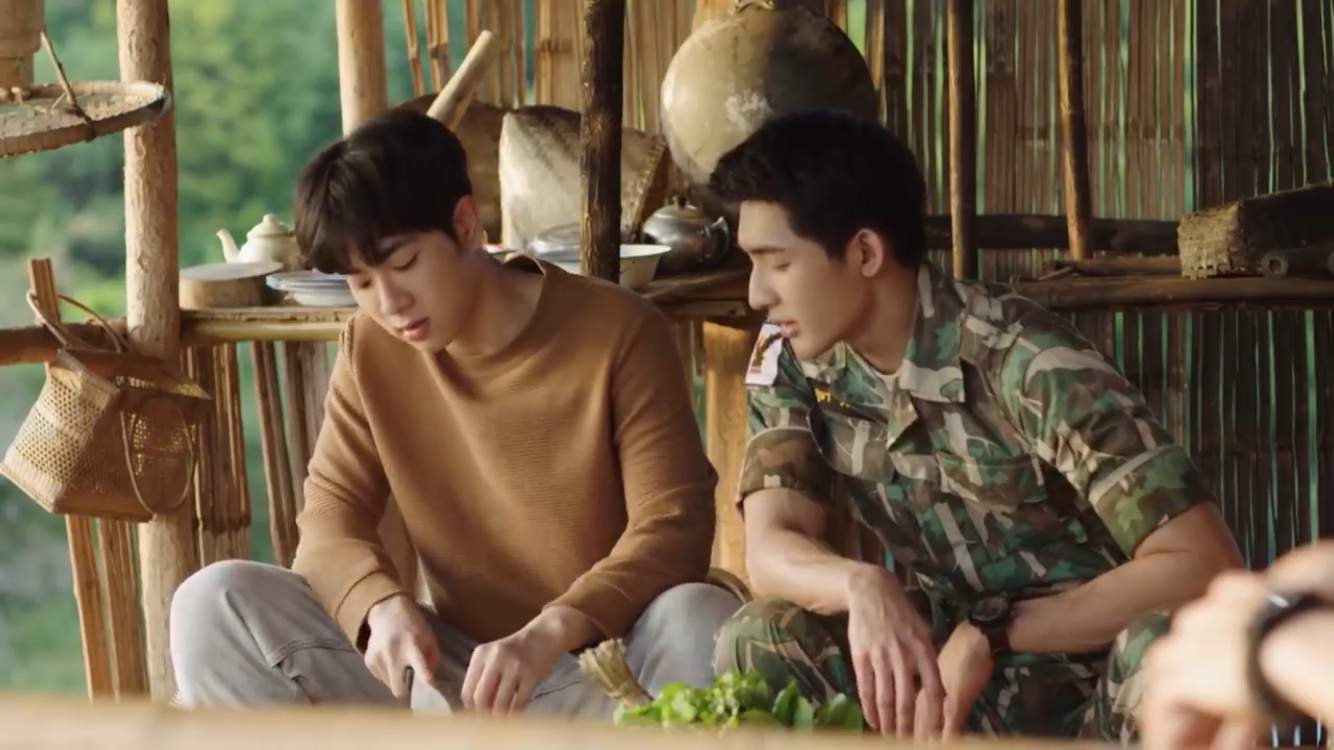 But suddenly, Tian collapses, leaving everyone concerned. However, Phupha is there to help him, and later, Pran asks Teacher Tian to let him use his story for their college play. But the latter refuses. However, Phupha permits them. Well, Pran isn't alone in the wilderness, as Pat has also followed him there. So the couple will have more sensual moments, especially when they bicker and settle their fight afterward.
A Quick Recap!
The previous episode showed a face-off between the architecture and engineering students. They were tasked to produce a play, and both the fields students challenged each other to participate in the sweeping competition. The engineering students dared the architecture students to clean the campus within a few hours. But before they could argue, the rest of the students picked the brooms and cleared the place, only to learn about the next fight. Soon the group leaders heard about the face-off between their respective presidents. They all headed to deal with the matter. After arriving at the auditorium, they learned that the place would undergo renovation, so they had to finish their play as soon as possible. Everyone tried to calm down Pran and Pat, their class presidents. But their attempt went in vain when Pran punched Pat.
While everyone was worried about their budding rivalry, they had no clue that Pran and Pat were a couple, and they did this just to avoid drawing attention. Later that day, Pran helped Pat with medical aid. But their sweet moment was interrupted by Pa, who brought food for them. However, their problems still needed to be solved. They still needed to figure out who would get a chance to produce the play. So the duo headed to see their Professor, who suggested they compete with each other. So based on their performance, they would decide who would get the chance to use the auditorium. Now both Pran and Pat had to announce this news to their class. However, a mishap took place, and it took Pran to an unknown land, where he met the next character of the anthology.
Our Skyy 2 Episode 14: Release Date
Now fans will learn how Pran and Pat deal with the next challenges in Our Skyy 2 Episode 14. The upcoming episode will bring new changes in the plotline when A Tale Of Thousand Stars characters appear. This eight-part anthology series has a runtime of around 40-45 minutes long. It will be available to stream on June 1, 2023, at 2.30 pm GMT. The local Thai audience can stream it on GMM 25 and GMMTV, while the global audience can catch it on GMM25's official YouTube channel. Stay tuned. TechRadar247 will keep you updated.