Things aren't improving in Mitch's life, which will soon be reflected in Love Island Season 10 Episode 45. Although he and Ella B were saved in the previous episode, this news will bring problems in many couples' lives. While some object, someone will be glad to see Kady leaving the villa. Well, fans are aware of the fact that who will be that person. But this time, the drama will be more centric on Mitch and Abi. Again? Well, it seems like she has unfinished business to do, which may expose her true identity. Is Abi not what she pretends to be? You will soon learn it in the upcoming episode. So keep reading to find it out.
Love Island Season 10 Episode 45: What Will Happen Next?
After the double-dumping, things will become messier between the islanders. Tyrique questions Whitney and Lochan's decision as he believes Kady and Ouzy should be saved. It brings disagreement between Ty and Mitch. However, Ty has his points to defend his statement, while Molly is glad that Kady has left the villa. This news will bring her closer to Zach in Love Island Season 10 Episode 45. On the other hand, Abi will continue to play dirty. She will blame Mitch for things he hasn't said by creating indifference between him and Ella B. However, this time, Mitch comes with a strong point and defends himself. It quickly questions Abi's sanity. As for Ty, his equation with Whitney will be a mess.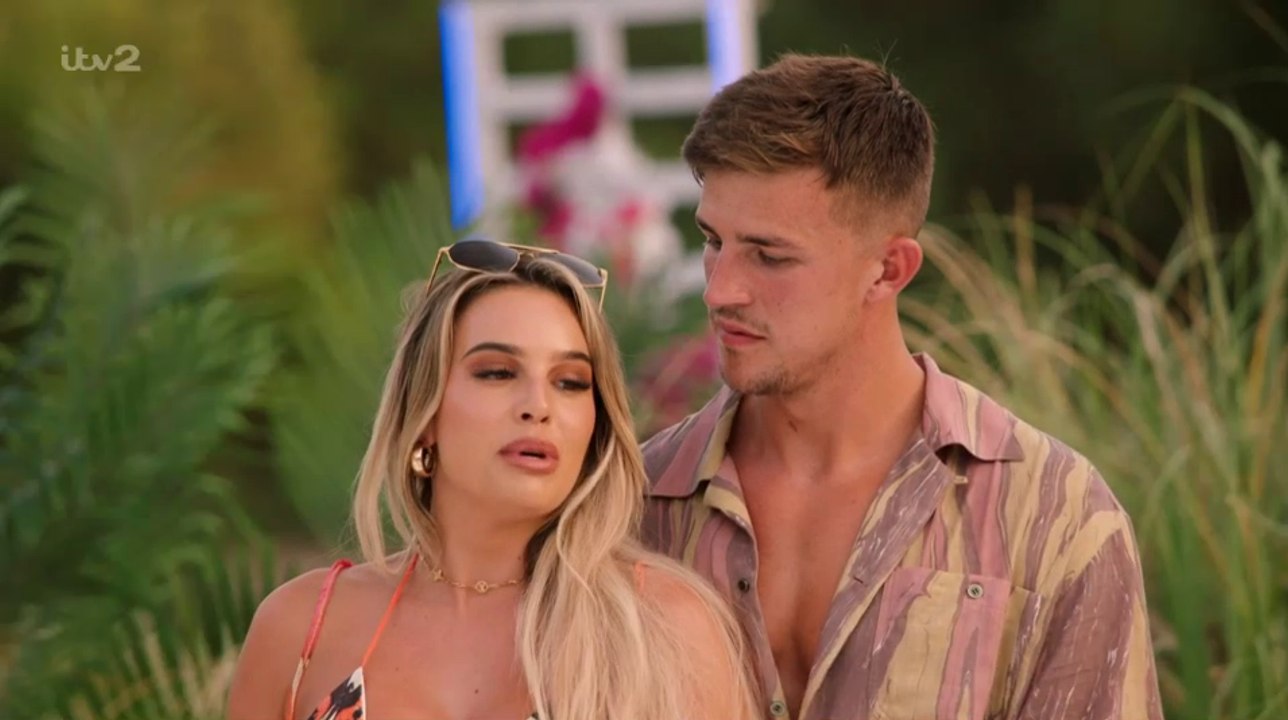 A Quick Recap!
Previously on Love Island Season 10 Episode 44, Zach pulled Kady for a chat after upsetting Molly. On the other hand, Jess discussed the challenge with Mitch. But their conversation ended with an argument. Mitch addressed that she did wrong by pieing him, which Jess found funny. Later Ella B and Mitch sat down to discuss their potential as a couple. Mitch finally revealed that he wasn't crystal clear back then, but now he knew what he wanted. As for Abi, she finally kissed Scott. Soon the time for the beach party arrived, where Rita Ora was waiting for the islanders. After enjoying their beach party, Ty and Ella did their best to bring Molly and Zach together.
On the other hand, Mitch and Ella B were trying to understand their situation. While the drama was brewing, Maya Jama entered the place. She asked the islanders to line up before announcing the elimination result. Maya finally revealed the fans' favorite couple, who was none other than Whitney and Lochan. Now they were safe from dumping, but the least favorite couples would be dumped from the villa. These were Ouzy and Kady, Mitch and Ella B, and Amber and Josh. The rest of the islanders were asked to return to the villa.
Sadly, Amber and Josh were asked to leave as their time at the villa was over. Next, Whitney and Lochan were asked to decide the couple they wanted to dump. Finally, after contemplating, the couple decided to end Ouzy and Kady's journey in the villa by saving Mitch and Ella B.
Love Island Season 10 Episode 45: Release Date
The next episode will bring plenty of new changes in the islanders' life. Catch it on Love Island Season 10 Episode 45, which will air on July 19, 2023, at 9 pm BST. It airs daily except Saturdays, exclusively on ITV2 and ITVX. Meanwhile, the Australian and US audience can watch it on 9Now and Hulu. So don't miss it. Stay tuned. TechRadar247
will keep you updated.