The latest K-drama, Destined With You, has just debuted, and fans are getting insane by the incredible storyline that focuses on the forbidden book. In the previous episode, Lee Hong-jo made a bold move to attract her crush. And now, in Destined With You Episode 3, she will face the aftermath of her action. Will she get what she wished for? Well, things are getting a bit serious now, as the forbidden book will make things worse for both Hong-jo and Sin-yu. Neither do they know that they are destined to deal with the banned curse, nor do they know about the looming threat. So, let's see how things will move now.
Destined With You Episode 3: Will Things Go As Per Hong Jo's Plan?
The upcoming episode will finally reveal more about Sin-yu's illness. It seems like he's hiding something from the world, which will soon be shown in Destined With You Episode 3. He knows about the spell book and will try to get his hand on it, as it can only help him cure his disease. But the question arises: Will Hong-jo hand him the book? Well, it remains unclear, but Sin-yu will eventually open up. As for Hong-jo, she uses the love spell to make Kwon Jae-Kyung fall in love with her. Surprisingly, the spell works as Jae-Kyung asks her for a date. Later, Hong-jo informs Sin-yu about the same.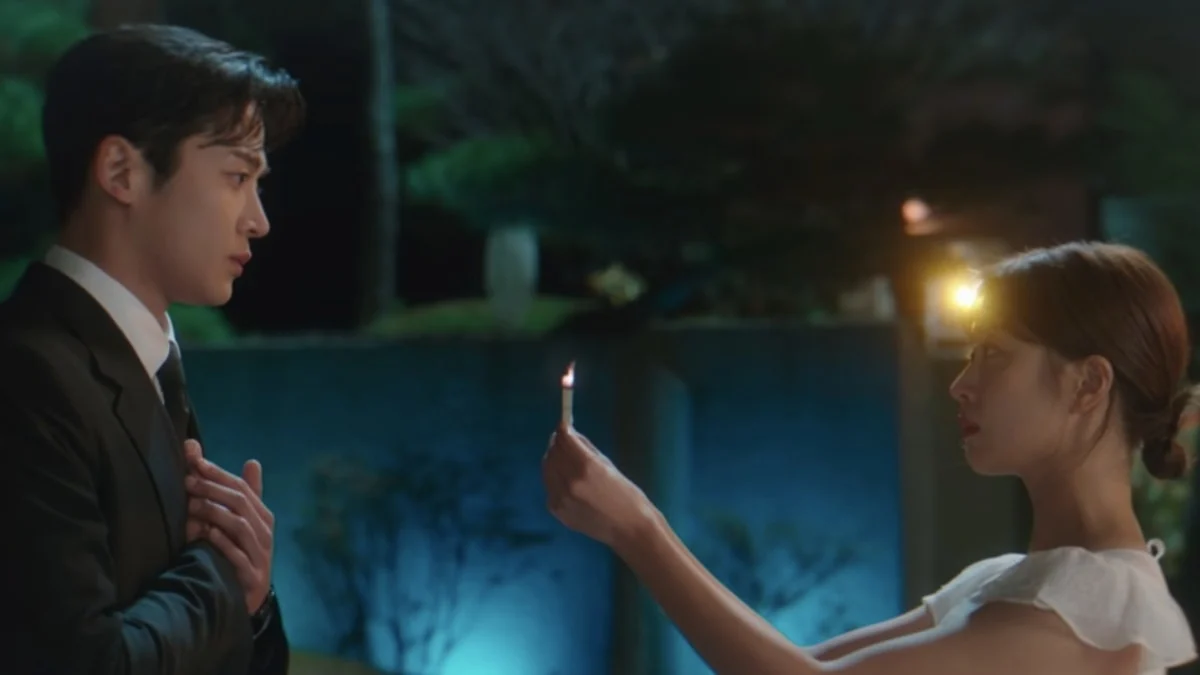 A Quick Recap!
Previously, in Destined With You Episode 2, Sin-yu found Hong-jo depressed and crying outside the City Hall. So he uplifted her mood and gifted her a wooden box from the Shaman. She was confused but decided to keep the box. Later that night, Hong-jo tried to open it but couldn't. So, she picked a hammer to break the lock. But after receiving Sin-yu's call, she dropped the hammer and decided to open the wooden box the next day. However, Hong-ja was nursing her teammates, who asked her to get hangover drinks. But little did she know that they had a team party without her. Later, Hong-jo learned about the Mayor of Onju City.
Meanwhile, Jae-Kyung said that all the civil lawyers were good for nothing as they often lose cases because of their greed. He suggested they should hire new lawyers who weren't greedy at all. But his boss told him nobody would ever work for them for the meager salary. But Jae-Kyung said he knew someone who could work for them. As for Sin-yu, he called Hong-jo and learned her team had cast her out again. A few minutes later, Jae-Kyung went to Sin-yu's office and offered him the job. Since both knew each other, he agreed to work with him. At the end of the episode, Hong-ja finally managed to open the box that contained a spell book.
Destined With You Episode 3: Release Date
The forthcoming episode will focus on the consequence of a love spell. You will learn it in Destined With You Episode 3, which will air on August 30, 2023, at 10.30 pm KST. The show has just started airing and will continue till October 2023, dropping two episodes every Wednesday and Thursday night. So don't miss it. The global audience can access the show on Netflix, while the local Koreans can stream it on JTBC. Stay tuned. TechRadar247
will keep you updated.