SpongeBob Sexuality: SpongeBob SquarePants is undoubtedly one of the longest-running American animated series to date. The comedy-drama follows the adventure of the titular character and his friends in the fictional aquatic city, Bikini Bottoms. While the series has amassed a cult classic show status, SpongeBob SquarePants is said to be the most iconic of all. The character is not merely an animated design but means many things to many people. While the show has several characters, SpongeBob Squarepants is definitely the favorite resident of Bikini Bottom. With many attributes, the yellow and porous character is children's ultimate favorite. But do you know the Internet also targeted him for his sexuality? People wonder what gender identity he carries over the years. Do you also think of the same? If yes, here is an answer to your long-time query.
SpongeBob Sexuality: Does He Belong To The Queer Community?
The LGBTQ community would have celebrated as fictional characters also stood in support of them. We are saying so as during the 2020 Pride Month, Nickelodeon shared an unexpected yet surprising tweet. The officials took to Twitter and posted a few photographs, including SpongeBob Squarepants while cheering out Pride Month. The post's caption confirmed the Bikini Bottom resident to be an ally of the queer community. Isn't it overwhelming? SpongeBob was already one of the most celebrated characters on television, and the revelation added the cherry on the cake. The post showed SpongeBob wearing a rainbow tie and looked adorable.
Moreover, the post also had other established queer characters. Nickelodeon posted a proud snap of Schwoz Schwartz from Henry Danger and Korra from Legends of Korra. While the tweet was enough to prove that SpongeBob is a strong ally of the queer group, his actual sexual orientation still remained in the dark. So, what is SpongeBob Sexuality? Well, it is since 1999 that people are curious to know if he is queer or gay. One could spot several incidents in the show that support his obvious affinity for rainbows. If you can remember, SpongeBob used to float on David's float chest. So, does that mean the former is gay?
But after the announcement went viral on Twitter, homophobic trolls emerged on social media. It also targeted the creators for ruining the childhoods of the children. Despite that, the character remained in the limelight as Stephen Hillenburg denied SpongeBob was gay. In fact, back in 2002, he announced that the character is asexual. Hence, for the time being, SpongeBob sexuality rumors are somehow sidelined.
Spongebob Sexuality: Is His Best Friend Gay?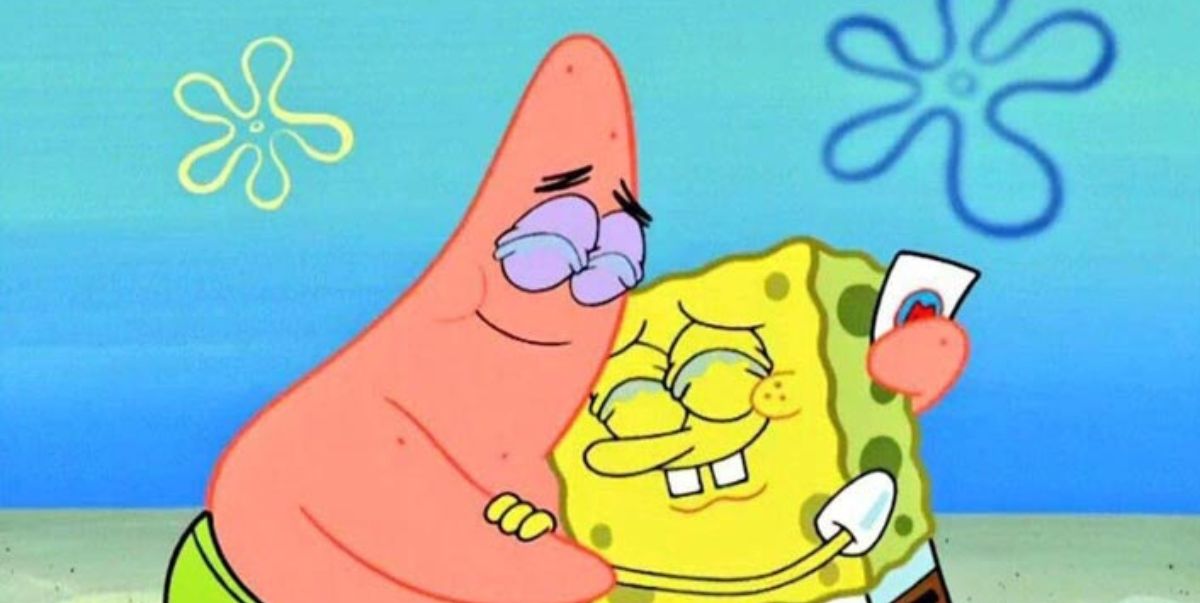 After it was confirmed that SpongeBob is asexual, the fanbase was divided into two categories. While many welcomed the fact, a few disregarded the show. Although the official statement made by the creator in 2002 cleared the air, another speculation took birth. Fans began claiming the character's best friend, Patrick Starfish, to be gay. So, is Patrick Starfish gay? Even Patrick Starfish's gay rumors went to such an extent that Stephen Hilenburg had to address it. In 2005, he showed up with another explanation and said that the team never intended the two to be gay. Therefore, it was clear that neither SpongeBob nor Patrick Starfish was gay in the show.
Furthermore, Stephen considered them to be asexual but clarified that such facts had nothing to do with the show. In fact, the official team was only making efforts to keep things as funny as possible. Nonetheless, even after the remarks, people did not sit quietly and posted various opinions. What was more interesting was that people had a weird take on Patrick and SpongeBob. One of the fan theories suggested that both of them never stopped holding each other's hands. Not only this, but the duo also raised a clam baby together. So, are these not enough to describe their individual gender? Thus, we can say that SpongeBob sexuality concerns are way more complex than they actually seem to us.
Did SpongeBob Like Squidward?
It is well known that Squidward is much annoyed by SpongeBob. The former always avoids him, but SpongeBob always has a reason to disturb him. The show portrays them as neighbors and co-workers, and so the interactions between them are obvious. While Squidward always wants to be alone, SpongeBob wishes to include him in his every activity. Hence, we can say that both of them pursue different personalities yet give us amusing moments. Even after having such a difference, the two are good friends, or probably much more than that. So, does their unusual relationship point toward SpongeBob Sexuality?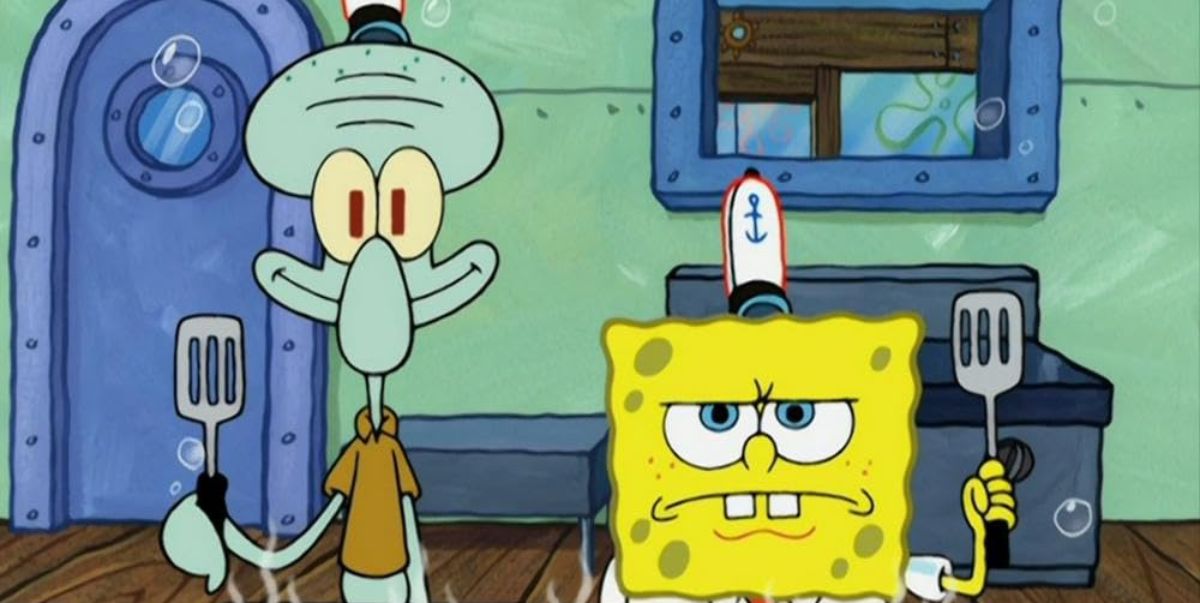 Well, have you ever noticed Spongebob's efforts to impress Squidward? There was once a moment when the former gathered up Bikini Bottom citizens for the Big Show. This sparked another theory suggesting a love story between the two characters. It was really unexpected for the creators, but people could not resist themselves to share their assumptions with other fans.
One can also find several photoshopped images hinting at a lovely story between Spongebob and Squidward. So, it is quite possible that the yellow and porous character had a secret crush on him. Since he never wanted him to be alone and supported his singing, Squidward and SpongeBob can be viewed as possible partners. So, is SpongeBob Sexuality really asexual? Nevertheless, if such a case is true, SpongeBob Squarepants can be regarded as a show that features varied sexuality and genders. Moreover, one could find numerous other assumptions related to them.
Exploring SpongeBob's Relationship With Pearl
In the show, one must have noticed SpongeBob working passionately at a fast food restaurant called the Krusty Krab. Owned by a greedy red crab named Mr. Krabs, the restaurant was famous for its signature burger that had a secret recipe. Moreover, he was a single parent to a grey sperm whale named Pearl. In one of the episodes, it was shown that she liked Spongebob and wished him to become her boyfriend. Hence, it provided a bit of a romantic angle between them, and Mr. Krabs, too, had no issue with her daughter having a crush on Spongebob. But it was only Pearl who thought of him as her love interest, while the optimistic yellow sea sponge did not seem to be involved in such a feeling.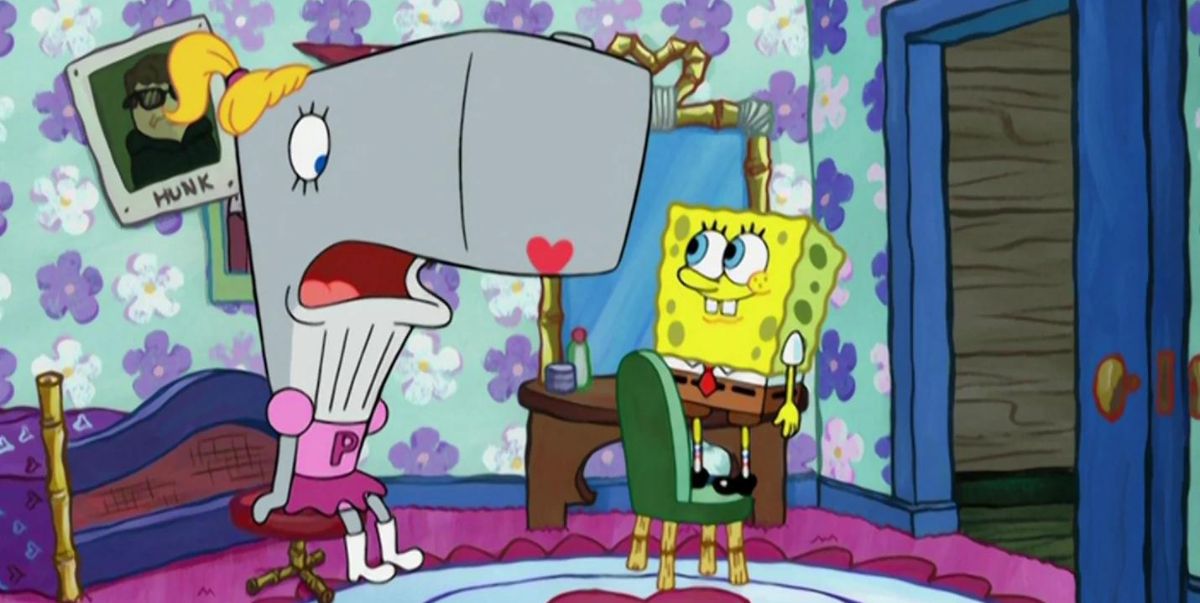 However, things took a different turn when the creators released a prom night episode. Where everyone had a partner to go with, Pearl cried for not having a boyfriend. Now, since Mr. Krabs had faith in SpongeBob as he was a good worker, the Krusty Krab owner desperately wanted him to become Pearl's partner for the night. Initially, SpongeBob was reluctant to do so but eventually agreed. Hence, he, along with Pearl, enacted being a couple before others, and the viewers actually thought of them as a real pair. In the meantime, Spongebob unintentionally hurts Pearl, thereby leaving the latter crying. She told him to at least behave like a boyfriend so that everyone could believe that their relationship wasn't fake.
Therefore, to rekindle the situation and cheer her up, SpongeBob does a few amusing behaviors with Pearl. They even hug and laugh together. While she was happy with him being her partner, he was merely acting. But later, Pearl gets attracted to a mermaid, and gradually, her feelings for SpongeBob vanished. Despite this circumstance, both of them remain as good friends throughout the seasons.
SpongeBob And Sandy Cheeks Relationship Timeline
While SpongeBob Sexuality remains a huge concern, his relationship with Sandy always remains a point of discussion. It is true that the creators have called SpongeBob asexual, but he did have a love interest in the show. We are talking about none other than the athletic squirrel from Texas, Sandy Cheeks. Both of them met for the first time during a fight, and it was kind of a love at first sight for SpongeBob. He always used to flirt with her and consistently tried to impress Sandy by showcasing different skills. Besides this, they often indulged in minor conflicts that used to settle down the next moment. Hence, it was for sure that Sandy Cheeks was introduced as SpongeBob's love interest, and fans somewhere knew that they would form a couple in the future.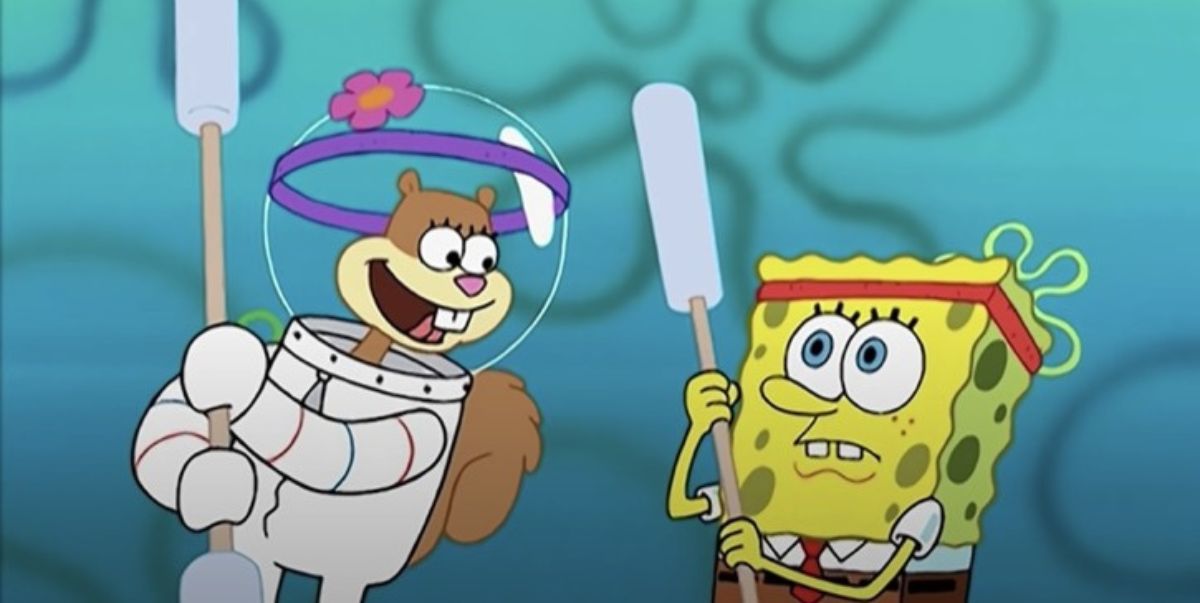 While there are several episodes, the beach episode featuring SpongeBob and Sandy Cheeks became one of the most watched chapters. Both visited Goo Lagoon and spent time together alongside a pool in Bikini Bottom. Meanwhile, SpongeBob tries to look stronger just to impress Sandy and to let her know that he loves her the way she is. Moreover, apart from visiting the pool, the two also participate in a few sports. Whether playing badminton or building sandcastles, they spent much time together.
However, Mr. Krabs and Squidward always advised SpongeBob to maintain a distance from Sandy. Since she pursued a competitive nature, they believed that she would influence him negatively. In addition to this, SpongeBob was also neglecting his work at Krusty Krab. So, Mr. Krabs wanted him back in the restaurant. Moreover, Squidward also tried his best to make SpongeBob understand the situation, but the latter took no interest in anyone's advice. Thus, it led fans to doubt SpongeBob Sexuality.
SpongeBob Sexuality: Did He Marry Sandy?
In season 6, the 'The Marriage' episode showed SpongeBob and Sandy getting married. The characters were seen in their wedding attire, and a fish served as the priest to officiate the wedding. In fact, their families brought gifts to the wedding. On the other hand, Patrick and Squidward arrived at the ceremony with a wedding cake. Not only this, but they also called up a wedding band, The Lovers, to the event. Further, as the fish began the procedures, he pronounced the so-called couple as sponge and squirrel. Like any other ritual, SpongeBob had to kiss Sandy, but they grew nervous about it. That was when it was revealed the wedding was a part of the play, but the fish was an actual priest.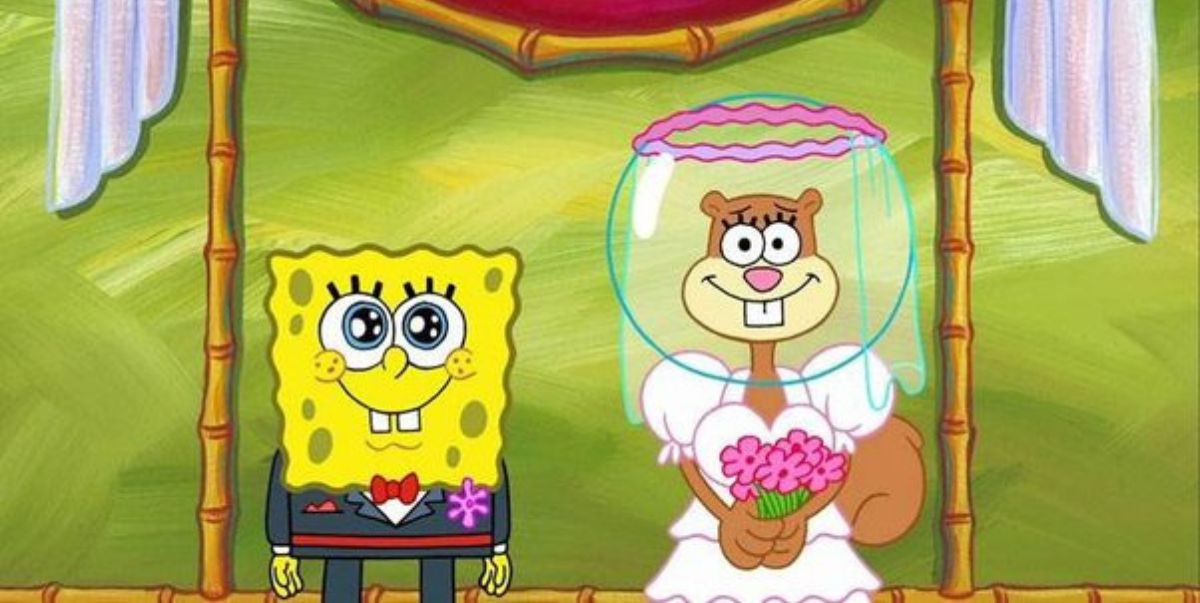 The episode received much attention from the viewers as fans believed them to have been actually married because of the real rituals. Thus, it becomes tough for fans to believe SpongeBob Sexuality is asexual. In contrast to this, many believed that the two friends had been forced to fall in love. Furthermore, there was an instant when SpongeBob tried making a Valentine's heart for Sandy as a warm gesture. Although she accepted it, the two got involved in a karate match, leaving all this stuff behind.
Surprisingly, in 2016, SpongeBob writer Vincent Wallerw claimed that Sandy Cheeks was meant to be the titular character's love interest. Vincent also wanted to try releasing a romantic episode featuring them, but creator Stephen Hillenburg disapproved of it. Hence, it could be SpongeBob sexuality that might have hindered him from sharing a romantic relationship with Sandy. Hence, even after having a possibility, Sandy and Spongebob have never been beyond friendship.
What Is The Angle Between Princess Mindy And SpongeBob?
Another character that messed with fans' minds regarding SpongeBob Sexuality is Princess Mindy. She is introduced as King Neptune's daughter, who is said to become the Queen of the sea in the future. She shares a friendly bond with both SpongeBob and his best friend, Patrick. Mindy appeared for the first time in the SpongeBob Squarepants movie and later on had cameo appearances in a couple of episodes. The princess has light green skin with a dark turquoise tail and wears spectacles.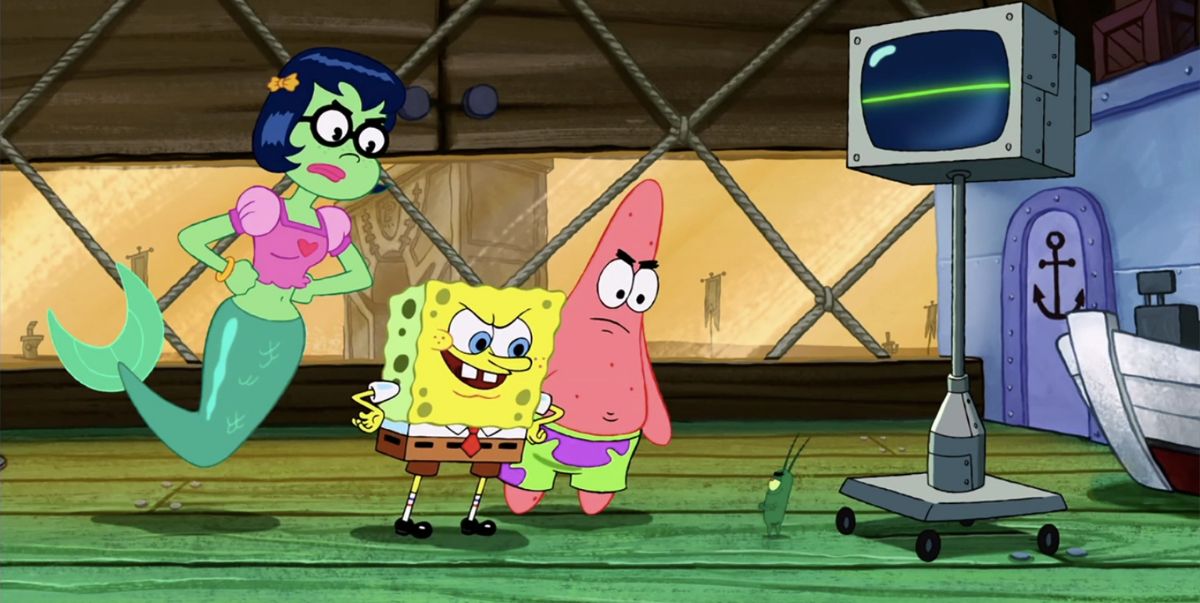 Nonetheless, she was the love interest of Patrick Starfish, and hence, he made efforts to impress her. It further created several doubts regarding Patrick sexuality as well. To bring them closer, SpongeBob always tried to create situations that could make their bonds stronger. However, on the other hand, Patrick believed that his best friend, too, had a crush on Princess Mindy. Thus, many a time, he argued over the same with SpongeBob, but the latter always tried to explain the friendship factor with King Neptune's daughter.
Who Had Genuine Love Interest In SpongeBob Squarepants?
While there are several speculations regarding SpongeBob Sexuality, there are certain characters who have genuine love interests. Although SpongeBob Squarepants had many characters, Squidward and Mr. Krabs were the only ones with a genuine love interest in the show. The former had feelings for a woman who looked like him named Squilvia. The woman had short black hair and long eyelashes, along with dark pink lips. Talking about them in particular, Squidward and Squilvia met for the first time at the Krusty Krab when SpongeBob helped him to initiate a move. Despite being shown together at the end of the episode, Squilvia's character did not appear again. However, many fans claim that they married and Squidward finally got a wife.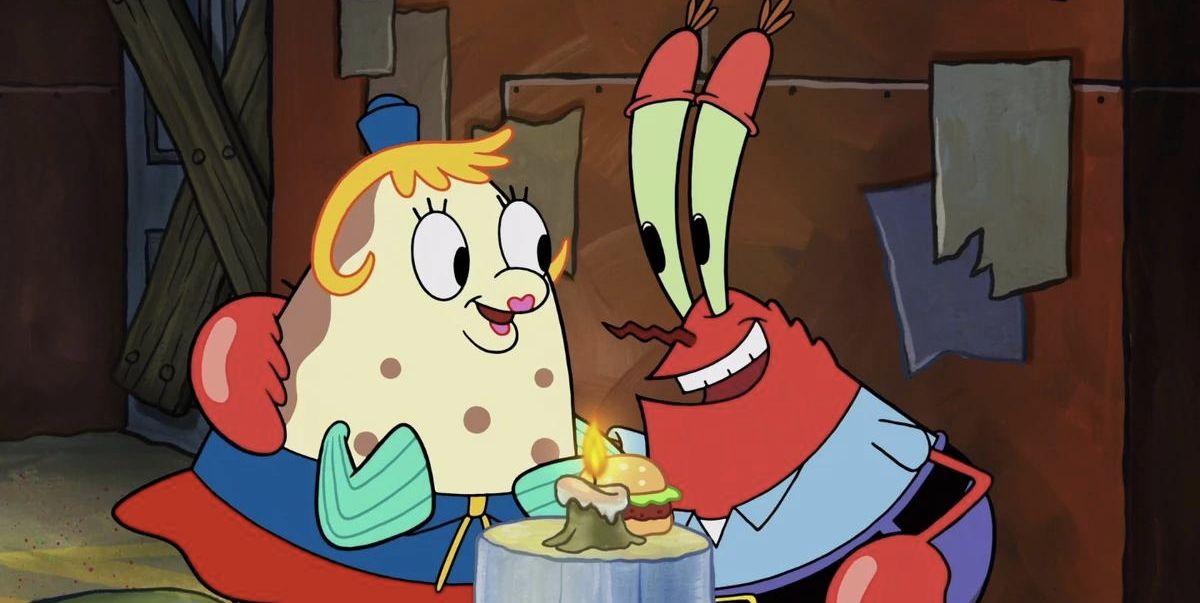 Talking about Mr. Krabs, he fell in love with Mrs. Puff, SpongeBob's teacher. The two also went on a few dates in different episodes, and as per theories, they have been dating for sixteen years. In fact, their relationship is seen as one of the few candid relationships ever featured in the world of animated series. Mr. Krabs once took her to a fancy restaurant, proving his undefined love for her. Hence, Mrs. Puff is seen as a long-standing girlfriend of him.
This is all about SpongeBob Sexuality. Do you also think that he has several sexual orientations in the show? Let us know your opinion in the comment box. For more updates, keep coming back to TECH RADAR 247!