The Thai BL drama is one of the most-watched series among BL lovers. Well, there's no denying that Thai shows are full of energy, spark, twists, and lots of romance. However, Only Friends Episode 11 hints that the show will see some significant development in the characters' lives. Ray has already taken a step closer to finding the love of his life. Mew is also struggling with his inner thoughts. He wants to be with Top, but something is bothering him, which fans will soon learn in the next episode. On the other hand, someone will soon leave the city. Who will be that person? Keep reading!
Only Friends Episode 11: What To Expect Next?
After Ray joins the rehab, he decides to make things workable between him and Sand. The Only Friends Episode 11 preview clip also hints that Sand visits Ray to see whether he's doing great in redemption work. He is surprised to see that Ray is doing better than he has expected. Ray even asks Sand to go on a date when he leaves the rehab. Meanwhile, Mew is upset and decides to give Top a silent treatment. He doesn't want to interact with him, leaving Top heartbroken. On the other hand, Boston and Nick will finally open up about their true feelings, igniting the romance between the two before the former leaves for New York.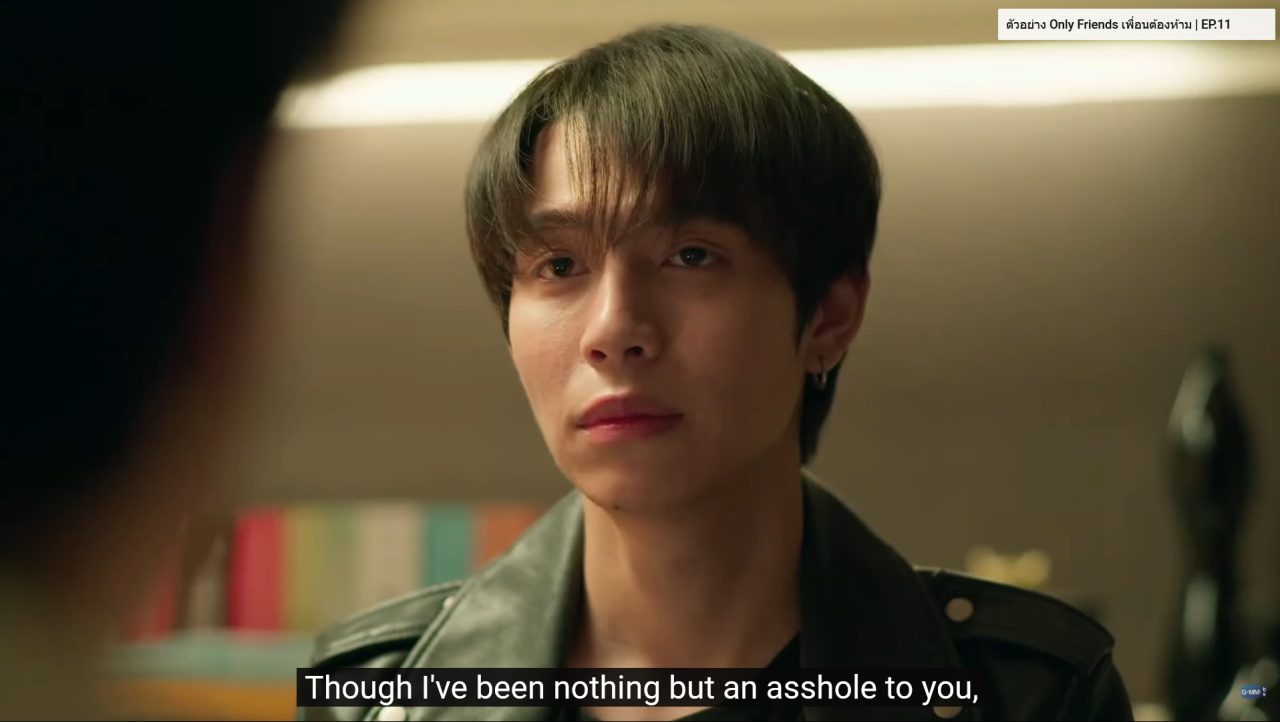 A Quick Recap!
In the previous episode, Top was excited when Mew showed up. The former believed that Mew would give him another chance. However, the latter was upset after learning that Top was still in contact with his ex. While it pissed him off, Boeing interrupted and asked Mew to join them for lunch. Lunch quickly became a battlefield when Boeing stated that Top had changed now. However, the former also revealed how madly Top was in love with Mew. On the other hand, Nick was busy working with Dan. He also thanked the latter for inspiring him. But instead of feeling grateful, Dan apologized for the kiss.
While they discussed their connection, the couple ended up with another kiss. Meanwhile, Sand attempted to convince Ray to quit his addiction and join the rehab. However, Ray didn't think that he needed that. Although Sand's words hit him hard, he made a deal that he would go to rehab if Sand confronted Ray's dad. While it was tricky, Sand agreed to do this. At the restaurant, Atom revealed that Boston tricked him and took his nudes. And now he was blackmailing Atom. After hearing this, Cheum confronted Boston and broke her friendship with him.
Later, the show ended with Ray reminding his dad to stay out of his business. But his dad told him that Sand was a gem and he shouldn't take him for granted. Following this conversation, Ray joined rehab and decided to change for Sand. After realizing how badly he had treated Sand, he cried, hoping the latter would wait for him.
Only Friends Episode 11: Release Date
The following episode will unveil how things will change in Ray's life after joining the rehab. Will he return soon? Fans will see it in Only Friends Episode 11, which will air on October 21, 2023, at 8.30 pm THA. It follows a weekly release pattern, dropping one every Saturday night. So, don't miss it. You can stream it on GMM25 or GMM's official YouTube channel, GMMTV. Stay tuned. TechRadar247
will keep you updated.