As the K-drama Twinkling Watermelon progresses, the story becomes more twisted than ever. The show begins with time traveling, where Eun-gyeol and Se-Kyung plan to change their fate. But Twinkling Watermelon Episode 11 hints that it won't be that easy to change the future. Their attempt will definitely bring more turmoil in other people's lives. The upcoming episode also hints that the time has come when Eun-gyeol needs to make a tough decision that will vanish him from the future. Will he do that? While there are several story arcs to explore, Twinkling Watermelon Episode 11 will also reveal the reason behind the group's disbandment. Keep reading to know more.
Twinkling Watermelon Episode 11: The Beginning Of Disbandment! What To Expect Next?
The previous episode wrapped up with one of the Watermelon Sugar bandmates narrating the reason behind their disbandment. While the last episode featured the present timeline, the upcoming episode would again return to the past. Now, the bandmates will prepare for the festival. The Twinkling Watermelon Episode 11 preview clip hints that the bandmates will travel together, which will help them bond closer. As for Se-Kyung, she is all over Eun-gyeol after their kiss. In fact, for the first time, she has slept like a baby. And now that she and Cheong-ah have joined the group, the latter gets ample time to spend with Eun-gyeol.
While Se-Kyung bonds with the team, Cheong-ah will try to connect with Yi-chan. Eun-gyeol will be glad to see them spending time closer. However, Yi-chan has some other plans. He is still dreaming about Yi-chan. He wants to stay with her but can't, as he has promised Eun-gyeol. While the band has fun and prepares for their performance, Yi-chan informs someone that he can't take this anymore. He wants to follow his heart. But Twinkling Watermelon Episode 11 will face a disheartening experience.
The preview clip suggests that Yi-chan will meet with an accident, which is how he will lose his hearing ability. However, Eun-gyeol wants to stop this. So, he works to change the future. But there's something that Se-Kyung is hiding. That forces Eun-gyeol to question her intention. On the other hand, someone's greedy move will change the band's fate forever. Twinkling Watermelon Episode 11 will finally reveal the reason behind Watermelon Sugar's disbandment.
A Quick Recap!
Previously on Twinkling Watermelon Episode 10, Eun-gyeol leaned to kiss Se-Kyung. But he stopped after recalling the time when he saw her as his mother in 2023. Just then, he had a flashback where he was seen breaking up with a girl. However, the girl was actually his brother's girlfriend, and he was just helping him. He remembered the lesson and decided not to fool around and instead focus on his game. Soon, the episode focused on Se-Kyung, who started teasing Eun-gyeol for stopping in the middle. She told him that there was nothing to be embarrassed about. But Eun-gyeol suddenly kissed and surprised her.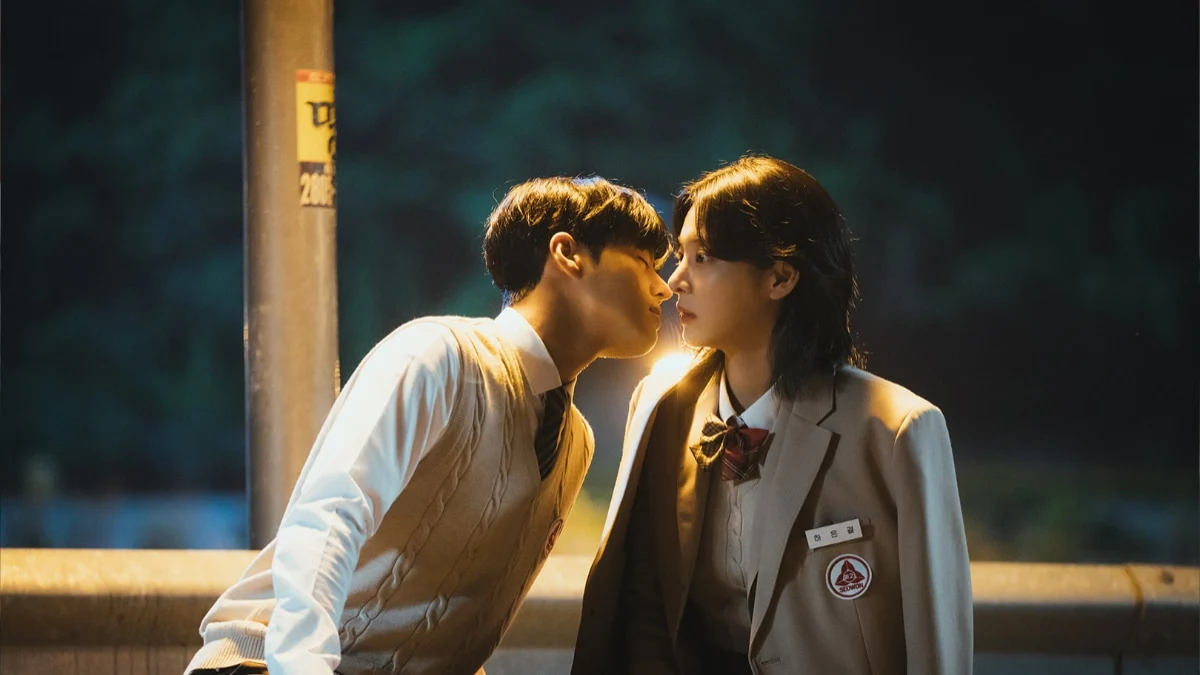 Meanwhile, Yi-chan saw his sketch in Cheong-ah's notebook and asked whether she had feelings for him. And fortunately, she didn't deny it. It quickly changed their equation. Later that day, Eun-gyeol met Cheong-ah's father and suggested giving his daughter a fax machine. This way, she could stay connected with her friends. Besides this, the latter continued to teach Cheong-ah sign language. However, the latter's stepmother wasn't in support of this and also threatened Eun-gyeol to stop this immediately. Since he refused to obey her orders, Cheong-ah's stepmother punished him.
However, this punishment helped Eun-gyeol and Se-Kyung to bond. As for Yi-chan, he bought a sign language book and asked Cheong-ah out. They later talked about the latter's favorite watermelon painting. It had a phrase written on it. That loosely translated "Long Live Life." After this heartfelt conversation, Yi-chan showed the picture to his bandmates, and later, they decided to rebrand their band "Watermelon Sugar."
Twinkling Watermelon Episode 11: Release Date
The upcoming episode will feature some light-hearted moments between the band before dropping the mega bombshell. What will it be? You will see it in Twinkling Watermelon Episode 11, which will air on October 30, 2023, at 8.50 pm KST. The K-drama Twinkling Watermelon airs every Monday and Tuesday night. The local Korean audience can enjoy it on its original network tvN. Meanwhile, the global audience can binge-watch the show on Viki. Stay tuned. TechRadar247 will keep you updated.