In summer, CBS announced the renewal of All Rise Season 2. Well, the legal drama raised its stakes high with the debut season. Although this time, things would be a little different. But, that doesn't mean they would focus on the current situation in All Rise Season 2. The network recently announced that one of the characters that rarely appeared in the first season has promoted to series regular for All Rise Season 2, who is none other than Reggie Lee. Apart from him, Season 2 has some other plans to narrate as the official synopsis has no traces of the current condition.
All Rise, created by Greg Spottiswood, is a legal drama on CBS. It follows chaotic, crazy, and little hopeful lives of its public defenders, prosecutors, and judges. As they work closely with clerks, bailiffs, and cops for justice for those who suffered from the flawed legal process in Los Angeles. Amid a flawed legal process, a newly appointed Judge Lola Carmichael (Simone Missick) arrives. Lola is a highly impressive deputy district advocate who doesn't intend to sit back on her seat to follow the new rule. Instead, she focuses on pushing the boundaries and challenging what hadn't been expected from the judge.
All Rise Season 2: When To Expect?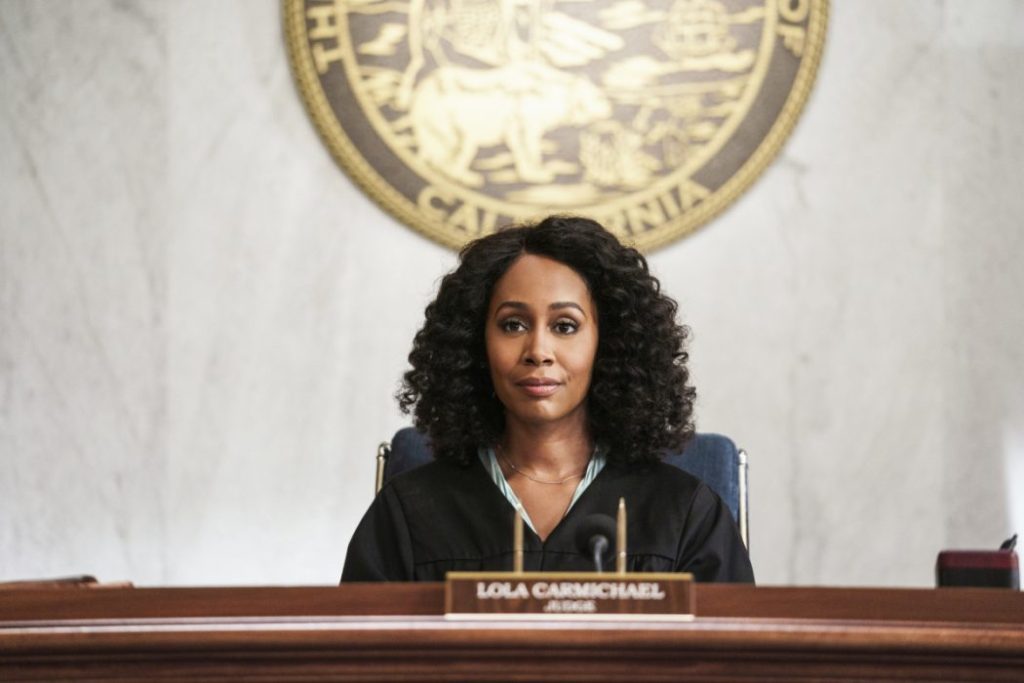 Well, only a few days are left to know how Lola would deal with the new challenges in the upcoming season. Recently, CBS announced that All Rise Season 2 would air on Monday on November 16, at 9/8c. Well, this season would be worth watching as there are a lot of changes that would follow in the next season.
All Rise Season 2: How Things Would Turn In The Second Season?
Other CBS shows are focusing on the current health crisis to show them as best as they can. The legal drama All Rise Season 2 wouldn't intend to focus on portraying the current condition. In fact, it would be the first show on CBS that took their virtual-trial episode earlier this year. Further, the promo shows the cast wearing the mask and dealing with their cases, which is what they call the "new normal" in the present time. The promo also teased social justice on the events that occurred in the past months.
A Change Is Gonna Come
The first episode titled, "A Change Is Gonna Come," would be the biggest dramatic episode in All Rise Season 2. Lola and Mark try to fix their relationship after Mark Callan learns that Lola is detained during a protest when defending the teen girl. Amidst a fiery encounter with the cops. Well, this detainment would leave long-lasting effects on Lola. Also on Mark, Luke Watkins, Emily Lopez, and everyone involved in that.
Lola Tries To Reopen Court
Due to the ongoing pandemic, court closure affects Lola a lot. After the events occurred, it becomes crucial for Lola to reopen the court. So, she hires Ness Johnson (Samantha Marie Ware), an intelligent, outspoken legal clerk. Unfortunately, she quickly clashes with Sherri Kansky.
All Rise Season 2: Who Will Return?
Well, all the main characters would continue their role. These include Simone Missick as Judge Lola Carmichael and Wilson Bethel as Deputy District Attorney Mark Callan. Along with Jessica Camacho as Emily Lopez, J. Alex Brinson as Deputy Sheriff Luke Watkins, and Ruthie Ann Miles as Sherri Kansky. Among them, the network has promoted Audrey Corsa as Samantha Powell and Lindsay Gort as Amy Quinn as series regular for the next season. Samantha Marie Ware as Ness Johnson, would be a new cast addition.
Reggi Lee Promoted As Series Regular
Recently, the news came up that CBS has upped Reggie Lee for All Rise Season 2. Reggie plays Head DDA Thomas Choi, Mark, and Luke's strict boss. Lee joined the series in the first season as a person with strict principles in the law. However, in the first season, Choi didn't please with Mark's unorthodox ways. But, now it seems he can see some more sides of things in All Rise Season 2.