Good Trouble Season 3: Callie and Mariana's lives are just getting started. There is a lot they have to figure out, both their professional and personal lives. They are also trying to figure out adulthood. We will get to see how these girls figure out things in Good Trouble Season 3.
The spin-off of The Fosters, The Good Trouble, first aired in 2019. The show was then renewed for Good Trouble Season 3. Now that we know that the third season is happening, it is time that we start looking forward to what will come up next. What's happening there? Here are all the latest updates
Black Lives Matter To Be A Part of Good Trouble Season 3
Speaking about how much the pandemic would affect Good Trouble Season 3, the creator, Joanna Johnson, reveals that she does not believe that the scenario would be very appealing to the viewers. Viewers are still dealing with the real-world realities of the pandemic. So, the third season will address the situation, but they will not make the whole season about it.
She says that the creators think that the show is very different than the limited series. They don't want to turn the TV on and see the COVID world even in their favorite TV show. It is nice to turn on the show and enjoy it without seeing everyone in masks. The creators want this show to be a nice break from reality.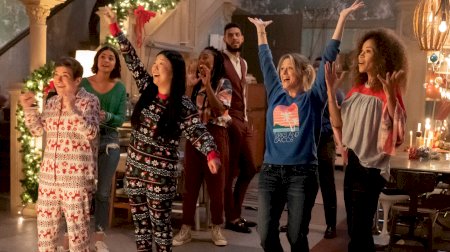 With that said, the creator confirmed that the show would take on another real-life event. This is the Black Lives Matter movement. The show has always used such issues. The creators say that the first half of the show will be Pre-George Floyd, and then they will address that in the second half.
The creator says that when they started in 2018 with their Black Lives Matter storyline, it was all very interesting when that Black Lives Matter got a negative approval rating. So now, when people have really started embracing it is a very legitimate, well-organized, and powerful manner, it is heartening.
Production Details and Release Date
It looks like fans will get to see Good Trouble Season 3 sooner than we expected. According to some reports, Cierra Ramirez was spotted with a number of other actors who are a part of the show. So, it looks like the show has got into production. With that said, we don't have much information on how long the show has been under production or when the show will release.
However, this is good news that production has started in 2020. In a video starring Maia Mitchell and Cierra Ramirez, it was revealed that the creators had initially planned to release the show in the Summer of 2020, but now fans will have to be a bit patient. Check out the video here.
A Holiday Special Is Happening!
As a treat, Freeform has announced a two hour-long Christmas special. For the first time, all viewers will get to spend their Christmas with all their favorite residents at Coterie. With so many people in one place, there will be some major stress in the holidays. Things never go as smoothly as one might think.
In an interview with People, the creator of the show said that they hadn't done a holiday episode yet because the idea of Christmas at Coterie is not something that only rolls off the tongue. What would a communal Christmas look like?
Everyone will be celebrating holidays with their own traditions. Would that collaborate or collide? In the same interview, Johnson hinted that this episode might include some special guest stars and family members. A trailer for this special episode is also out. Check it out here-
With all the excitement for the special episode, we must all look forward to Good Trouble Season 3. Now that the show is into production, we can expect a 2021 release date. We will pass on all the updates about the show as we get it. So, you keep an eye on this space.