Since the show ended with the hurricane, fans have been curious to know what happened with Dexter Morgan, and now it looks like Dexter Season 9 will answer all questions. Finally, after eight long years, the series returned to Showtime to explore Dexter's journey, and the new images from the set hint that Dexter Season 9 won't be that darker than we thought.
Dexter is returning with ten more episodes and its beloved showrunner Clyde Phillips. The critically acclaimed series debuted back in 2006 and quickly became a cult crime series on Showtime, and even Michael C. Hall received several accolades for his anti-hero portrayal. However, in the finale, Dexter faked his own death after the death of his sister. Now he returned, hinting at the beginning of his vicious plans.
Dexter Season 9: Has Production Begun For The Next Run?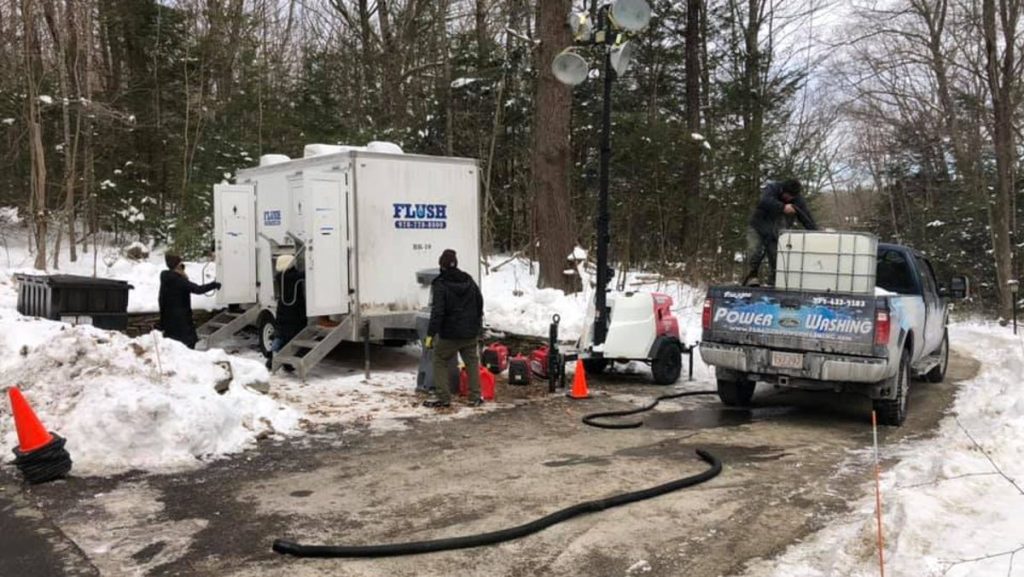 After a long wait, the cast and crew members returned to film the revival series. As per Showtime's spokesperson, filming of the upcoming season was scheduled to begin in early April. But we learned the crew landed in early March in Shelburne Falls. Buckland Town Administrator Heather Butler soon confirmed that the filming will start in Shelburne Falls on April 5.
Heather added that the network had already asked them to use the Town Hall back in October, which is currently closed to the public. In the behind-the-scene images, the crew members seem working on preparing the town for the production. You can see wreaths on the window, trees covered with lights, and tinsel on balusters, all hinting at Christmas return in Dexter Season 9.
Dexter Season 9: Who Will Join The Cast?
Michael C. Hall will indeed return to play the titular character forensic specialist / serial killer Dexter Morgan in the upcoming season. Back in late 2020, the network teased that some new faces would introduce in the upcoming season. These include Clancy Brown
as Kurt Caldwell, Dexter's new rival. Kurt is an unofficial mayor of Iron Lake, the small fictional town in Upstate New York. Other casts include Julia Jones, Alano Miller, and Jamie Chung. However, their role hasn't been disclosed yet.
Will Jennifer Carpenter Return?
It's unclear whether other core characters from the last season would return in the upcoming season. Since Dexter revived, the big question surfaced that Jennifer Carpenter played Debra "Deb" Morgan would return. Though she died in the finale, the series is famous for its supernatural elements. Thus many wondered Deb might return. Soon the showrunner Clyde Phillips teased that some magical features would introduce teasing the possibility of Jennifer's return.
Dexter Season 9: What Will Happen In The Next Run?
The eighth season ended with Dexter fled Florida and became a lumberjack there. However, Phillips said on THR's podcast TV's Top 5 that they don't want this revival series to continue as the ninth season. He added ten years have passed, and the upcoming season would fill that gap. Phillips continued that the show won't pick up from where they left off. So the forthcoming season would write a new beginning and finale for Dexter's story.
Later it is revealed that Dexter is in the fictional small town Iron Lake where he'll meet Mayor Kurt, and eventually, their meeting will turn them into foes. Phillips said Kurt is a true man of people, caring, and helpful only if you support him. But if you hurt anyone that Kurt cares about, then nobody can save you from him. It seems Dexter finally meet someone of his level.