Since the filming for Brooklyn Nine-Nine Season 8 began, the star cast never missed any chance to share some glimpse of the set. Recently, Joel McKinnon-Miller and Joe Lo Truglio took us on a mini-tour of the stage, while sharing some behind-the-scenes images. Well, the current health crisis has severely affected the filming of the final run. But, filming is finally underway. It hints that soon season 8 would land on our screen.
The police dramedy series Brooklyn Nine-Nine follows a talented yet immature NYPD detective Jake Peralta. It takes place in a fictional Brooklyn 99th Precinct. Jake often clashes with his commanding officer, the strict and serious Captain Raymond Holt. But, Holt never takes it seriously due to Jake's high rate of successfully solved cases, besides staying in the childish attitude.
Brooklyn Nine-Nine Season 8: Behind-The-Scene Picture Teases Production
The entire cast finally has returned to film the final season of Brooklyn Nine-Nine last month. Amy Santiago star Melissa Fumero soon took on Instagram to share their excitement of resume filming after the COVID-related halt. Fumero was among the first-star cast who marked the occasion. She shared a picture of her with the other cast stating "Back in the Nine-Nine!!"
Soon, her fellow co-star Stephanie Beatriz also posted a selfie inside Shaw's Bar in her signature leather jacket. Meanwhile, Joe Lo Truglio shared a glimpse of his complete transformation into Charles Boyle in a funny video. Even Joel McKinnon-Miller (Scully) didn't take much time to share a video straight from the makeup chair.
Greetings From The Set
Well, it's almost been a month since filming started. But Fumero and the other cast members never missed a chance to surprise us. Recently, Fumero shared a snap of her in the floral blouse and little gold ball earnings. She said they will always remind her of Amy Santiago. At the same time, Miller offered some morning greetings from Brooklyn Nine-Nine Stage 12 with a short tour of the set.
It won't take much time to complete the trifecta as Lo Truglio shared a high-speed video of his journey from dress to set. Meanwhile, we got some glimpse of how Lo Truglio's mood swings can take place on set, and it looks quite funny for Fumero. However, after turning back to normal, Lo Truglio took us on a trip to the Universal Studio of Brooklyn Nine-Nine.
Dan Goor's Blessed To Return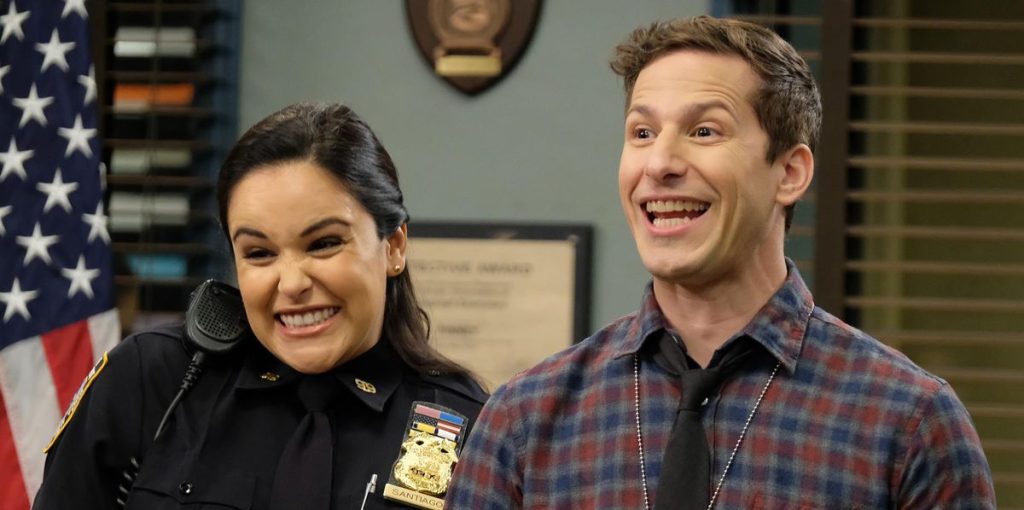 Earlier this year, the creator Dan Goor unveiled that the comedy series is finally on its end run. But, he was blessed and thankful to Universal Television and NBC for allowing them to return. Dan said that he feels lucky enough to work with such an amazing crew and cast for eight runs. Soon Dan praised his team. He said they are the most talented people with whom he worked. Even they have all become a family now.
Brooklyn Nine-Nine Season 8: When Will It Release?
Earlier this year, NBC confirmed that the eighth season would arrive this year. Though filming has just started the news yet shared on Twitter alongside the other upcoming NBC releases. As of now, NBC has yet to announce the official air date. But we can expect that it would air this fall. So, stay tuned.