Star Trek: Discovery cast recently joined the 55-Year Mission Star Trek convention where the actors teased that Star Trek: Discovery Season 4 will be different than ever. While the other actors wrapped their shooting, some are still teasing to return in a much bigger role this time. Based on Gene Roddenberry's Star Trek, it follows events that happened ten years before Star Trek: Original Series. So now, let's see what season 4 is cooking for us.
Star Trek: Discovery Season 4: Has Production Concluded?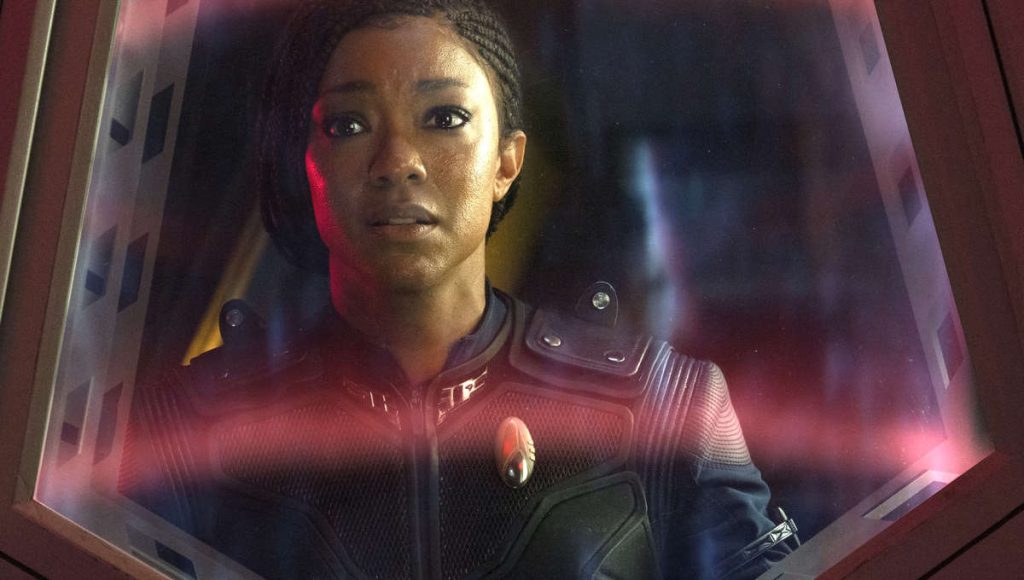 Despite several delays, the fourth season production finally began last November and has begun wrapping up in recent weeks. However, the work is yet to finish for some actors. For example, on the Wednesday panel, Tara Rosling was called up for further shooting in Toronto. But, during the panel, she explained that COVID protocols were the main reason for this extended filming schedule.
Tara added that the entire cast and crew were tested thrice a week. As a result, they had to stay on their levels, which further slowed down the production. Additionally, the false-positive tests resulted in a couple of days shut down, resulting in delayed filming. Meanwhile, Oded Fehr confessed that it becomes tough to film when the show has been continuously pushed back. Even they had to quarantine themselves for two weeks in Toronto.
Cast Shares Some Memorable Moments
Despite those strict protocols affecting the shooting schedule, Mary Wiseman said it was a crazy experience finally meeting them in person. However, Blu del Barrio revealed that they received many complaints the entire time. The crew stopped them from talking and laughing when their mask was off. But when they look back and watch the fourth season, it reflects how the team manages to lift the show in such a vulnerable time. David Benjamin Tomlinson praised that the cast was incredible and best.
Introduced A New Technology
Finally, a new achievement in Discovery season 4 as they are now using AR Wall instead of green screens. So the state-of-the-art AR Wall allows the cast to perform their scenes in virtual sets. On which, Patrick Kwok-Choon said that AR Wall is the future, and it's fantastic. It's a game-changing element that bolsters them to create desirable scenes. Although he didn't share much about his scenes, yet it sounds like they had fun filming with AR Wall.
Star Trek: Discovery Season 4: Who Will Be In The Cast?
Tara Rosling, who played Vulcan President of Ni'Var T'Rina, will once again return to Discovery. Besides her, Kenneth Mitchell confirmed to return in a unique role. Anthony Repp as Paul Stamets and David Ajala as Cleveland "Book" Booker will also share the stage. Repp also said that there are scenes where the fans can see the pair together exploring certain things in the recent panel discussion. Doug Jones as Saru will also return.
In addition, Oded Fehr as Starfleet Commander-in-Chief Vance will also return and even confirmed things would become easier next season. Perhaps he could return for the next season as well. David Benjamin Tomlinson will once again return as Saurian Linus. On the other hand, Patrick Kwok-Choon will return as the regular bridge crew, Tactical Officer Rhys. Further the entire main characters will return.
Will Another AI Or Ship Return?
During the panel, Julianne Grossman, who voices over the USS Discovery, teased that she will appear as a new character in the fourth run. She said that her other character would be slightly different and hover a different voice. Although Grossman didn't share more details about her new character, possibly it could be a new ship or AI. Well, in the last season finale, Starfleet discovered another source of dilithium which hints at the possibility of another ship that can travel faster than any warp-capable ship.
Will Explore T'Rina And Saru Romance
Tara was introduced in the third season where she had small screentime. But now she is returning to play a much bigger role in the fourth season. She said that T'Rina would continue to explore her journey as a president. But a lot is going on in her life apart from the presidentship. On the other hand, Doug Jones teased that fans can expect a budding romance between Saru and T'Rina.