Netflix's sensational wild animals documentary is soon to make a return for Tiger King season 2. The show's return is unbelievable news for the fans across the boundaries. Tiger King has been one of the most successful documentary series for Netflix. And the streaming giant revealed the official release date for the second season at the TUDUM event last Saturday.
A press release by Netflix claimed that Tiger King attracted a viewership of 64 million in just four weeks after its release in March 2020. Moreover, the show has also been termed a "cultural sensation" with immense viewership worldwide. Further, the streaming service will look to reach a similar viewership mark as Tiger King Season 2 makes its way soon. As per the official tweet by Netflix, the upcoming season will bring just as much madness and mayhem as the first installment of Tiger King. So continue reading to know all the recent updates about the second season.
Carole Baskin Will Not Return For Tiger King Season 2
After a massive controversy in the first season, Carole Baskin will not appear in the second season. In the last season, the show highlighted a meme that Baskin was a murderer and her big feud with Joe Exotic gave her overnight negative publicity. And Baskin did not really enjoy how th ings turned out for her just for the sake of publicity.
So, soon after Netflix's announcement, Baskin issued a statement through Cargo Films, clarifying her involvement in Tiger King season 2. She said that she is not sure how Netflix managed to move forward with the second season as Joe is currently in jail. Baskin also claimed to have been contacted by the director Rebecca Chaiklin regarding season 2. However, she refused, saying, "There is no explanation for such a betrayal and false portrayal."
Highlights Of The Previous Season
In the premiere season, fans witnessed the hidden world of breeding wild cats at the Greater Wynnewood Exotic Animal Park in Wynnewood, Oklahoma. Moreover, we saw a massive feud between Joe Exotic and Big Cat Rescue's owner Carole Baskin.
It then concluded with Joe getting arrested for animal abuse counts and plotting a murder-for-hire at the show. But it is unclear to predict the timeline for season 2 and when it was shot. However, the announcement video does reveal some scenes of Joe talking from inside the prison. So, it will be thrilling to see the mayhem Tiger King Season 2 will bring.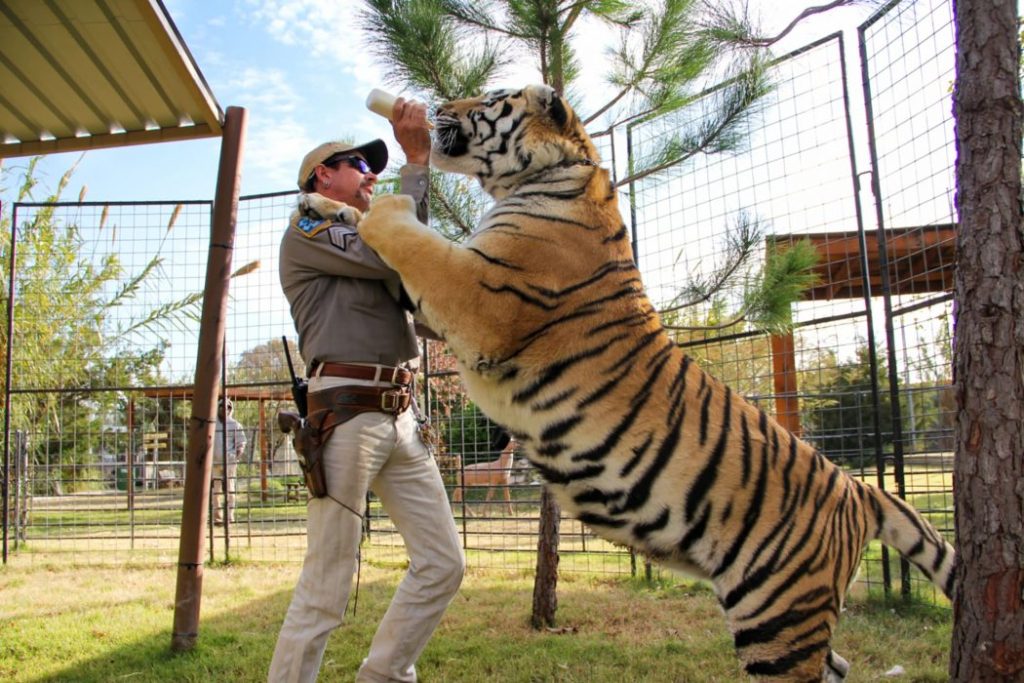 Tiger King Season 2: Premiere Date
As the streaming giant made the statement, Joe Exotic will return for Tiger King season 2 on November 17, 2021. The show is set to premiere worldwide on Netflix. The Wild Cat breeding documentary will feature some spine-chilling mysteries in the second season. The next season will feature seven episodes similar to the first. So don't forget to watch the newest season of Tiger King.