While fans have been waiting to know whether Eve Polastri and Villanelle will reunite in Killing Eve Season 4, the network dropped a short teaser. Based on Luke Jennings's novel series Villanelle, it follows a British Intelligence Agent Eve. After being bored with her protection role, she gets overly interested in a female assassin. But M15 fired her and later recruited her in M16 to chase an international killer, Villanelle. But their desperation to learn about each other distracted them from their original mission.
Killing Eve Season 4: Production Is Underway!
The BBC has recently unveiled a short teaser announcing that the show has begun filming on its last run. The teaser is soundless, giving fans a glimpse of how it looks like to film a blockbuster hit TV drama. It opens with a clapperboard with a date and takes written on it. Followed by Jodie Comer in front of the camera shooting her scene. As soon as the clip starts, a mysterious blond figure starts pacing amidst a crowd of extras.
Well, the thirty-second clip of Killing Eve Season 4 only teased "in production now," leaving fans in a daze. "Our lips are sealed, Mostly," it captioned. Finally, after a year-long waiting, the network confirmed that filming would begin soon. On June 7, 2021, we learned that filming for the fourth season has begun. The news came along with some behind-the-scenes pictures of Sandra Oh grappling with a man for some information. But later she kissed him.
Killing Eve Season 4: Who Could Be In The Cast?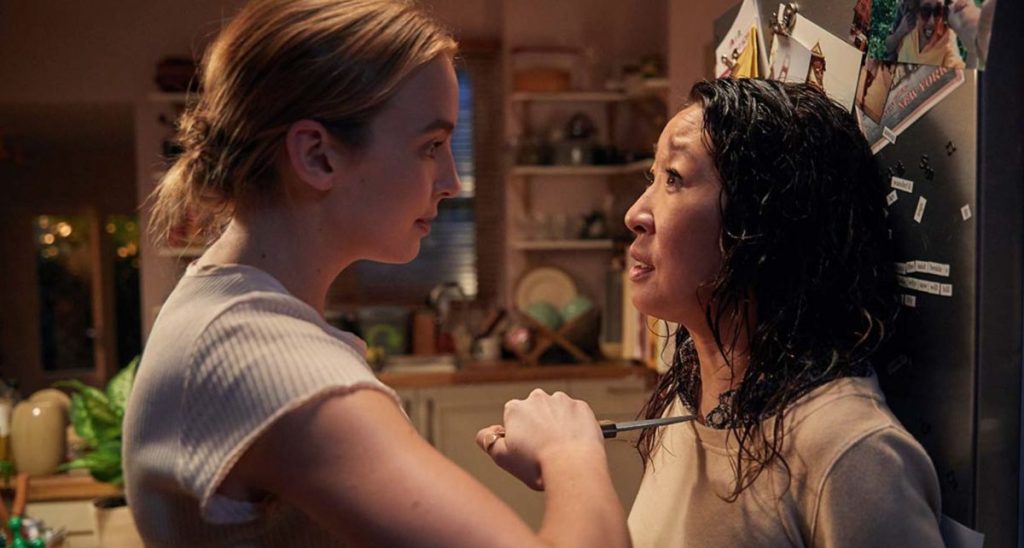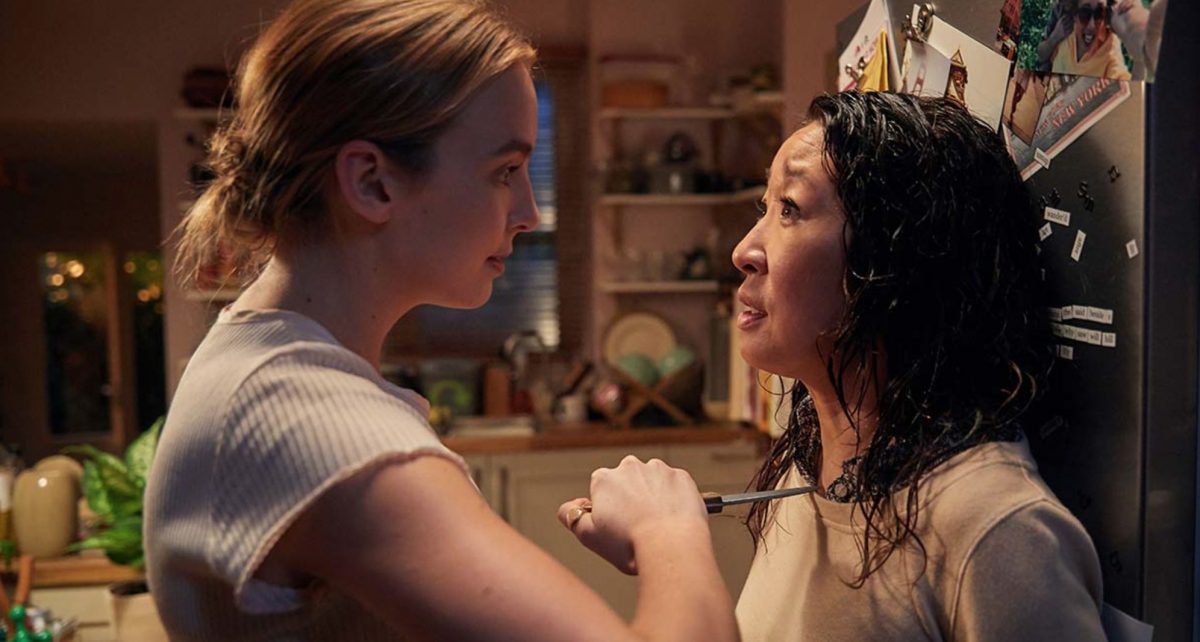 Without any doubt, we can bet that the series lead stars will return. Sandra Oh as Eve Polastri and Jodie Comer as Villanelle will return. Fiona Shaw as Carolyn Martens will join Kim Bodnia as Konstantin Vasiliev. It remains unclear who else will return. But as per the reports, Laura Neal will take over as the series showrunner and head writer for the final run. Along with her, the series creator Phoebe Waller-Bridge, Suzanne Heathcote, and Emerald Fennell will return. Now, with all executive producers, the series produced alongside Oh and Sally Woodward Gentle. As well as Damon Thomas, Gina Mingacci, and Lee Morris.
Killing Eve Season 4: Is It The End?
The creators announced back in March that Killing Eve Season 4 will be the show's final season. The decision came out as a surprise. As the creative team made this decision and not by sudden cancelation. However, the series has been highly acclaimed. Thus, the writers would have a visual end to the couple's journey. As per The Hollywood Reporter, AMC Network is currently developing severe other spinoffs with production studio Sid Gentle Films. So perhaps it isn't the end of Eve and Villanelle's journey.
AMC President Praised Creator's Work
Dan McDermott, AMC Networks Original Programming President said that Killing Eve attracted a committed and dedicated fan base from its debut. He appreciated Phoebe Waller-Bridge's brilliant adaption and how Sandra Oh and Jodie Comer gave justice to these characters. "We couldn't be more thankful" for the highly talented cast and crew members' efforts th at made the show a blockbuster hit, he added.
Jodie Has Mixed Feelings
Recently, Jodie Comer told Digital Spy that it doesn't feel different at this moment. But she would definitely miss filming the show. Further, when she looked at the clapperboard, she realized the moment had come. Now soon they would be filming the last scene. She felt a little emotional. They have two blocks to go, and everyone seems busy making it perfect and giving their best. However, it's bittersweet emotion at this moment.