There will be some crucial turning points for the doctors in New Amsterdam Season 4 Episode 6. Further, Dr. Reynolds and Dr. Malvo will finally deal with the dilemma they have faced for a while. After Reynolds had been pulled off a life-changing surgery, he realized that its time to reveal their big secret. Meanwhile, somebody from Dr. Helen's past will appear in the next episode. So keep reading on to discover all the upcoming events of New Amsterdam Season 4 Episode 6.
New Amsterdam Season 4 Episode 6 Preview: What Will Happen?
NBC has revealed the official synopsis and promo for the sixth titled "Laughter and Hope and a sock in the Eye." Dr. Reynolds and Dr. Malvo will reveal a big secret about their affair that they have been keeping from everyone. Reynolds and Malvo will tell her husband, Dr. Baptiste, about their affair in the next episode. Meanwhile, Max will get to know more about Dr. Helen. Somebody from Helen's past will feature in the sixth episode, possibly a person she loved in the past. The appearance of this unknown person might create some complications for the duo's newly budding relationship.
Meanwhile, the promo shows the doctors operating on a patient and communicating through sign language. The tagline in the promo reads, "A medical miracle that begins with a moment of silence." Thus, the promo suggests that something big is about to unfold in the sixth episode of New Amsterdam Season 4. Moreover, Iggy will deal with a conflict between two patients and their families. And, Dr. Will will reconsider taking Max's offer to join the staff at the hospital.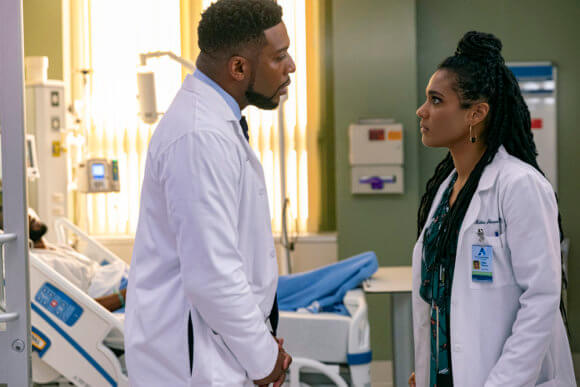 A Quick Recap!
In the fifth episode of New Amsterdam Season 4, Dr. Fuentes continued her mission to transform the hospital by attracting more donors through a museum sponsorship. However, her move was opposed by Max as he thought that it was not fair to the patients. Meanwhile, a one-legged Asian lady saw a piece of art (a harp) taken from her 50 years ago after getting exiled from her country. Goodwin was on the old lady's side while Fuentes was against it. Eventually, the lady didn't get her harp back, but the museum responsible for her harp agreed to pay for her prosthetic leg.
Meanwhile, Dr. Reynolds was taken off by major artificial heart surgery, blaming Dr. Baptiste for it. Reynolds thought Baptiste found about Dr. Malvo and his affair. But, it turned out that Fuentes was the one who pulled Dr. Reynolds off the case. He was assigned a returning patient, according to the new policies, who needed surgery too. So, Dr. Reynolds passed on the artificial surgery and decided to operate on the returning patient. After the surgery, he told Dr. Malvo that they should come clean about their affair with her husband.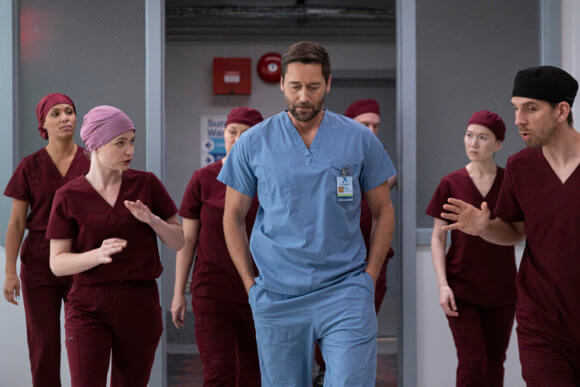 Further in New Amsterdam Season 4 Episode 5, Dr. Helen Sharpe was called by the court to testify against a former patient. She was surprised to see Dr. Fome at the court, who testified in favor of the patient. Further, the case was dropped, and Sharpe confronted Fome, saying his testimony let a monster go free. But later, Fome proved that she didn't remember all the details of the incident and apologized to Sharpe for everything.
Dr. Bloom Finds Out A Big Secret About Her Mother
Dr. Bloom's mother Jeanie appeared at the hospital in the fifth episode of New Amsterdam Season 5. She thought that her drug addict mother had just come to score some pills. Leyla took over Janice's case and admitted her to the year. But, seeing her mother over and over at the hospital increased frustrations.
Dr. Bloom was also going through rehabilitation and seeing her mother made things worse for her. Also, she tried to make her mother leave by writing a prescription. However, Leyla showed Bloom her mother's ultrasound reports, which revealed that Jeanie has endometriosis. Finally, Bloom realized that her mother had been in pain for years and apologized to her.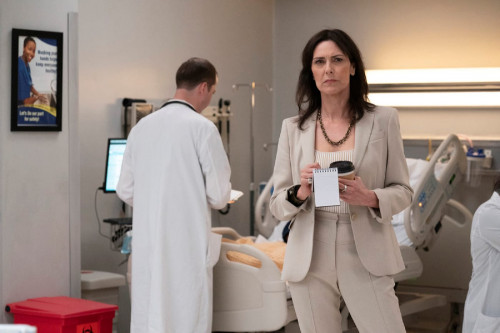 New Amsterdam Season 4 Episode 6: Premiere Date
The sixth episode of New Amsterdam Season 4 will air on October 26, 2021, at 10:00 p.m. ET. NBC will air each new episode weekly on Tuesdays, with a runtime of around 45 minutes. Fans can also watch the latest episodes on NBC's official website, Hulu TV, Fubo TV, and YouTube TV. So don't miss the newest episode of season 4 and keep returning for more episode previews.