It looks like Max will go against Veronica to help undocumented refugees in New Amsterdam Season 4 Episode 9. The refugees have nowhere to go, but Veronica does not want them to stay at the hospital. Thus, we will see yet another conflict between Veronica and Max. 
Moreover, it seems like the hospital is done with Veronica's ways. Because a voting call to let go of Veronica is staged for the next episode. So continue reading to find all the necessary information about the upcoming episode of New Amsterdam Season 4.
New Amsterdam Season 4 Episode 8 Preview: What Will Happen?
The penultimate episode is titled "In a Strange Land." Max will go against Veronica's orders to help some undocumented immigrants. Unfortunately, a fatal fire destroyed the church where the immigrants stayed. Veronica will be against his decision and will try to call the cops on the people. Max will take a stand and force Veronica to change her find. However, she will be reluctant to let the immigrants say. Thus, the hospital management will call for a vote against Veronica in New Amsterdam Season 4 Episode 9. 
Meanwhile, Helen and Malvo will treat a patient suffering from a life-threatening disease. Brantley will try to amend things with Veronica while Dr. Reynolds will be in a dilemma about his new position at the hospital. Also, the hospital will be in utter chaos in Max's absence. Thus, it might not be the best time for Max and Helen to start a new life and leave the hospital. It will be testing for them to make decisions about their future in the next episode.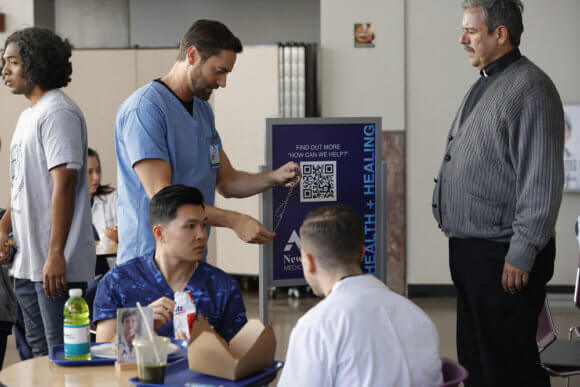 A Quick Recap!
The eighth episode of New Amsterdam Season 4 began with Lauren, Iggy, and Floyd discussing the hospital's future after the departure of Max, which is due in a couple of weeks. However, Iggy hopes for the best for Max and themselves. At the hospital, max found out that Veronica was planning to lay off Iggy, Floyd, and Lauren from the hospital. Thus, Max confronted Veronica about her decision to fire Max's team.
Moreover, Dr. Helen was assisted by her replacement Dr. Agnes Kao while treating a cancer patient. The hospital went into a state of panic after Iggy reported that all the patient files had gone missing. It tuned out that the hospital's computer had been hacked through a ransomware attack. The hackers demanded $10 million in Crypto if the hospital wanted to continue its operations.
The hackers entered through a malicious email opened by Max in the hospital's system. Veronica suggested using her sources in exchange for Max signing the papers to let go of his colleagues. Veronica transferred the funds, and the system started to work. However, she was certain that the FBI would retrieve the money. Meanwhile, Max managed to save his friends at the cost of firing 148 employees, including Casey, Agnes, Gladys, and Claude.
Furthermore, Iggy and Gladys' patient Angelo tried to commit suicide. When Iggy talked to Angelo, he revealed that his brain was not working properly after the overdose. Iggy consoled Angelo and told him to give it some time. Also, Helen accidentally overdosed on her patient during chemotherapy. So, she had to reverse the chemo to save her patient. 
New Amsterdam Season 4 Episode 9: Release Date
The ninth episode of New Amsterdam Season 4 will air on November 16, 2021. NBC airs each new episode weekly on Tuesdays at 10:00 p.m. ET, with an average runtime of 45 minutes. The fourth season will feature ten episodes.
Where To Watch The Penultimate Episode Online?
If you miss the broadcast on NBC, fans can stream the upcoming episode on the network's website and the NBC app. Moreover, season 4 is also available on Peacock TV, YouTube TV, DirecTV, Hulu+Live, Fubo TV, Xfinity, and Sling TV. Thus, don't miss out on the next episode and return for more exciting episode previews.