NBC has pushed the broadcast of this week's all One Chicago episodes. Thus, Chicago Med Season 7 Episode 9 will not air on the network tonight. The next episode will be a fall finale before the series goes for a winter break.
Thus, the next episode will be an important one for the show. We can expect to see some confrontations and mysteries unfold in the ninth episode. Therefore, keep reading on to know all the essential details about the next episode.
Chicago Med Season 7 Episode 8 Precap: What Will Happen?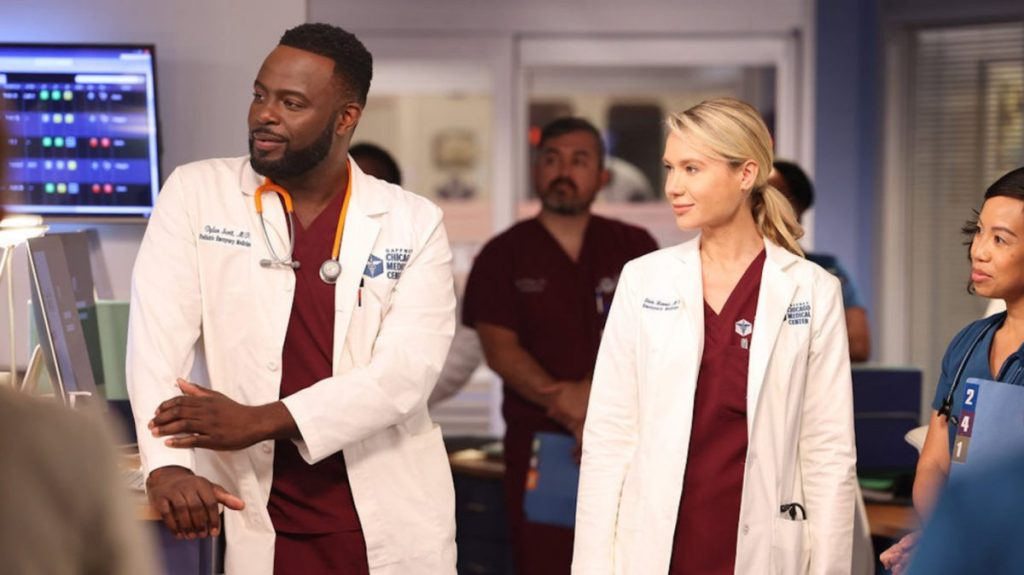 Unfortunately, NBC has not dropped any details about the ninth episode of Chicago Med Season 7. However, the upcoming episode will deal with Dr. Cooper's big secret. Halstead and Goodwin will try their best to get Goodwin to confess. Further, Choi will undergo spinal fusion. 
Thus, he will have to leave the ER again for a few months. We can also expect to see Blake and Marcel working together in the next episode. However, things might get tricky when Blake finds out about Marcel going out with Avery. In addition, Taylor will try to get things better with Maggie, while Hammer will suffer from the guilt about her mother in Chicago Med Season 7 Episode 9.
A Quick Recap!
In the previous episode, Dr. Blake's daughter, Avery, was discharged from the hospital after her recovery. However, she visited back to the hospital to meet Marcel. She also convinced Marcel to go for drinks with her. Meanwhile, Blake paged Marcel for work, but he refused. Later, Marcel and Avery had a last drink before heading for their homes. The next day, Blake confronted Marcel about missing a once-a-year surgery and warned him to be available in the future, or she would find someone else for the job. 
Scott came across a family friend, Uncle Joe while having drinks with his father at the bar. Unfortunately, the man got in a fight after he was demoted from the precinct. Scott took Joe to the hospital to tend to his wounds and talk about his demotion. Scott also recommended that he speak to Dr. Charles. Further, in Chicago Med Season 7 Episode 8, Joe requested Charles to give him some medication for his mental state. But, Charles wanted to admit him because he thought Joe had anger issues. So, Charles asked Scott for it, but he refused.  
Charles tried to force Joe after consulting Goodwin. However, Scoot confronted Scott that Joe could lose his job if the station found out. Moreover, Joe got angry and waited for Charles in his office with a razor blade. Scott went to look for Joe and found his car in the parking lot. He quickly headed towards Charle's office and requested Joe to put down the blade.
Choi Performs A Risky Procedure On A Patient!
Meanwhile, in Chicago Med Season 7 Episode 8, Dr. Archer was surprised to see Dr. Choi taking up a lot of patients in the morning. Suddenly, a patient, Mr, Clemons came into the hospital and suffered from a painful hernia. Dr, Marcel, and Dr. Choi were handling the patient's case. Choi suggested a risky non-surgical procedure, but Marcel was not in favor of it. Marcel thought the man needed surgery to remove his hernia. However, Clemons wanted to be with his wife, who was soon going to be in labor at any moment. 
Choi went to Archer with his suggestion, and Archer gave him the go-ahead. Choi performed the procedure and managed to subside the hernia with a few complications. Later, Choi asked Blake for an MRI, as he was suffering from immense pain. It turned out that Choi hadn't recovered completely. 
Taylor Job Was At Atake After The Annual Drug Test!
Moreover, in Chicago Med Season 7 Episode 8, Maggie was in charge of the annual drug test. Taylor had a panic attack after hearing the news, as she had been taking Adderall. Maggie, her biological mother, noticed her and calmed her down. Taylor told the truth about using drugs. So, Maggie helped by flushing her system and took an unofficial urine test which came positive. Further, Maggie gave Taylor more meds before the actual test. Taylor thanked Maggie for risking her job as the test came out clean. 
Halstead Assists Hammer To Find Her Mother!
Halstead helped Dr. hammer, who was looking for her mother. During the search, the duo found a young girl at a dope house. They informed the cop to help the girl out. However, Hammer felt guilty about leaving her mother alone in Chicago Med Season 7 Episode 8.
Halstead confronted Cooper after he woke up. He returned to Goodwin disappointed about getting nothing from cooper. Choi decided to get through with a spinal fusion, leading him to bed rest for several months. In the end, Terry came back to Hammer and returned the money she borrowed for her van. She expressed her desire to be back on the road. Hammer wanted to stop her mother, but instead, she let her go.
Chicago Med Season 7 Episode 9: Premiere Date
The ninth episode has been delayed for two weeks. The fall finale of Chicago Med Season 7 will air on December 8, 2021, at 8:00 p.m. ET. 
Where To Stream The fall Finale Online?
If you miss the broadcast on NBC, fans can stream the finale on YouTube TV, DirecTV, Sling TV, and Fubo TV. So don't miss the fall finale of season 7 and keep coming back for more episode previews and updates.