The 118th will try their best to rescue two women stuck in their cars in 9-1-1 Season 5 Episode 9. An old oil well will erupt and turn into a sinkhole. The women's car will get stuck in the sinkhole. One of the women will be severely injured, and the 118th will be forced to find alternative methods to cut the metal.
Meanwhile, Athena will be investigating an old robbery case while Buck will feel insecure about his relationship. However, your favorite show is delayed for some time. But why is that? Keep reading to know all the updates about the next episode.
9-1-1 Season 5 Episode 9 Preview: What Will Happen Next?
The ninth episode has been titled "Past Is Prologue." The 118th will race against time to rescue two women who get stuck in the middle of a sinkhole in Downtown Los Angeles. An abandoned oil well will erupt, leading to the opening of a sinkhole. The women will get caught in the explosion with severe injuries.
In the promo, Hen says that if the woman is not rescued, she will drown in her own blood due to internal bleeding. However, the 118th is feeling helpless as they cannot use metal cutters. Thus, the crew will have to find an alternative method to rescue the women before something bad happens in 9-1-1 Season 5 Episode 9.
Meanwhile, Athena will reopen the investigation of a casino robbery case that has been cold for 30 years. Also, Buck will feel insecure about his relationship with Taylor. He feels that their relationship is going downhill. Moreover, Hen will encounter a man who is known to her mother.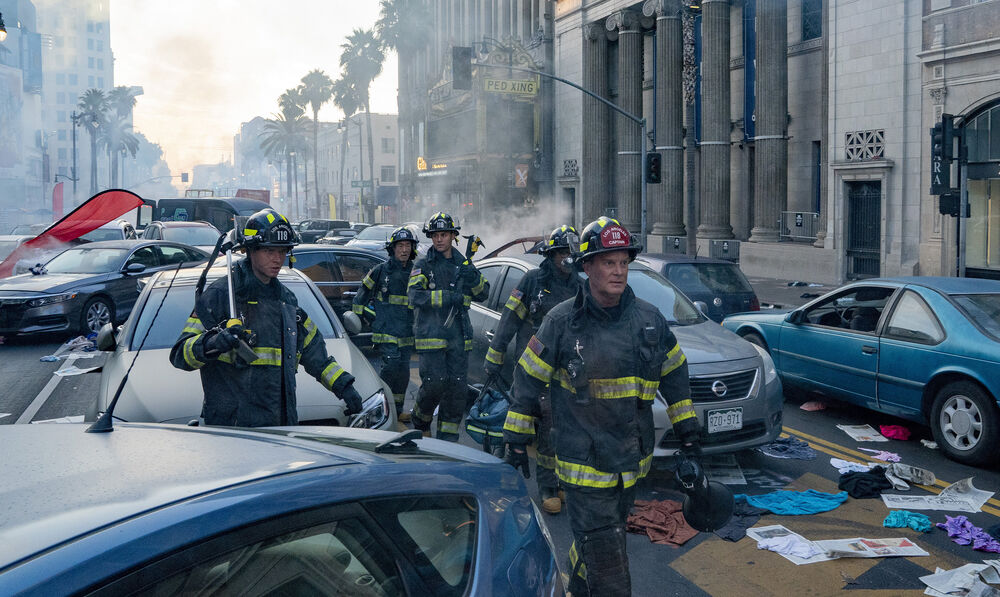 A Quick Recap!
In the previous episode, Micheal's partner David decided to use his surgical skills to save the victims of a massive storm in Haiti. Meanwhile, Micheal realized that he could not live without David and decided to propose to him. However, the situation quickly escalated when the hospital where David was performing surgery was devastated by a huge explosion.
Further, Claudette took an emergency call from a young boy stuck inside the hospital after the explosion. Claudette panicked when she failed to reconnect the call. Buck told her that the disconnection would have been due to the room getting burned down in the fire. Luckily, the boy made a mistake in reading the number, revealing that he was still alive. The 118th was then dispatched to the location. Bobby, Athena, and Micheal also reached the hospital. Athena also consoled Micheal to trust Bobby.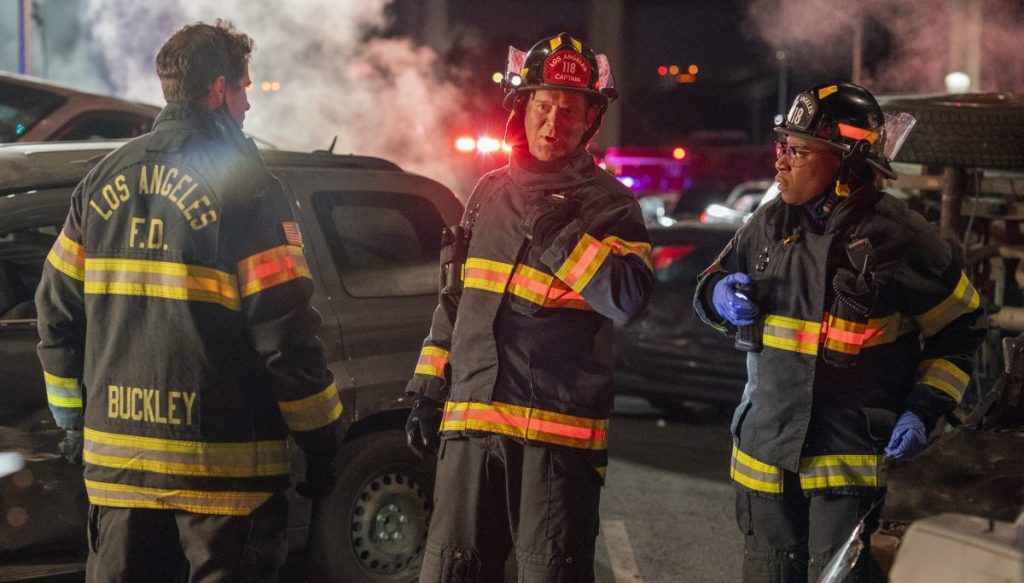 Meanwhile, the squad entered the devastating fire and saved the young boy, David, and other survivors. However, Claudette was still traumatized by the call. Also, David reunited with Micheal and accepted his marriage proposal. Moreover, Micheal decided to accompany David to Haiti in 9-1-1 Season 5 Episode 8.
9-1-1 Season 5 Episode 9: Release Date
Unfortunately, the ninth episode of 9-1-1 Season 5 is going on a two-week hiatus. 9-1-1 Season 5 Episode 9 will air on November 29, 2021. And after that, Fox will air each new episode on Mondays with a runtime of around 45 minutes.
Where To Stream the next Episode Online?
If you miss Fox's broadcast, fans can stream the latest episode on the network's official website and the Fox Now app. In addition, fans can also watch season 4 on Hulu+Live, Sling TV, Fubo TV, DirecTV, Xfinity, and YouTube TV. So, don't skip the ninth episode and return for more thrilling episode previews.