It looks like Morgan will have to plead in front of Strand for help in Fear The Walking Dead Season 7 Episode 7. Baby Mo will get sick, and Morgan sees no other alternative than to take him to Strand's Tower. However, things are bound to get tricky when the two rivals face each other. Also, Strand will have the upper hand, but Grace will come and save Morgan's life in the next episode. So keep reading to know all about the seventh episode.
Fear The Walking Dead Season 7 Episode 7 Preview: What Will Happen Next?
The seventh episode of Fear The Walking Dead Season 7 is titled "The Portrait." Things will get trickier for Morgan and Grace as Baby Mo gets sick. So, Morgan will seek help from Strand to let them stay in his Tower. However, when Morgan will get inside, he will realize that Strand and his resources are not expendable after all. However, with the CRM closing in, Strand and Morgan will most likely have to work together again in Fear The Walking Dead Season 7 Episode 7.
Meanwhile, Morgan will get caught in his attempt to get entry. Strand will try to throw Morgan off to the building with an army of walkers standing down. But Grace will save the day by negotiating with Strand in the upcoming episode. Nothing comes before baby Mo for Grace and Morgan.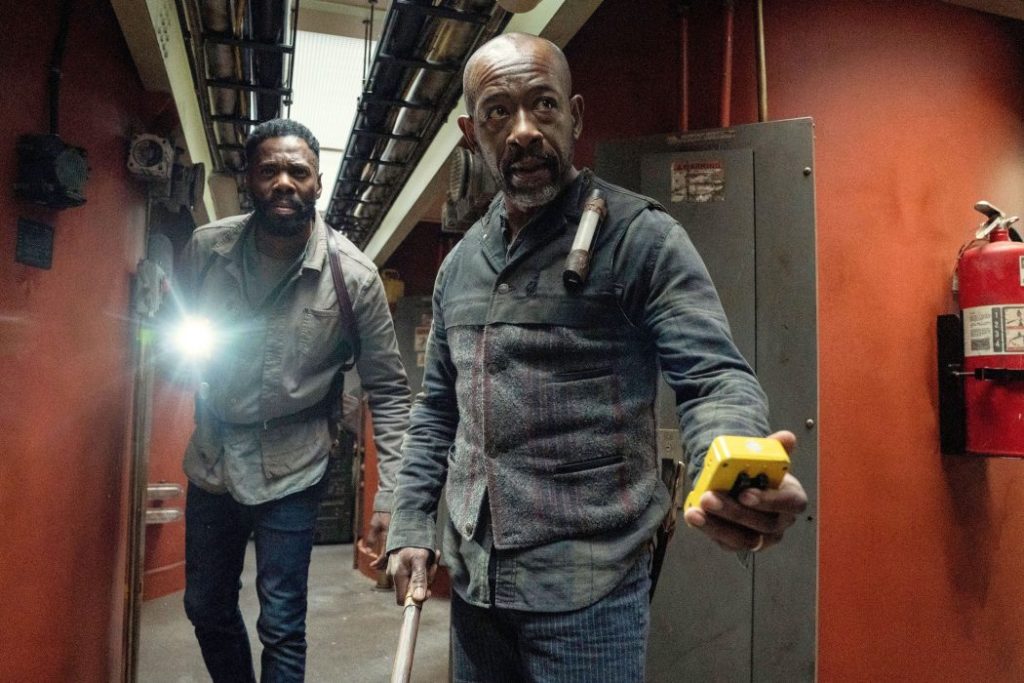 A Quick Recap!
The previous episode of Fear The Walking Dead revolved around Al and Isabelle. Al sent other members of her group to Pennsylvania. She returned to her SWAT man after taking down Riley. Further, she decided to continue her solo trip to interview the survivors of the explosion. However, her plan was spoiled when Morgan and Grace approached her.
They informed Al that the CRM Reclamation team was looking for her girlfriend, Isabelle. Al's girlfriend helped Morgan's friends before the explosion and had gone AWOL since. Further, Al managed to trick Morgan and Grace to refuel her van using the CRM helicopter's fuel while she lured the soldiers to Fort San Vicente, where she attempted to kill them with an old cannon.
However, the plan failed miserably, and the CRM soldiers captured the trio. They tortured Al into revealing Isabelle's whereabouts, taking refuge at her co-pilot Beckett's cabin in the mountains. Morgan and Grace escaped and managed to kill all the soldiers. However, Isabelle's location was already passed on to another CRM team.
So Al gave Morgan an interview for the first time, after which she took the CRM helicopter to the mountains. She saw Isabelle and told her that she was ready to start a new life together, even if it meant constantly running away from the CRM in Episode 6.
Fear The Walking Dead Season 7 Episode 7: Airing Date
The seventh episode of Fear the Walking Dead season 7 will air on November 28, 2021. AMC airs each new episode weekly on Sundays at 9:00 p.m. ET, with an estimated runtime of 43-65 minutes. All-new episodes drop a week earlier on AMC+ before airing on AMC.
Where To Stream The Next Episode Online?
If you miss AMC's broadcast, viewers can watch the upcoming episode on the network's official website and the AMC app. Moreover, fans can also stream the seventh season on Philo TV, Hulu Live TV, YouTube TV, DirecTV, and Fubo TV. So, don't skip the seventh episode and keep coming back for more informative episode previews.