Lee-hwi will have to deal with more betrayals while her identity is at stake in The King's Affection Ep 17. Ji-woon and Lee-hwi will have to do whatever it takes to get rid of the rumors about her real identity. Meanwhile, the Queen will get suspicious about Lee-hwi as she receives immense pressure about giving birth to the royal heir. Further, Seok-jo will have to make a massive decision in the next episode. So, keep reading further to know all the necessary details about episode 17.
The King's Affection Ep 17 Preview: What Will Happen Next?
Lee-hwi's identity will be more in question in the upcoming episode, as Prince Wonsan and Chang-woon make another attempt. Chang-soon might spread rumors about Lee-hwi's identity. Moreover, the Queen might have doubts about Lee-hwi's sexuality. She might think that Lee-hwi prefers men. With more pressure from Lord Sangheon and Queen Dowager, the Queen might force Lee-hwi to give her an heir.
Meanwhile, Ji-hyun will have to fight against Prince Wonsan and Chan-woon to protect Lee-hwi's secret. Meanwhile, Ji-woon will have to marry to save Lee-hwi in The King's Affection Ep 17. Also, Seok-jo will have to choose between his loyalty to Lord Sangheon or risking his son's life by revealing the truth about Lee-hwi.
A Quick Recap!
The previous episode kicked off with a romantic kiss between Ji-woon and Lee-hwi. They spent a little amount of time together alone before they had to get back to pretending. At night, Ji-woon went to the Royal Library and referred to the official diary about the King's details.
The journal stated that the King's death had been caused due to Busohwa poisoning. So Ji-woon referred to the Royal Inafalamary's notes to find the herb's effects. The books suggested that Bushowa caused immediate stomach swelling and black gums. However, the King's body did not show the effects immediately.
Meanwhile, in The King's Affection Ep 16, Commander Yoon broke into the guild's offices to look for any information about weapon transportations. However, the ledgers did not reveal anything fishy. So, Commander Yoon reported back to Lee-hwi and told him about his plan to find some evidence in the Yeoyeon base. Moreover, he promised Lee-hwi to return alive and asked her to send Ga-on if she needed him for any urgent matter.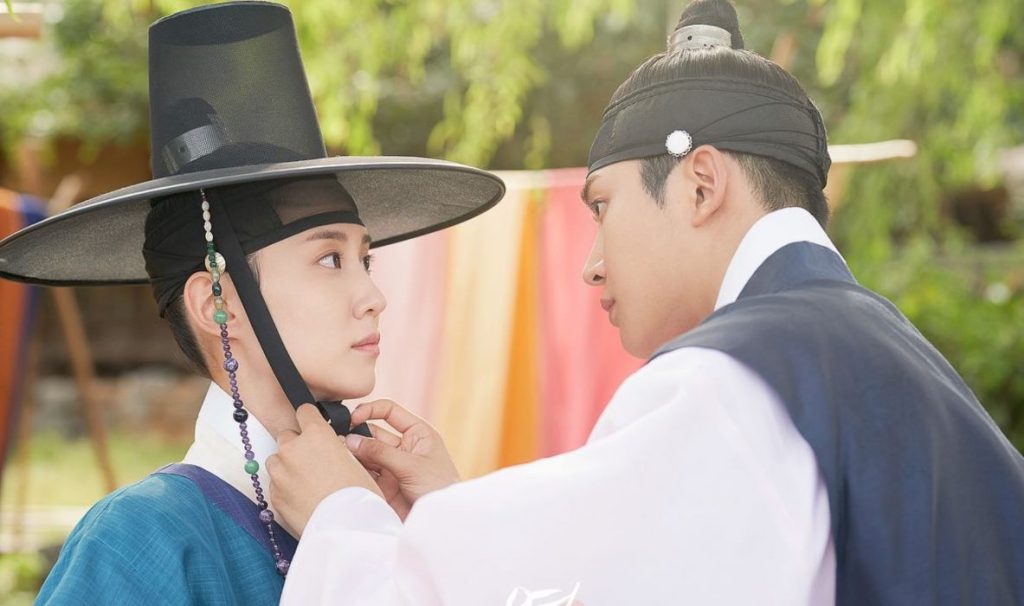 Seok-jo Imagines Killing Lee-hwi
On the other end, Seok-jo was suffering from the truth about Lee-hwi's identity. He was confused about telling the truth to Lord Sangheon. During the night walk, Seoj-jo followed Lee-hwi, who was leaving after meeting Commander Yoon. He decided to attack Lee-hwi with his sword, while he remembered Lord Sangheon saying, "After making one mistake it is easy to make another."
Ji-woon came in and broke his father's imagination. He also confronted Seok-jo of his presence near Lee-hwi's quarters. The following day, Lord Sangheon informed Seok-jo about the break-in at the guild's office and ordered him to bring the ledgers from Yeoyeon. 
Commander Yoon Dies In Seok-Jo's Arms
Lee-hwi and Ji-woon were busted in the proceeding at the palace. Meanwhile, in The King's Affection Ep 16, they met the Queen and So-eun, who offered Ji-woon tea. Moreover, Lee-hwi was concerned about what was happening at the Queen's quarters, given Ji-woon's past with Se-eun. So, she sent a Eunuch to check up on them. Elsewhere, Commander Yon broke into Yeoyeon base and stole the ledgers containing Lord Sangheon's private army information.
However, he was confronted by Seok-jo and his men. Ga-on rescued him from the situation while Seok-jo chased them to the cliff's edge. Seok-jo asked his old friend Yoon to give the ledgers, and he would spare Yoon's life. However, Yoon pretended to provide him with the register and instead handed him to Ga-on and pushed him off the cliff.
Meanwhile, Seok-jo's men shot Yoon with their arrows while Seok ordered them to stop. Seok-jo was in disdain as they thought about the old days when the two were best of pals. Eventually, Commander Yoon took his last breath in Seok-jo's arms after his last words, "The sky is blue," reminding Seok of the days when the two used to watch the sky together and had sword duels.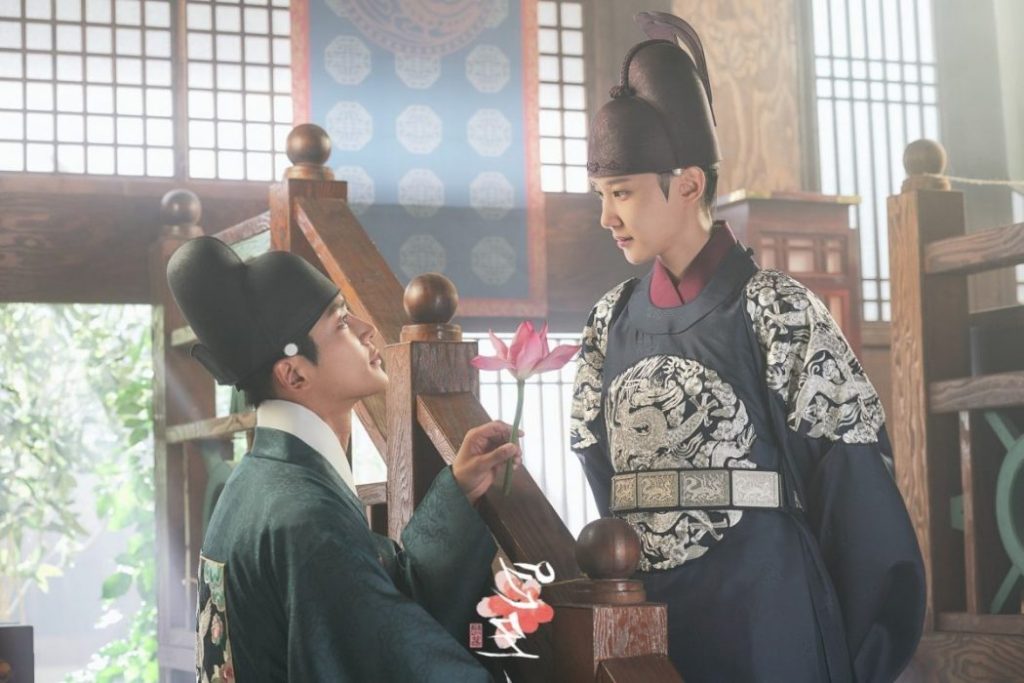 Further, in The King's Affection Ep 16, Ji-woon confirmed that the King's diary was filled with wrong information and reported his discovery to Lee-hwi. Also, Lee-hwi met Ji-hyun, who promised her to stick by her side. However, he could not give her a ring he had brought for her. Instead, he chose to stay quiet about his feeling to protect Lee-hwi.
Lee-Hwi Gets Attacked By Chang-woon
Ga-on was severely injured as he came back to Lee-hwi with the bad news about Yoon. When she saw the ledger, the pages were damaged because of the water. And Lee-hwi almost broke down remembering her protector, Yoon. Meanwhile, Prince Wonsan found out about Lee-hwi's identity and manipulated her uncle Chang-woon into attacking her. Wonsan said that Lee-hwi would banish him, and he could have the throne if Chang-woon helped Wonsan overthrow her. 
At Yoon's burial ground, Lee-hwi grieved her protector's passing with Ji-woon. Soon after, they were attacked by masked men. The two fought side by side, surrounded by enemies. Surprisingly, Seok-jo came to their rescue. However, Chang-woon's face was revealed while he ripped Lee-hwi's clothes during the fight. In the end, Seok-jo managed to defeat everyone in an attempt to save his son in The King's Affection Ep 16.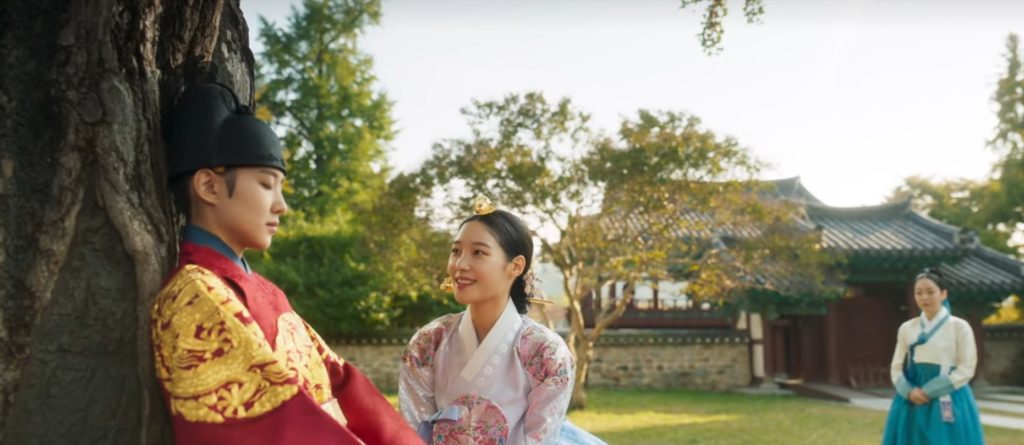 The King's Affection Ep 17: Airing Date
KBS2 will air The King's Affection Ep 17 on December 6, 2021. The network airs two new episodes weekly on Mondays and Tuesdays at 9:30 p.m. KST, with an estimated runtime between 60-70 minutes. The first season is set to comprise a total of 20 episodes.
Where To Stream The Upcoming Episode Online?
The latest episode is aired on the KBS2 channel in Korea. Viewers across the globe can stream the next episode on Netflix. Hence, don't miss out on a thrilling episode of The King's Affection and keep returning for more exciting episode previews about your preferred K-drama shows.