It seems like Kurt is trying to get into Harrison's head in Dexter Season 9 Episode 7. He is the serial killer that Angela is looking for. However, Kurt is playing a much deeper game to hurt Dexter and his family in the next episode. Meanwhile, Angela will arrest a suspect in Iris' murder. Thus, continue reading ahead to learn the necessary details about the sixth episode.
Dexter Season 9 Episode 7 Preview: What Will Happen Next?
The sixth episode of Dexter Season 9 is titled "Skin of Her Teeth." Dexter will be worried when he realizes that Kurt might be looking to harm his son Harrison. He thinks that Kurt is a serial killer and knows about Dexter. He might also know that Dexter killed his son Matt. So now, he will turn himself from a predator to a protector in the next episode. However, he is not too comfortable being a protector but has no other choice.
Meanwhile, Angela will find Iris dead and abandoned near the cave. She will arrest an Iron Lake resident for his close friend's murder. Meanwhile, Dexter and Harrison will have some differences between them, which would push them further away. But Kurt will sense the opportunity and try to train Harrison into something monstrous. Harrison is blindsided by the idea of having a father figure, which could cost him his life in the upcoming episode.
A Quick Recap!
Harrison apologized to his father for getting overdosed at the party in the previous episode. However, Dexter noticed a job application in his son's bag. Harrison asked for his permission, but Dexter refused after finding that the offer was from Kurt. Moreover, Angela pulled Dexter's car and asked for a license and registration. She asked for his real identity card, which stated his name as Dexter Morgan.
Angela showed him the obituary and the fact that she knew who he was. Dexter mentioned his former wife Rita and Debra's death and why he had to hide his identity. However, Angela was really hurt and decided to stay away from Dexter.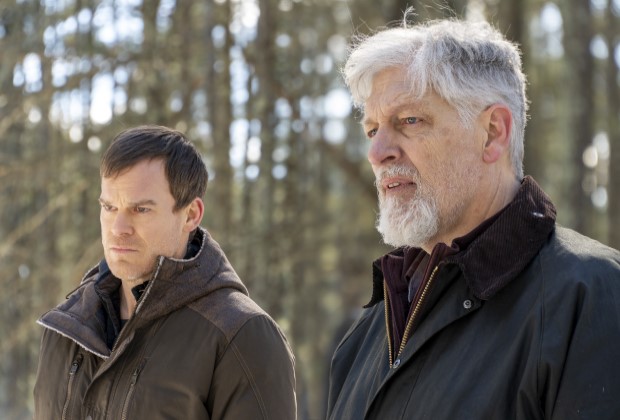 Meanwhile, in Dexter Season 9 Episode 6, Dexter wondered how Angela found out the truth. He suspected Molly might be Angela's source. Moreover, Molly asked for Angela's permission to talk to Kurt and catch him in a lie about his son, Matt. However, Angela refused and advised her to stay away from Kurt.
Elsewhere, Dexter heard Molly's latest podcast in which she mentioned the Bay Harbor Butcher murders. She suggested that the killer might still be alive and in the open. Dexter̵ 7;s suspicions about Molly grew as he decided to keep an eye on her. In addition, Logan and Angela discussed Kurt's situation and lying about Matt. She wondered if something shady was happening around the local caves, but Logan found it hard to believe her theory.
Dexter And Harrison Take A Therapy Session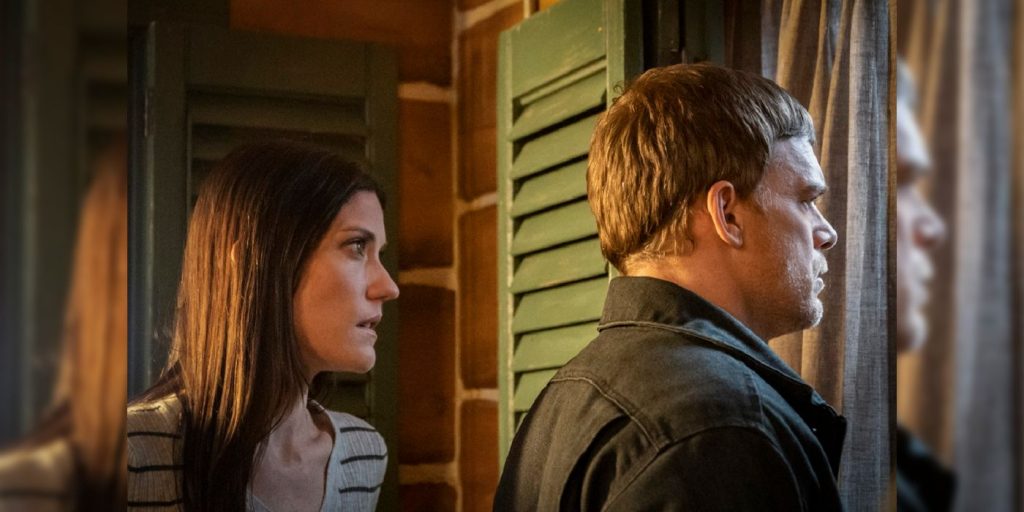 Dexter went along with Harrison to his next therapy session. He explained the lack of communication between the two. Harrison also talked about his past, which was the reason he got high. The therapist realized that both of them had abandonment and traumatic issues. Dexter also mentioned his wife Rita and her death. He asked Harrison if he remembered how his mother died. However, Harrison brushed the question off by saying he only knows what he read on the internet. 
Meanwhile, in Dexter Season 9 Episode 6, Dexter met Logan for a beer and tried to find more about Molly. He tried to get information about Molly from her ex-boyfriend Logan. Eventually, logan told him that she was working with Angela, which shocked Dexter.
Harrison told Aubrey about his therapy and admitted his history of hurting people. He confessed that Ethan was not the first person he hurt. Aubrey tried to calm him down, and they both ended up sleeping together. Angela found Harrison in Aubrey's bed the next morning. She asked Dexter to handle it, but he was too busy obsessing over Molly.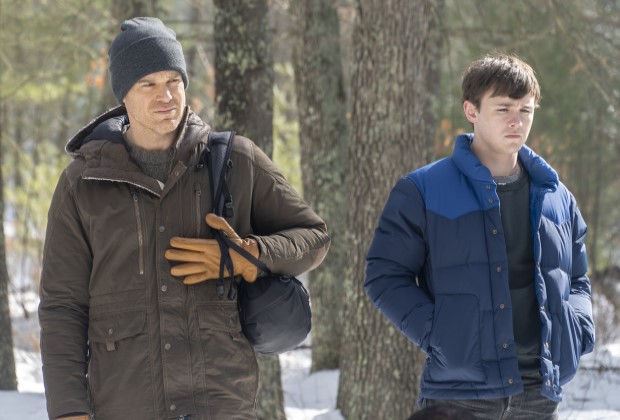 Molly Nearly Gets Killed By Kurt
Next, Dexter found Molly and Kurt chatting at the bar. He tried to record their conversation while pretending to charge his phone behind the bar. Molly told Kurt that his son Matt was not at the hotel. She asked why Kurt lied about facetime with Matt. Kurt revealed that Matt showed up drunk at his house and is currently hiding at the cabin. Molly tried to convince Kurt to interview Matt, who was more than ready to lead her to his cabin. 
Further, Dexter followed them to the cabin and noticed a single generator and propane tank. He realized that Kurt might be the killer Angela was looking for. Kurt led Molly into his basement. That's when Dexter came up, saying he stopped to check if the kids had broken in.
Molly then revealed that matt was in the cabin, but Kurt pretended that he might have left. Dexter stormed in, noticed the camera. He also observed that the door could only be unlocked from outside. Dexter offered Molly a ride home as she thanked him for rescuing her from the shady place.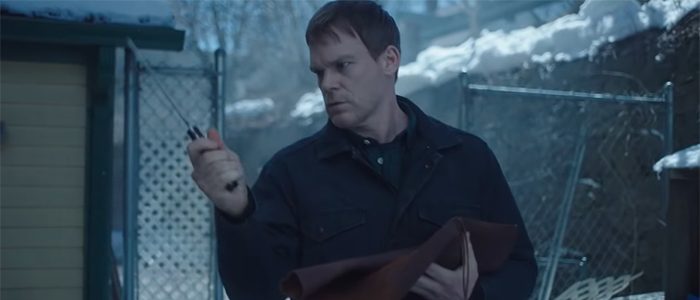 Meanwhile, Angela and Teddy went to check the local caves. She noticed an artificial wall around the rocky caves and demolished it. Eventually, they found the sight of a foot. And the dead person discovered in the cave was Iris. Angela called Dexter and told him that she needed Dexter Morgan and not Jim. Dexter left Harrison's wrestling match while Kurt tried to get closer to Harrison in Dexter Season 9 Episode 6.
Dexter Season 9 Episode 7: Airing Date
Showtime will air Dexter Season 9 Episode 7 on December 19, 2021. The network airs a new episode weekly on Sundays at 9:00 p.m. ET. And, Dexter: New Blood will feature a total of ten episodes.
Where To Stream The Next Episode Online?
If you miss the latest episode on Showtime, fans can stream it on YouTube TV, Amazon Prime Video, Sling TV, and Fubo TV. Hence, don't miss out on the upcoming episode and return for more informative episode previews.