The Firefighters will respond to an emergency situation in Station 19 Season 5 Episode 9. It seems like their Grey Sloan colleagues have suffered a severe accident and need to be rescued. Thus, Robert Sullivan and his team will do everything to rescue their friend in the next episode. But sadly, the upcoming episode has been delayed due to a fall break. And fans might have to wait a while for the show to return. So, keep reading ahead to know all the details about the ninth episode.
Station 19 Season 5 Episode 9 Preview: What Will Happen?
The ninth episode of Station 19 Season 5 will be a winter crossover special with The Grey's Anatomy Season 18. Dr. Cormac Hayes will get in a severe accident with one of his Grey Sloan colleagues in the returning episode. It seems like Cormac manages to exit the vehicle in time but his friend gets stuck inside the car while it rolls down an elevation. Moreover, Cormac carries an organ cooler in his hand. It is possible that the accident takes place during the transportation of the organ. So, the Station 19 veterans would be called to rescue their dear friend in Station 19 Season 5 Episode 9. 
Robert will take the initiative to go down and rescue his best friend. Sadly, the man would have no pulse and would be transferred straight to Grey Sloan. Moreover, Cormac is the only one who knows what actually happened. So, Meredith will feel that he is hiding a crucial detail from them. Thus, the mystery around the whole incident will be unraveled in the crossover episode.
A Quick Recap!
In the previous episode, Station 19 prepared for a firehouse inspection by a new female fire chief. Meanwhile, Victoria returned to work and met Jack, wondering about the last time they kissed. Soon after, the duo responded to an emergency call by a woman's neighbor. She was suffering from a panic attack when the husband came down with their crying baby. The woman was afraid of her husband, and Victoria felt it. She urged the woman to leave the house with them. However, she was afraid that her husband would take the baby away.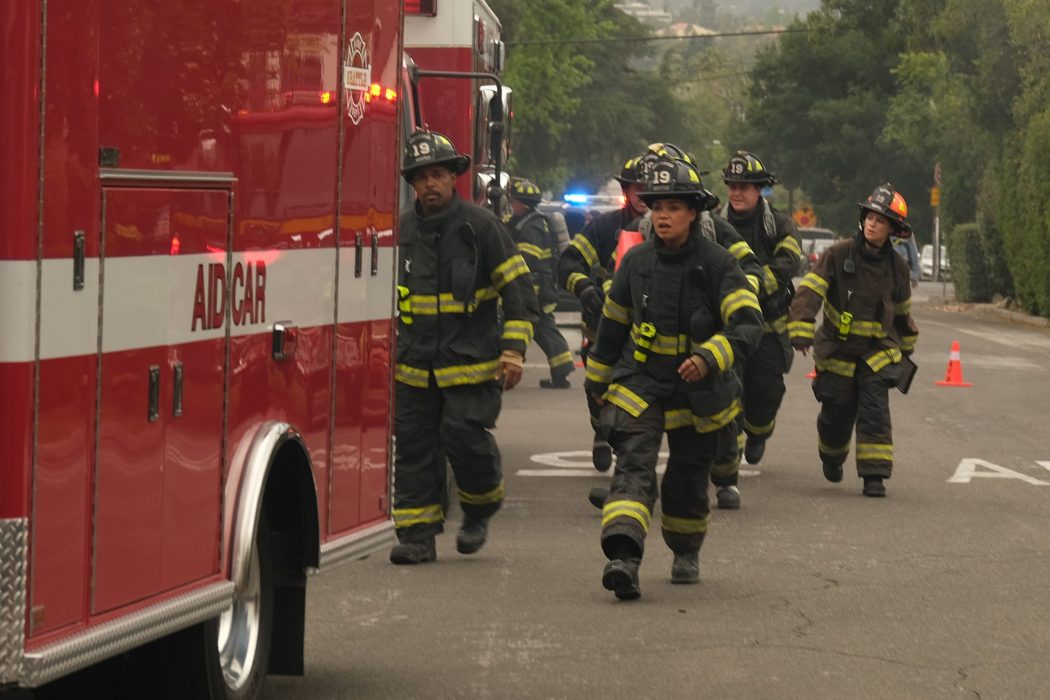 Moreover, in Station 19 Season 5 Episode 8, the husband didn't want any medical services for his wife and asked Victoria and Jack to leave. Instead, Victoria got into a fight and tried to take the baby away from her husband. The man was frustrated and called the police. The cops moved in and arrested the husband after finding assault marks on the woman. Victoria then convinced the woman to leave the place with her kid for their safety.
A Man Gets Wedged Between Two Cars
Andy, Maya, and Carina responded to another emergency call. A man was stuck between two cars in his driveway. Ben informed that removing the man without medical attention might result in his death. He tried to convince Beckett to hold on for a while. He also suggested that he could stabilize the man with some extra equipment.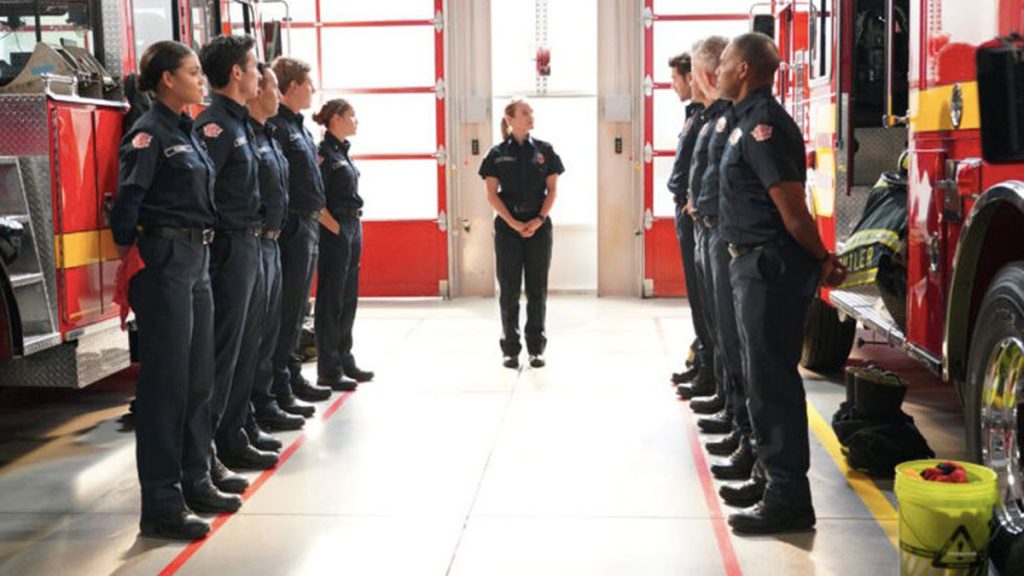 Moreover, he went behind Beckett's back and asked Andy to bring Carina. The man received a call from his wife as he tried to hide the reality from her. Eventually, Carina showed up, and they managed to rescue the man alive. His wife showed up at the same moment and was shocked to see what had happened. The man was then transferred to Grey Sloan immediately. 
Further, Jack was not too happy about Victoria breaking protocol to save the woman. He felt she was not ready for the field job and ordered her to take a desk. Meanwhile, Theo came to see Victoria. She confessed to kissing Jack and apologized for it. She also said that she loved him and not Jack. But, Theo was upset and left the conversation.
Meanwhile, Robert and Andy had a light and funny moment together on their way to the hospital. Later, at the Firehouse party, Carina and Maya revealed that they were going to have a child. Soon after, Bailey showed up with Pru and told them that the man crushed between the cars would survive in Station 19 Season 5 Episode 8.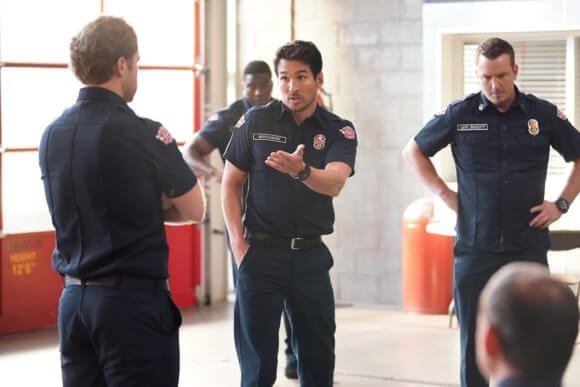 Station 19 Season 5 Episode 9: Airing Date
Sadly, the show has taken a fall break. But don't worry, because the returning episode will be a winter crossover with Grey's Anatomy Season 18. ABC will air Station 19 Season 5 Episode 9 on February 24, 2021, at 8:00 p.m. ET. 
Where To Stream The returning Episode Online?
If you miss ABC's broadcast, you can stream the special episode on the network's official website and the ABC app. In addition, season 5 is also available on iTunes, YouTube TV, Spectrum, Xfinity, Vudu, DirecTV, Fubo TV, and Hulu+Live. So, don't miss out on the returning episode, and stay tuned for more informative episode previews.