Good Trouble Season 4 Episode 3 will return soon on your screen. Well, it will be the first episode without Maia Mitchell, who stayed in the show for such a great length. Her character has decided to leave for DC to start a new life there. But it will affect everyone close to her, especially Marianna. She will have a tough time dealing with the situation. Further, there's a chance that the new boss will join them in the upcoming season. Now let's see who could be that person.
Good Trouble Season 4 Episode 3 Preview: What Will Happen Next?
Good Trouble Season 4 Episode 3, titled "Meet The New Boss," will pick up from where it left off. Well, we have unpleasant news for the fans the series' main character Callie Adams Foster (Maia Mitchell), left the show in the previous episode. It's the end of her era. According to the previous episode, she left the place to move to DC to work for the ACLU. Well, it appeared as the prettiest sends-off for her characters.
Moving on, the new boss will join them in the upcoming episode. Meanwhile, Mariana will go undercover to unearth something at Revitalize Beauty. Will she get the required result she has been looking for? On the other hand, Dennis will encourage Davia to use her skills to try something new. Malika's first day of work won't be special with Lucia Morales. However, both- she and Angelica- will be looking forward to taking their relationship to the next level.
Everyone Has A Tough Time
In Good Trouble Season 4 Episode 3, Mariana won't feel good after Callie leaves her all alone. Though she has her friends and close beings with her, she won't be happy. So she hides every little to big thing of Callie. She thinks it could help her stop missing her. Meanwhile, at work, she goes undercover to learn about the workplace and working nature of Revitalize Beauty. But it looks like she would be upset from her visit.
Meanwhile, Malika will have her first day at a new workplace, which won't be as good as she expected. In the promo video, we can clearly see that the others have ignored her while she tried to communicate with them. The former activist has to deal with a lot in the new job position. Can she handle this? Let's cross our fingers to see what will happen next.
A Quick Recap!
In Good Trouble Season 4 Episode 2, titled "Kiss Me And Smile For Me," Lena and Stef, along with Kamaya, visited the girls. Lena appeared surprised after learning that she doesn't know everything about the girls that Stef does. Joaquin also tried to get details from Lean and Stef. But they acted like they had no idea about what Joaquin was asking them. Further, both appeared startled after learning about Isabella's pregnancy by a boy named Gael.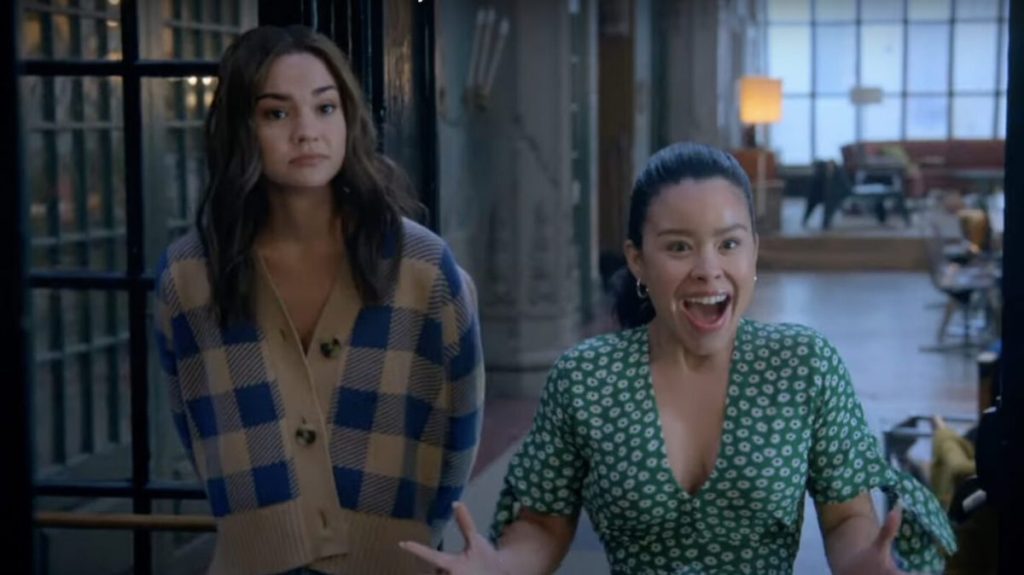 Lena and Stef planned to have an adult conversation with Mariana and Callie. There Callie tells them she also wanted to have a talk. But unfortunately, the family dinner put a hold on their plans. Jude thinks he and Carter aren't on good terms. Meanwhile, Gael spotted Isabella getting closer to Dennis. That hurts him. On the other hand, Alice arrives home to spend some time with everyone.
Good Trouble Season 4 Episode 3: When Will It Return?
Good Trouble Season 4 Episode 3, titled "Meet The New Boss," will air on Wednesday, March 23, 2022, only on Freeform. The all-new episodes air every Wednesday night with a runtime of around 45 minutes. You can also stream Good Trouble Season 4 Episode 3 on Hulu. Online subscribers can stream the show on-demand on Amazon Direct Video, Apple iTunes, and Google Play. You can also live-stream it on Spectrum, DirecTV, and Sling TV. So stay tuned and don't miss it.