Set in an "abnormal space," Zero-G animation's High Rise Invasion is a survival thriller anime series that debuted on Netflix in February 2021. The anime series revolves around a high school student Yuri Honj who is transported to a strange world. The first season of the series has received a lot of critical acclaim. And fans are eagerly waiting for High Rise Invasion Season 2. But when is it coming? Let's discuss.
Will There Be High Rise Invasion Season 2?
The season of the animated series was released on Netflix on February 25, 2021. And even after about a year since the release of the first season, there hasn't been any official update from Netflix or the creators about High Rise Invasion Season 2.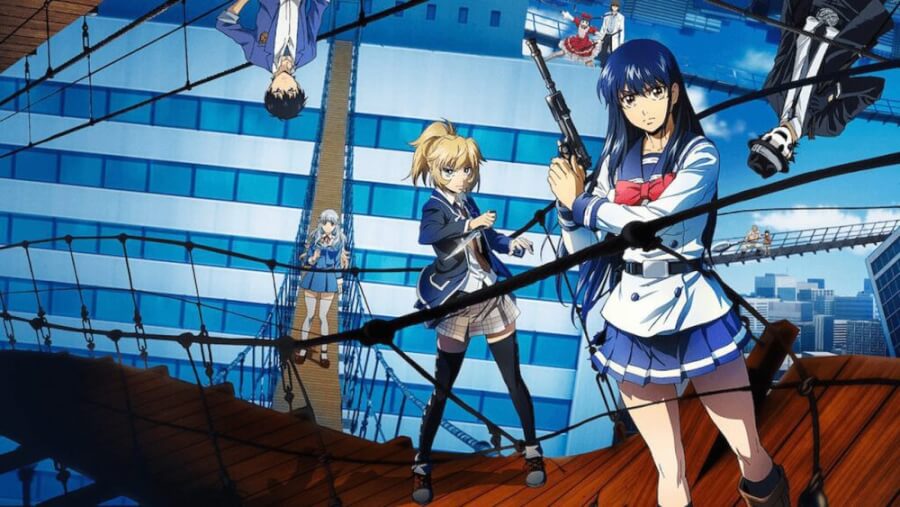 However, the first season ended in such a manner that there is a lot of room for the story to continue. On the other hand, we know that the anime is based on manga, so there is no shortage of the source material. Furthermore, Netflix realized the amount of popularity that animes have been getting. Therefore there is a possibility that the streaming giant will give the series another go.
However, all this is just speculation at this point. And fans will have to wait for the official announcement about High Rise Invasion Season 2 for confirmation. That being said, whenever there is any update about the next season or your other favorite shows, Techradar247 is your one-go destination for it.
What To Expect From High Rise Invasion Season 2?
Yuri and his companions defeat the masks sent by Mamoru Aikawa at the finale of the first season of 'High-Rise Invasion.' Yuri eradicated Swimmer Mask and then stole Great Angel's talents to put him in charge as a Closer to God with her newly obtained manipulative abilities. On the other hand, Mamoru discovered that Rika and Yuri are brother and sister. And ultimately gets an expressive reaction from Rika when he confronts Yuri. At the end of the first season, Yuri vows to find her brother and destroy this horrific empire.
With the power to manage up to 30 mask users, Aikawa has been viewed as the most dangerous threat thus far. After dealing with Aikawa, viewers are likely to encounter even more formidable God candidates with skills that surpass Great Angel Mask. Yuri and Kuon have proven to be formidable God candidates, particularly now that Yuri has authority over Great Angel Mask.
The hunt for Rika could continue in High Rise Invasion Season 2. Yuri could get new powers. The game's genius and administrators may also be revealed in the coming season. We might expect to see the rest of the manga in the following season, as the anime only has over a hundred episodes left after the first season, including 149 out of 258 published chapters.
Is There A Trailer?
Since there is a lot of anticipation for High Rise Invasion Season 2, fans are eagerly waiting for the trailer of the second season to give a glimpse of what awaits next for our favorite characters in the upcoming season. As a matter of fact, some of the fans have gone as far as to create their own fan-made trailers for High Rise Season 2.
However, the wait for the official trailer of High Rise Season 2 is still continued. This is because Zero-G animation has not released the trailer for the second season of the survival thriller anime yet. Till then, have a look at the trailer of the first season attached above.
High Rise Invasion Cast!
The voice cast for the animated series includes Suzie Yeung as Yuri Honjo in English. And in the Japanese version, Haruka Shiraishi gave voice to the characters. On the other hand, Mayuko Nise is voiced by Jennie Kwan. Meanwhile, other voice cast members include Stephanie Sheh voicing Kuon Shinzaki. Sniper Mask is dubbed by Jonah Scott. Then we have Johnny Yong Bosch voicing Mamoru Aikawa. Cristina Vee as Yayoi Kusakabe, and Rika Honjo is dubbed by Zeno Robinson.
Also Read JoJo Part 6: Anime Release Date 2021, Jeostar Event In April