It seems like the team will stumble upon a group of drug dealers when Ruzek searches for a missing girl in Chicago PD Season 9 Episode 17. Fortunately, the upcoming episode is finally returning after a two weeks delay.
Ruzek will go undercover and meet some drug dealers to get some information about his old friend's missing daughter. Moreover, Ruzek and Burgess will struggle with the aftermath of their daughter's abduction. So, continue reading ahead to learn all the essential updates about episode 17.
Chicago PD Season 9 Episode 17 Preview: What Will Happen?
The seventeenth episode of Chicago PD Season 9 is titled "Adrift." Ruzek will try to find the daughter of an old family friend. He will go undercover to find the girl and end up running into a serious drug organization. The team will go up against the drug dealers in order to make the streets clean and find the missing girl. Further, Ruzek and Burgess will struggle to deal with the emotional trauma from Makayla's kidnapping in Chicago PD Season 9 Episode 17.
A Quick Recap!
A man shot another person outside Escano's bakery in the previous episode. Anna was working undercover at the bakery. Halstead and Upton were keeping an eye on the activities at the bakery from the outside. Halstead got out of his car and ran after the masked man. He fired a few shots at the shooter, but he escaped.
Upton then ran to the man who was shot. He pointed towards the car and asked her to help his pregnant girlfriend. Soon after, Anna came out of the bakery and pretended to not know Halstead and Upton. The man was taken to the hospital, but he could not survive in Chicago PD Season 9 Episode 16.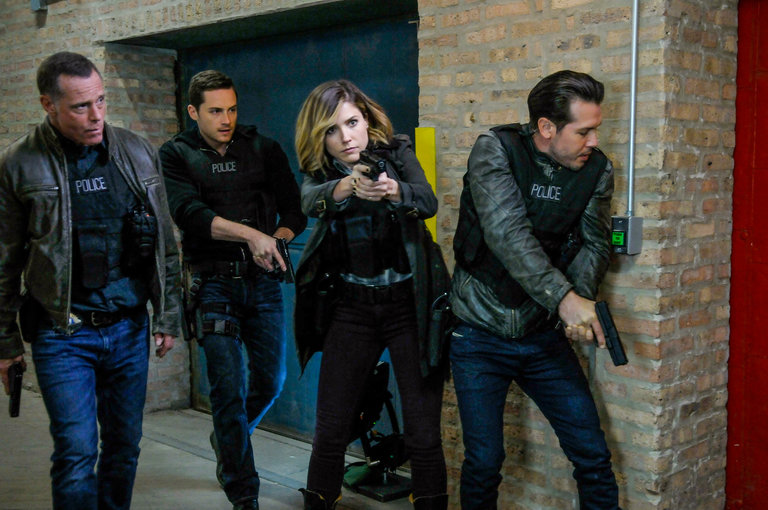 Further, the team found out that the man was released from prison for good behavior. He had been living a clean life after his release. Moreover, Anna tried to get some details about the shooter from Escano. But, their conversation was interrupted by Adrian, who happened to be the shooter. Escano ordered Anna to sow Adrian's wounds. He also told Anna to drop Adrian at his house safely. Anna met with Voight, Upton, and Halstead. She told them about Adrian and his whereabouts.
Meanwhile, Voight told Anna to get Adrian to confess incriminating information against Escano. The team also discovered that Adrian was the ex of the victim's pregnant girlfriend. He ended up shooting the victim in rage. Voight decided to arrest Adrian from his house. However, he witnessed Adrian pointing a gun at his head and shooting himself. Anna dropped by Voight's house and found out that his family had left him. All he had was his job. Hence, she agreed to continue her undercover operation at the bakery. Escano gave Anna Adrian's job after his death at the end of Chicago PD Season 9 Episode 17.
Chicago PD Season 9 Episode 17: Airing Date
The show is returning after a two-week delay. NBC will broadcast Chicago PD Season 9 Episode 17 on April 6, 2022. The network will continue airing a new episode weekly on Wednesdays at 10:00 p.m. ET. And each episode of the ninth season will have 45 minutes of estimated runtime.
Where To Stream The Returning Episode Online?
If you miss NBC's broadcast, you can stream the latest episode on the network's website and the NBC app. Moreover, season 9 is available to stream on Fubo TV, Sling TV, Hulu, DirecTV, YouTube TV, Hulu+Live, USA Network, and Peacock TV. So, don't forget to watch episode 17 and keep coming back for more thrilling episode previews only on TechRadar247.com.