Lee will write a sensational editorial in his newspaper that will get Hope Valley talking in When Calls The Heart Season 9 Episode 6. Moreover, Fiona is inching closer to closing a deal with investors. However, Gowen might jeopardize her plan, who is growing suspicious of the oil company. So, keep reading ahead to learn all the updates about the sixth episode.
When Calls The Heart Season 9 Episode 6 Precap: What Will Happen?
The sixth episode of When Calls The Heart Season 9 is titled "Past, Present, Future." Lee will publish a new editorial that he has been working on for a while in the Valley Voice. Fiona returns to the valley in the previous episode. Lucas will try to get the mayor to restart the infamous coal mine where a lot of sons and fathers of Hope Valley have lost their lives.
Gowen will suspect the oil company's intentions after Fiona's involvement. She is very close to securing a deal with the investors. Moreover, Lucas will continue to keep an eye on Walden and his fishy activities. Elizabeth might get her certificate from the education board, and Mr. Landis might end up taking a teaching job in Hope Valley.
A Quick Recap!
In the previous episode, Elizabeth wondered that the time was running fast, seeing Jack grow. Rosemary was concerned about Lee and tried to talk to Elizabeth about it when Nathan and Allie showed up. He returned Elizabeth's horse Sarge back to her. Nathan revealed that the culprit was sent to prison until trial. Bill revealed that the man would have a chance to defend himself in court. Lee was planning a surprise for Rosemary with Joseph.
Elsewhere, in When Calls The Heart Season 9 Episode 5, Nathan and Bill were worried about the feud between Lucas and Walden. Allie told Nathan that May was so beautiful. Rosemary was frustrated that people used the headline board as a community bulletin. She told Elizabeth that Lee might have grown tired of her. Soon after, Lee came by, and Elizabeth tried to find out what was going on with him. However, Lee took her to leave, saying he was getting late for work. Mayor Mike asked for Bill's help with his new responsibility of taking care of Hope Valley. Bill started by pointing out his dressing style.
Further, Lucas accidentally broke his motorcycle. He apologized to Elizabeth, and the two kissed when Robert intervened. Elizabeth told Lucas about Rosemary and Lee's situation. Rosemary was not happy about sensational headlines, but Lee loved them. He thanked her for being the managing director, shocking Rosemary. Lee tried to find out about Rosemary's confidential source by getting Florence to give up the name. However, Rosemary discovered that he was not with Joseph.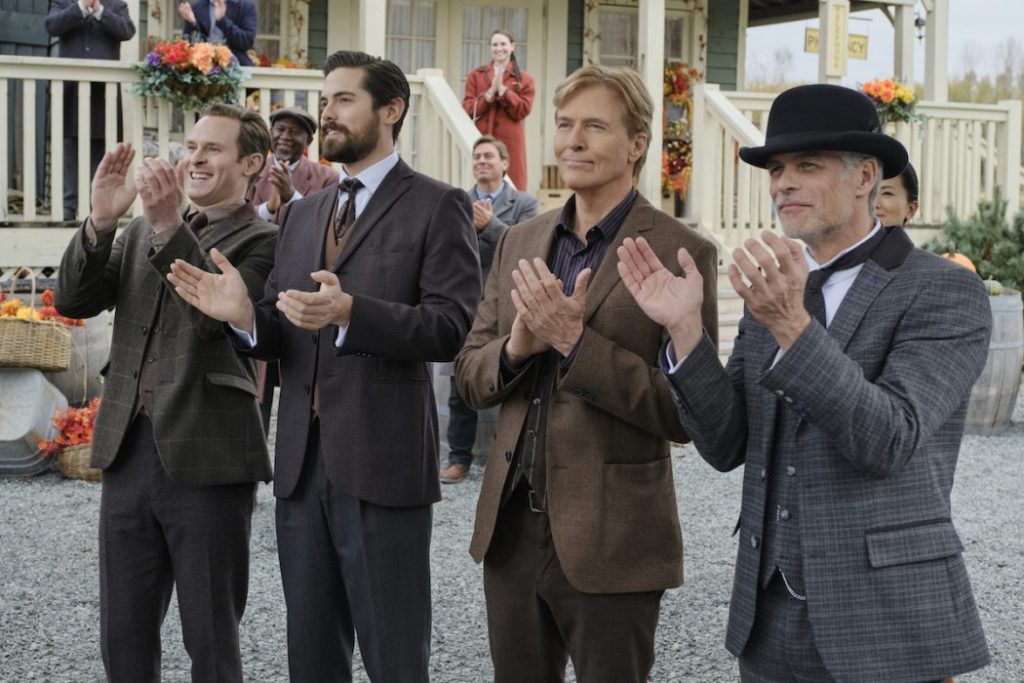 Lucas & Nathan Race While Lee Reveals His Surprise
Meanwhile, Allie referred to Nathan as Dad after finding out about his accident. Minnie invited Mr. Lucas for dinner as she hoped to sit across the table with a man she did not like. Elizabeth apologized to Mr. Landis. He tried to get the ruling on Elizabeth's certificate from the board of education. Lee left a lovely note for Rosemary, and she thought that it was not meant for her. a storm hit Hope Valley, and Mr. Landis could not find his way. Joseph looked for him all over the town when a drenched Mr. Landis showed up.
Nathan tried to find what Lucas was planning against Walden. They ended up challenging each other for a race. Nathan on Sarge and Lucas on his motorcycle. Unfortunately, Lucas ran out of fuel, and Nathan won. Lee and Rosemary had confused about who would cover the race. She got worried when Lee asked her to come home early. Lee finally revealed that he wanted to make more time for them outside work. He revealed that he was learning woodwork from Joseph. Lee also built two Adirondack chairs. Lucas admitted that he loves adventure, and Elizabeth is the reason he stays in When Calls The Heart Season 9 Episode 5.
When Calls The Heart Season 9 Episode 6: Airing Date
Hallmark Channel will air When Calls The Heart Season 9 Episode 6 on April 10, 2022. The network broadcasts a new episode weekly on Sundays at 8:00 p.m. ET. And the ninth season will feature a total of 12 episodes. Moreover, the latest episode is available to stream on the network's website. So, don't miss out on the sixth episode and keep coming back for more thrilling episode previews only on TechRadar247.com.