As secrets start to uncover, the characters are set to deal with some tough choices. Undoubtedly, it will affect their lives, including those close to them. The previous episode has already hinted that Tae-hwa is now behind Dan-oh as she knows about Lee Seol's identity. However, The Secret Romantic Guesthouse Episode 7 will make things more problematic for her when San shows his true identity. Now she needs to be more careful as Tae-Hwa and his men are behind him and want to kill him. Can she save him? Also, there's a looming threat about which she and her Flower Scholars need to know. What could it be? Let's see!
The Secret Romantic Guesthouse Episode 7: What Will Happen Next?
In the closing moment, San appeared in his full Watchman attire to protect Dan-oh. Now in the upcoming episode, he will fight for her. He will go to any length to protect her, whether it leads to ending his life. Tae-hwa's men will surround him, but he won't give up and rightfully fight against them. Dan-oh will be surprised to see this as she never expected San will do such a thing for her. Shi-yeol is already aware of San's identity, and when he successfully deals with Tae-hwa and his men, he will summon him. He'll ask San about his relationship with Dan-oh.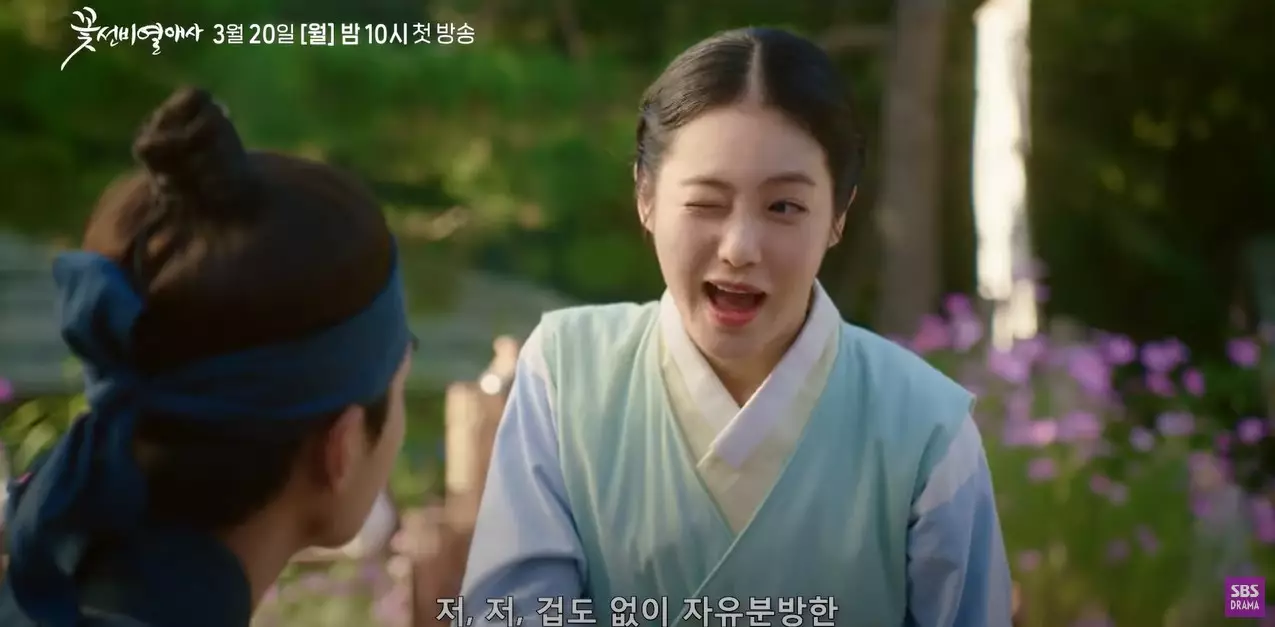 However, San will keep this secret. On the other side, Shi-yeol will work on his way to claim his throne. But someone from the royal family wants to see him dead. She's also working on her secret mission to destroy the Watchman. Later the village will turn into a place filled with corpses. Tae-hwa believes that Watchman is behind all this. But Dan-oh knows someone is framing him. The upcoming episode may also explore some moments between Shi-yeol and Dan-oh's sister. As for Yoo-ha, he will finally confess his feelings, but it will be too late as Dan-oh has feelings for San. And San will soon admit it too.
A Quick Recap!
In the previous week, Tae-hwa was about to learn about San and Dan-oh hiding
in the palanquin. But before he could find them, an arrow whizzed past his head, diverting his attention. Later Dan-oh took San back to Ihwawon. She learned the arrow was poisoned and called a physician. But Shi-yeol dealt with the matter and surprised everyone with his knowledge. On the other side, Tae-hwa pressured the former Head Eunuch, and he spilled Dan-oh's name. Later Tae-hwa called Dan-oh, and she ignored all the questions. However, Tae-hwa changed the condition and asked her to bring the Watchman instead of Lee Seol. Now she only had five more days left to save her heritage.
Meanwhile, it was revealed that Dan-oh's sister Bong-joo and Tae-hwa's son were in love, and she was eager to show herself to Tae-hwa. However, she had Shi-yeol now, who promised not to reveal her secret. As for Shi-yeol, he prepared to leave Joseon. But Tae-hwa was suspicious of him and summoned him. Later it was revealed that Shi-yeol was Lee Seol, and Tae-hwa was using him to catch the Watchman. But Dan-oh put San's safety first, but he heard about Shi-yeol and rushed to save him. With Dan-oh's help, he then helped Shi-yeol, and after his father testified that he was the real Lee Seol, he released Shi-yeol.
The Secret Romantic Guesthouse Episode 7: Release Date
The upcoming episode will make things more dramatic in Dan-oh's life. The Secret Romantic Guesthouse Episode 7 will air on April 10, 2023, at 10 pm KST. It consists of a total number of 18 episodes with 50 minutes of runtime. The all-new episode air every Monday and Tuesday night. The local Korean audience can catch it on SBS, while the global audience can stream it on Viki, Viu, and Wavve. Stay tuned. TechRadar247 will keep you updated.