As the day passes, the couples learn more about their respective partners. But things are a bit different in the case of Mitch. Once again, his head scrambles, and now he needs clarification. Well, Ella B wants to know him more and is looking forward to seeing their connection boost in Love Island Season 10 Episode 53. But the final date will make things more miserable when Mitch decides to speak his heart out. Will it bring chaos in the couple's life? It seems like it will. On the other hand, the islanders have an important decision to make. Is it about another elimination? Well, keep reading to find it out.
Love Island Season 10 Episode 53: Aftermath Of Elimination! What Will Happen Next?
Although Mitch and Ella B are safe now, he believes his partner isn't a real one. In fact, Mitch tells his boys that Ella B is fake and she is playing a game. She isn't into knowing him and is just here to get what she wants. Well, it will eventually create a mess for the couple. This is because they are still vulnerable, and their relationship isn't strong. However, Love Island Season 10 Episode 53 will witness some sweet moments too. Since it's the final date day, the islanders will have time to go outside and get to know each other well. But there's a catch. The Islanders have to reveal their decision at the end, which may end someone's journey in this villa. Interstingly, everyone is closed off except Mitch and Ella B. So will they be the first couple to leave before the finale? Let's see!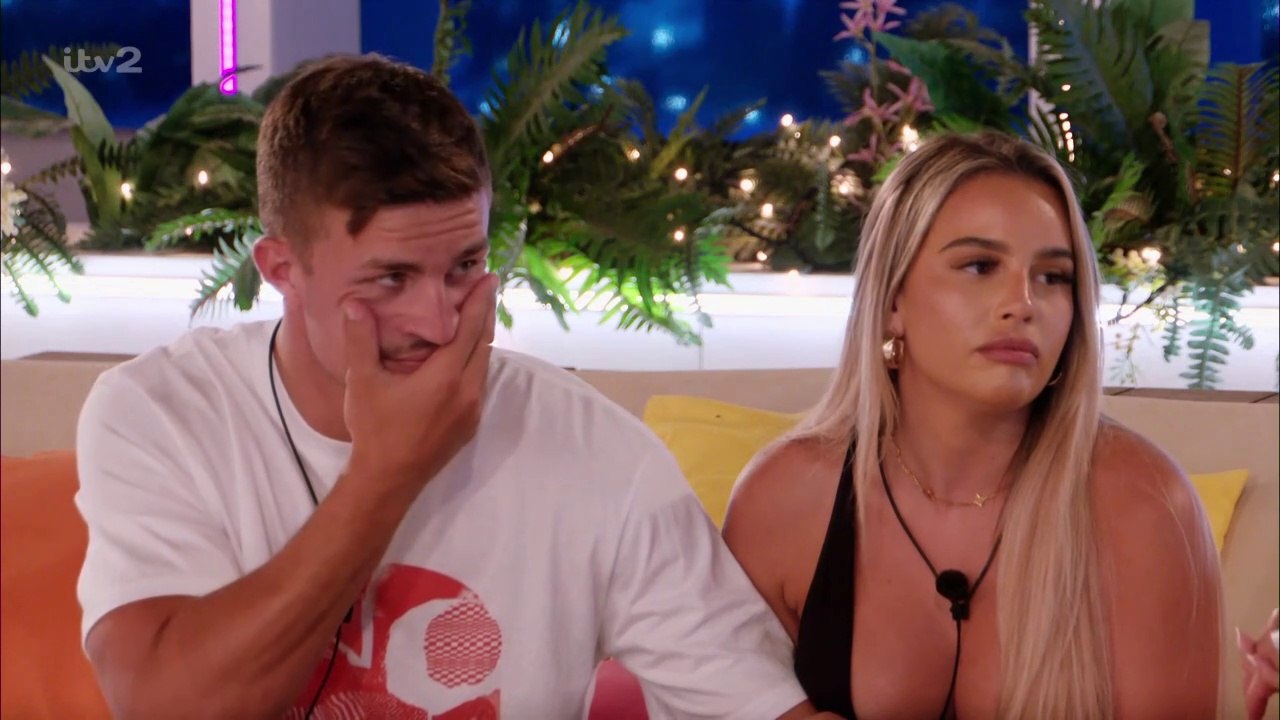 A Quick Recap!
Following the Graftie Award fallout, Abi asked Scott for a chat. But he said he wanted to spend time with his boys and ditched Abi. Elsewhere, Lochan discussed how Ty reacted and told his girl to shut up. He called it disrespectful. Ella B discussed how Ella Thomas treated her, and now that everything was clear, Jess decided to give her ears. As for Ty, he picked Lochan and blamed him for breaking the boys' code. But the latter clarified that he never had broken any code and was just spilling the tea to his girl, which was fair enough. Soon the boys sorted out the indifference, but things weren't good between Ty and Whitney. She told him she couldn't stand a "disrespectful man," which drew a line between them.
Later Mitch picked Scott to clear everything, but things turned out bad. However, "The Apologies" session wasn't over yet as Whitney went to see Ty, and finally, the indifference was clear between them. The following day, Sammy ensured Ella B was fine after the Grafties fallout and Mitch's comment. On the other hand, Abi needed clarification about where they were going. She discussed her insecurity with Scott, but it appeared he didn't want to commit and asked her to be his friend. However, it left Abi at a vulnerable point. Meanwhile, Zach said he felt safe around Molly. But Abi received a text calling everyone to gather around the fire pit for elimination.
Abi and Scott, Mitch and Ella B, and Molly and Zach had the fewest vote and now stand vulnerable. But only one couple would leave the island, and the decision was in their fellow islanders' hands. Sadly, they decided to dump Abi and Scott based on their equation.
Love Island Season 10 Episode 53: Release Date
The forthcoming episode will leave someone's fate up in the air. Who will be that unlucky couple? Catch it on Love Island Season 10 Episode 53, which will air on July 27, 2023, at 9 pm BST. It's exclusively available on ITV2 and ITVX for the UK audience. As for the global audience, you need to check the availability of Love Island Season 10 in your region. However, it's available to stream on Hulu and 9Now for the US and Australian audiences. So don't miss it. Stay tuned. TechRadar247
will keep you updated.