American Horror Story, one of the spectral series on FX, never miss any opportunity to thrill their fans. From Asylum and Coven to Apocalypse, every ghostly series engage in giving scariest gifts from their stock. Now to chill your spine again, Ryan Murphy is back with American Horror Story Season 10. FX already renewed the upcoming season back in 2018. Well, this explains the FX's faith in American Horror Story flagship. Furthermore, Murphy recently has given a clue that shooting would start in summer. So probably, fans can expect Season 10 to premiere at the end of 2020.
American Horror Story had gained immense popularity with time. The show already dredged many horror themes for their previous series, which always left its fans amazed whenever they watched it. But, the theme for American Horror Story Season 10 has not officially revealed yet. However, Murphy has started a guessing game on his Instagram account. Where many fans have participated.
American Horror Story Season 10: Ryan's Theme Guessing Game
Ryan Murphy, the creator of American Horror Story, recently started a guessing game for AHS fans. In his recent Instagram post, he stated, "Does anyone know when we all get our paychecks for being on this season of American Horror Story?" This did not end here. He further added, "I'm so sorry. I'll be sending those out of this week. If in the comments section you guess what the new season of American Horror Story is all about. Then, the winner takes it all."
After his post, the comment section flooded with thousands of guesses of what Season 10 theme could be. Many guess that theme is circling around aliens, by linking it with the Season 2 Asylum theme. While others wonder that the upcoming season would be all about aquatic horror. This came in with the rumor about Murphy's crew shooting near a coastal New England town. Regardless of all the guesses, Murphy announced that filming would start in summer. Therefore, the official theme would also be announced soon.
Sarah Paulson Looking To Direct The New Season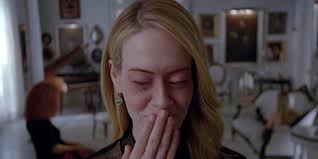 Sarah is highly excited about the new season of American Horror Story. Her excitement can easily be seen in her chat with The Hollywood Reporter. She stated, "I can't say anything about it except for that I hope to be directing the new series." Further, she added, "I hope that will come to fruition. Though, not with anything official. But in fun, playful conversations with the man, that has been floated about. So hopefully!"
American Horror Story Season 10: Cast
Recently, Murphy announced the cast of American Horror Story Season 10 in a video on YouTube. The cast list includes Sarah Paulson, Lily Rabe, and Billie Lourd. Along with them, Evan Peters, Leslie Grossman, Angelica Ross, Kathy Bates, and Finn Wittrock will also be t here in Season 10.
American Horror Story Season 10: Release Date
Murphy declared that filming would start this summer. It means probably Season 10 will stream at the end of 2020. However, he also added that the new theme is "weather dependent." So, this can force to extend the filming in 2021. It also leads to the streaming of Season in fall 2021.