The beginning of the end is near, and Netflix is leaving no chance to create a solid hype for one of its most successful and popular series. The streaming giant recently released new posters for Money Heist Season 5. It is featuring the characters who are dead, too, as they still have an important role to play in the final season. So, what will happen when an all-out war breaks out? Here are all the latest details.
Money Heist, also known as La Casa de Papel, is a Spanish crime-drama thriller TV series. Alex Pina created this show which later became one of the most successful originals on Netflix. Its first two seasons came out on Antena, and from the third one, it became an exclusive show on Netflix. The series' fourth installment came out last year on April 3, and its fifth and final season is all set to release later this year in two parts.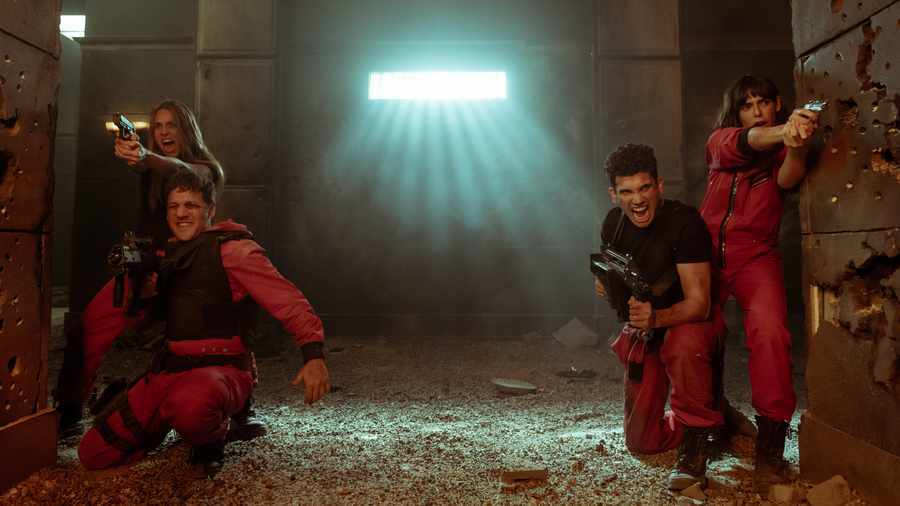 Money Heist Season 5: New Character Posters!
The streaming giant speeds up the promotion of the heist drama's final run, and it is teasing only one thing, an all-out explosive war. Everything that started with a bank robbery has now become resistance. Also, the life of everyone's favorite Professor is on the line. As a result, the entire gang will make a desperate move to get out of this situation to save their leader. The newly released posters by Netflix is perfectly showing the emotions and anger of the leading characters of Money Heist Season 5.
In these newly released posters, Professor is tied with the chains, whereas Denver's face is filled with anger. Tokyo seems to be pretty determined, and Rio's face is slightly injured. All these images are hinting that the final run of this heist-drama will be bigger than ever.
La Casa De Papel: Final Trailer
The final trailer of this show began with Tokyo narrating the events that happened with her in the fourth season. During this heist, a lot of things happened to her, and she even lost her best friend, Nairobi. After that, it quickly changes to the scene where Alicia Sierra caught the Professor. She tied the latter, and when Lisbon tried to make contact with him, everyone learned that they got the Professor. He told his team that it might be the last time he is talking to them. As a result, Lisbon will be in charge of the team in Money Heist Season 5.
Colonel Luis Tamayo sees this as his chance to involve the military. He will order the military to charge in and bring everyone out. As a result, an all-out war will break between the members of the resistance and the military. Lisbon says they might be up against the ropes, but they're not going to end up in morgues. This is the last dance of the Professor's team, and they have all the intentions to make it a good one.
Money Heist Season 5: Release Date
As previously mentioned, the final season of the most-anticipated show will come out in two parts. Both of them will consist of five episodes each. Money Heist Season 5 Part 1 will release on September 3, 2021, whereas Part 2 will be released on December 3, 2021, on Netflix.