The filming for When Calls The Heart Season 9 is going strong after Hallmark Channel renewed the show in May 2021. Recently, Erin Krakow shared her new look as Elizabeth on Twitter. Moreover, fans are eager to see how things play out after Elizabeth finally decides to be with Lucas Bouchard in the last season's finale.
As the wait continues, the show's timeframe relies on the Covid protocols in Vancouver, Canada, where the filming is taking place. The mandatory travel quarantine and restrictions may lead to some delays. However, we hope for the show to finish production soon and return for the next season. So, here is everything to know about season 9 of When Calls The Heart.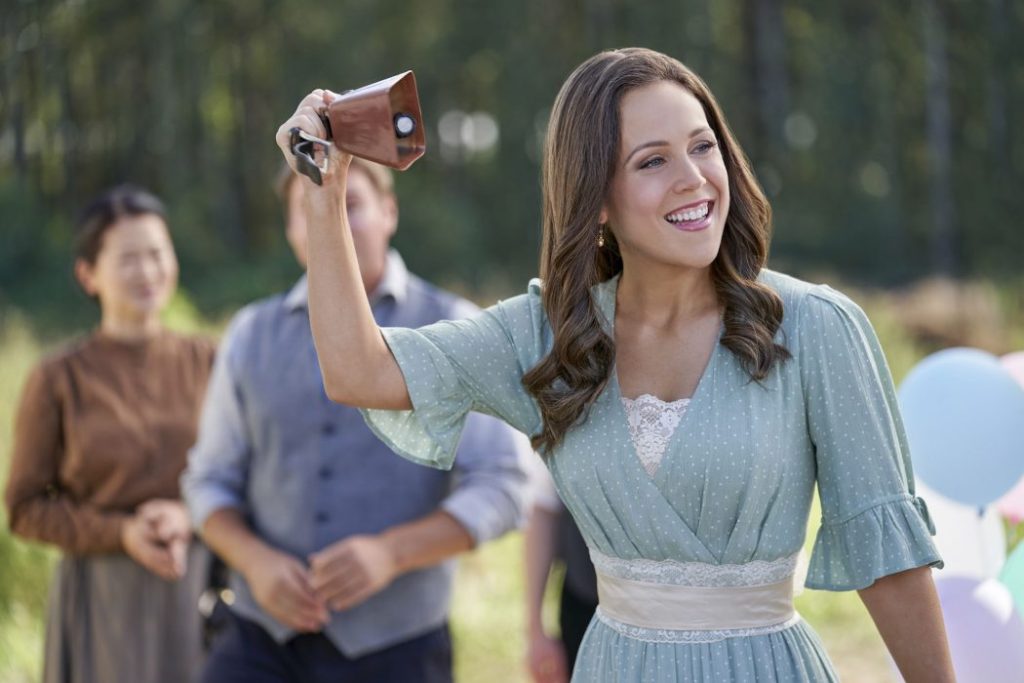 Erin Krakow Shares A BTS Image Of Her New Look For Season 9
Having stars sharing glimpses of our favorite show under production is a gift for eager fans who like knowing all they can. Recently, Elizabeth shared an image of her dress-up as her character Elizabeth with a heap of "Hay" in the background on Twitter. With the picture, the production looks to be going strong as the fans hope for filming to commence soon. 
The show follows Elizabeth Thatcher, who starts out as a young teacher who finds herself in Coal Valley, leaving behind her comforted city life. Throughout the show, we see Elizabeth settle up in Hope Valley, Falls in Love, experience the pain of losing her husband, and stay strong against everything that comes her way. Last season, we saw her in a bit of dilemma as she dated two men with different personalities. Finally, towards the end, she realizes who she wants to be with as she chooses saloon owner Lucas Bouchard over Nathan Grant, a Mountie. The show ended on that note, leaving us all curious about what's to come in season 9. 
Season 9: Production Wrapped-Up?
Currently, the filming is underway at a good pace, perfecting everything for what comes next. Recently, Peter DeLuce confirmed that the filming has moved into the fourth block, including episodes 7 and 8. And as the upcoming season will have 12 episodes, the filming has crossed over the halfway mark, which is a good sign for the fans. So, they might hear about the production wrap-up from the team soon.
When Calls The Heart: Who Will Return For Season 9?
Naturally, Erin Krakow will be returning as Elizabeth for When Calls The Heart Season 9. Further, the show's regular cast is all set to returning, including Jack Wagner, Martin Cummins, Pascale Hutton, Kavan Smith,  Andrea Brooks, Eva Bourne, and Aren Buchholz. In addition, fans will see more of Chris McNally, although it is not sure if the storyline continues for Kevin McGarry's character Nathan.
Will Lori Loughlin Return?
Meanwhile, fans might get to see another familiar face in the upcoming run. Lori Loughlin is set to guest star in When Calls The Heart spin-off series When Hope Calls Season 2 premiere. Not just that, she'll return as her Abigail Stanton character from the parent series. Abigail was last seen in season 6 after she takes off to the "back-east" to take care of her sick mother. Lately, Loughlin was fired from the show in 2019 due to her involvement in a college bribery scandal.
Loughlin's role in When Hope Calls marks her return in acting after her legal mishaps. So, there are chances that she might appear in the upcoming season of When Calls The Heart as well. However, so far, there's no word on whether she might return in When Calls the Heart Season 9 or not. 
When Calls The Heart Season 9: When Does Coming Back?
Hallmark Channel renewed the show for the ninth season in May 2021. And presently, the production is underway. Hence, fans might have to wait a while for the show's return. When Calls The Heart Season 9 is expected to return by March/April 2022. The network would also announce an official premiere date towards the end of 2021. So stay tuned for the latest news.