Netflix has released the official trailer for Insecure Season 5, leaving the fans nostalgic and emotional as the show's journey is ending. In the latest trailer, we see Issa Dee talking with her younger self in the mirror. The gesture signifies the show's journey and the growth of our fan-favorite character throughout the series as we move towards the final run. The show is at a point where our beloved characters have transformed from being in dilemmas as the young and lost to being nostalgic grown-ups.
Insecure follows Issa Dee as a young modern African-American woman living in the city of Los Angeles. Throughout the four seasons, we see Issa and her friends struggling on their journey through life's personal and professional aspects. Previously, we saw Issa separating from her best friend Molly in season 4. However, the duo gets back to being friends in the latter half, but their friendship doesn't feel to have returned to normal. So keep reading further to read the details about the latest trailer of Insecure season 5.
Insecure Season 5: HBO Max Releases Official Trailer
In the trailer, we see Issa talking to her younger self in the mirror as she looks back on her young adult journey. It sure is intriguing to witness the transformation that Issa Dee has gone through in the show's journey. Also, we see that Issa has changed physically. However, her humourous, fun-loving nature is still intact. Next, we see the girls getting back in their party clothes as the trailer shows beach parties and get-togethers with booze, music, dance, and our fun-loving girls. 
Further in Insecure Season 5, a significant change of phase is coming for Issa and her friends as they get older. While things may not be the best with Molly, the girls are still hanging out together. Moreover, Molly's mom insists her on getting married and starts to a bachelor hunt for her daughter. However, after working hard on her professional career, Issa still feels that it is not enough and makes her feel worse when called upon by the panel. This incident makes Issa question about lacking of control over important aspects of life.
Meanwhile, we will also see the fate of Issa's relationship with Lawrence. At the end of last season, Issa found out that his ex-girlfriend was pregnant with his baby. The trailer also shows the newborn baby of Lawrence and Condola, which means Issa might have to get over Lawrence. It will be a plethora of emotions, humor, and nostalgia when Insecure returns for season 5 one last time.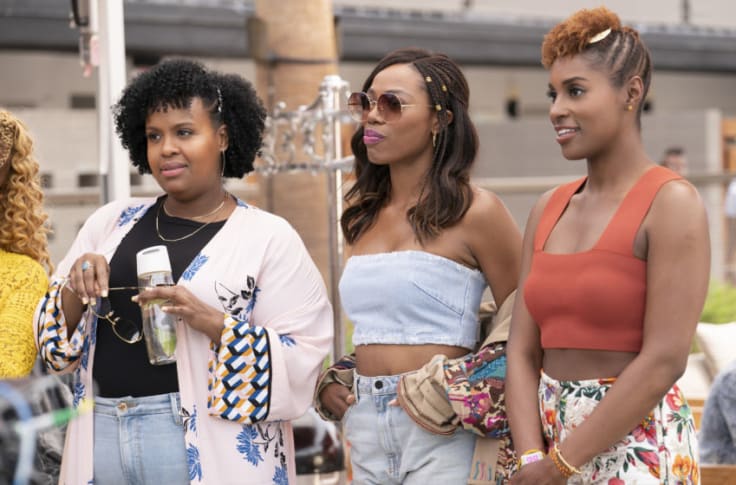 Insecure Season 5: Release Date
HBO announced the fifth season in January 2021. Further, an official trailer has also been released by the network. And finally, Insecure Season 5 is set to make a return on October 24, 2021, at 10 p.m. ET, only on HBO Max. Fans can also stream season 5 on Hulu, Sling TV, and YouTube TV. So stay tuned for more recent updates, and don't miss out on the final season's premiere.