Pack your bags and get ready, the train is about to arrive. Yes, we're talking about Snowpiercer Season 3. The second season of the dystopian SciFi drama aired on TNT from January to March. And fans are waiting in excitement for Snowpiercer Season 3. So, let us discuss everything about the third season of the drama. 
TNT's Snowpiercer is a dystopian drama thriller series that first premiered in 2020. It is the TV adaptation of the hit 2013 movie directed by Bong Joon Ho. The show follows a constantly running train on a frozen Earth. And features several apocalypse survivors, who are the passengers of the train. 
The train is a complex system of social hierarchies driven by classism. As a result, there is a huge uneven distribution of resources. Those in the front compartments have more than they need, while the back compartment passengers are forced to survive on leftovers. The show progresses as those on the train fight for their very survival.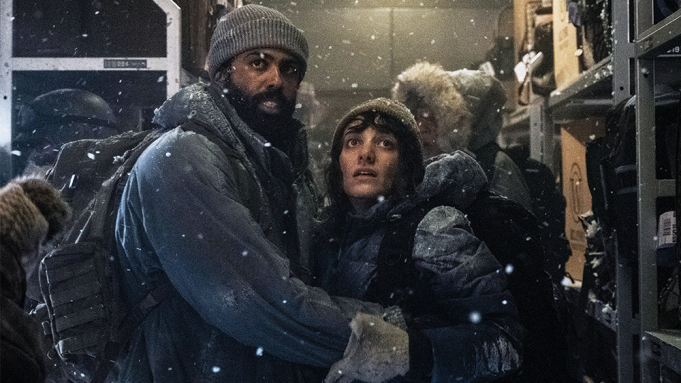 Created by Graeme Manson and Josh Friedman, the show takes inspiration from the French book 'Le Transperceneige' by Jacques Lob. Snowpiercer received praises from critics. Meanwhile, the Sci-Fi narrative of the series has also garnered much love from fans. In addition, Snowpierecer is a brilliant social commentary. As a result, fans are desperate to know the whereabouts of the third season. And here is what we know about it.
Archie Panjabi's Firstlook As Asha Is Here
In February 2021, the news came that actress Archie Punjabi will join the cast of Snowpiercer Season 3. Archie is famous for her part as Kalinda Sharma in The Good Wife. 
Now, some glimpses of Archie's characters Asha from the third season are out. In the leaked images, viewers can see Asha in a red jumpsuit and mask (no, we're not talking about Money Heist gang members). Asha has been dubbed as "The Last person on Earth" in the Snowpiercer Season 2. She's an apocalypse survivor who has managed to stay alive in the frozen wasteland. According to executive producer Becky Clements, Archie's character will make Season 3 super-exciting. 
Apart from Archie, the series features an excellent cast, including Sean Bean, Jennifer Connelly, Daveed Diggs, Mickey Sumner, Alison Wright, and Rowan Blanchard. In addition, Roberto Urbina, Annalise Basso, and Iddo Goldberg are also among the cast. 
Snowpiercer Season 3: What Will Happen Next?
In the second season, Melanie went missing. But Layton And Alex protected her data. When they were looking for her at the research station. Meanwhile, the data shows that several parts of the Earth have started to defrost, which means new hope for human civilization. The end of that surprised Layton, in which Melanie said she was going in the frozen land. So, that humanity's existence on Earth has a chance.
Now, in Snowpierecer Season 3, Layton and his team will try to find Melanie. The data found saved by Layton will likely be at the center of the next season. In addition, Layton and the others will search for a warm point to reestablish civilization. With new opportunities opening for Layton and his companions, Wilford and Layton's conflict will grow. Executive producer Becky Clements also discussed the third season in an interview. She said that climate change would play a vital role in Snowpierecer Season 3.