NBC's American Auto is a comedy-drama series created by Justin Spitzer. The series follows Kathrine on her new journey as the CEO of Payne motors and the situations she has to go through there. Ever since the first season of the series has wrapped up, fans are waiting for the release of American Auto Season 2. So, here's what we know about it. 
What Will American Auto Season 2 Be About?
The first season of the series revolved around Payne Motors' agreement with consequential changes because Kathrine had been appointed as the new CEO of the company. They dealt with several troubles together and found some coordination in their very different working styles. There were several PR disasters for Payne motors in the first season. However, Katherine effectively deals with them. At the end of the first, the team was trying to work upon Kathrine's public image as Magazine wanted to do a TV interview with her.
When the series returns for American Auto Season 2, it will continue the story after the first season's events. We are likely to see more of Kathrine's adventure in her new job as the CEO of American Auto. However, we can anticipate her gaining more industry experience and learning more about it over time. As viewers become more invested in the individuals, there is a chance of emotional turmoil; workplace romance is also not out of the question.
When Is American Auto Season 2 Coming?
The first season of the series was released on NBC on December 13, 2021, with the season finale coming on March 8, 2022. Now talking about American Auto Season 2, the network has not released any official confirmation about the second season yet. This is not surprising given that it has been less than a week since the first season dropped. So, we will have to wait a little more till the picture gets clear.
The showrunner Justin Spitzer has also said, "I think because of COVID, we probably didn't have as much time for as many takes as I'd like to use in future seasons. And it's a constant conversation we have; each of the actors talked to the writers at the beginning of the season to get their takes. Especially as the series goes on, they start to know their characters more than we do. So, I think it's important to get their perspective."
Is It A Real Story?
'American Auto,' however, is not based on a factual story. However, the show does steal some elements from reality for its fictitious premise. For example, it appears that the 100-year-old family-owned Payne Motors is closely based on the famed Ford Motor Company; the founder, Henry Ford, produced his first-ever car in Detroit in 1896 and later created the automotive assembly line. In fact, Ford is responsible for a portion of Detroit's nickname, "Motor City."
The show delves deep into the problems of Payne Motors, employing exaggerations and delightfully blown-up situations. Hastings is gifted, but his background is in the pharmaceutical industry. The show also discusses how corporations frequently make mistakes when it comes to social and political concerns, such as racism, and then attempt to rectify the situation hastily and ineffectively.
American Auto Cast!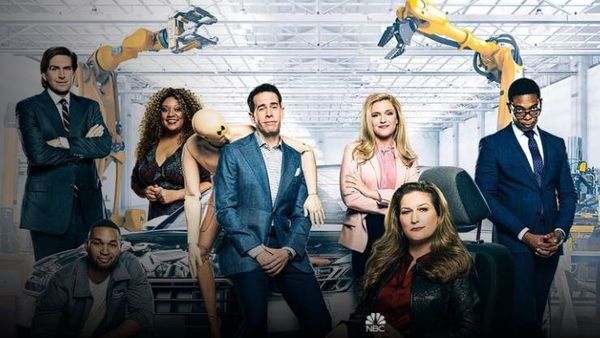 NBC's sitcom features an ensemble of powerful performers. The series stars Ana Gasteyer as Katherine Hastings, the new CEO of Payne Motors. The cast also includes Harriet Dyer as Sadie Ryan, Jon Barinholtz as Wesley Payne, Tye White playing Jack Fortin, and Michael Benjamin Washington appears as Cyrus Knight. If the series comes back for a second installment, then we expect most of the original cast members to come back in their roles. Furthermore, American Auto Season 2 may also bring some new cast members in new characters.
Also Read Woke Season 2: Hulu Renewed The Comedy Satire For Second Run, Keith Knight Discussed Future Plot