It looks like Vandal will lead another attack to gain control of Atlantis in Young Justice Season 4 Episode 18. Mera would be crowned as the new high king of Atlantis with Arion's crown. Moreover, Superboy will need Lex Luther's help to escape the Phantom Zone and get back to life. So, keep reading ahead to learn all the essential updates about episode 18.
Young Justice Season 4 Episode 18 Precap: What Will Transpire?
The eighteenth episode of Young Justice Season 4 is titled "Beyond the Grip of the Gods." Vandal will concoct another strategy after his previous plan failed miserably. Mera has taken the throne of Atlantis. Vandal might pose some threat to Mera and her new throne in order to gain control of Atlantis.
Moreover, it will be interesting to see if Lex Luther brings Superboy back to life by helping him escape the Phantom Zone. Further, Rocket will be forced to have a reality check, leading to some thought circumstances. It seems like the reality has come to collect Rocket's debt in episode 18.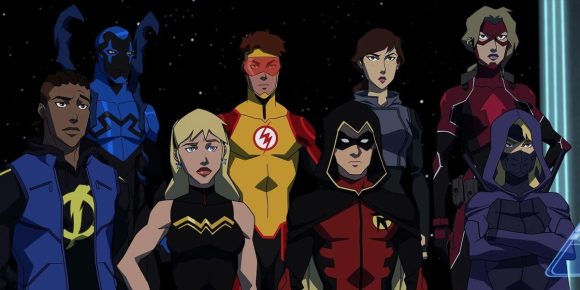 A Quick Recap!
In the previous episode, Arthur talked with the Ocean master's clone and tried to convince the clone that he was not Arthur's brother. Megan tried to convince the clone that she could get inside his brain and open the unsuppressed memories to reveal the truth. But, the clone was not ready to trust them, so Arthur decided to leave.
Moreover, in Young Justice Season 4 Episode 17, Kaldur'ahm, La'gaan, and Wyynde were forced to fight a huge crab monster in the deep sea. They managed to defeat the monster and got their hands on Arion's true crown, which had been lost when Atlantis sunk into the sea. Soon after, they had to deal with a beast named Leviathan, who woke up and came after them. Luckily, they managed to escape safely just in time.
Further, things got tricky when the people of Xebel protested in support of Arion to become the high king as per the prophecy. The other states also came in support of the decision to make sure Arion became the king. But, Mera's father was against the decision as he wanted to be the king. Meanwhile, the clone Orm asked Megan to see through his mind and revealed his true memories. As per his plan, Megan saw that he was just a normal person who was put inside Orm's body by Vandal Savage. Savage created a clone of Arion and put Orm's soul inside it. He wanted to make sure Vandal got control when Arion's clone became the high king of Atlantis.
Arion's Brown Destroys Vandal's Clone
Elsewhere, Megan was late in telling Arthur the truth, and Arion's clone was voted the high king. Arthur knew nobody would believe him. Soon after, Kaldur'ahm and the other brought the crown. And Arion took it away to wear it. Arthur tried to stop him, but the clone did not listen. The crown was made of pure magic from the lords of order. It wiped out the clone Arion's body with Orm's soul inside it.
Arthur revealed that any of the three fighters who defeated the red death would become the high king as per the prophecy. Mera was the winner, and everyone voted unanimously in favor of Mera, including her father. Eventually, Doctor Fate approached Vandal and told him that he was a fool to think the lords of the order would let his clone wear Arion's magical crown. Elsewhere, Superboy felt a hand on his shoulder in the Phantom Zone. The hand turned out to be Lex Luthor's in Young Justice Season 4 Episode 17.
Young Justice Season 4 Episode 18: Airing Date
HBO Max will release Young Justice Season 4 Episode 18 on April 14, 2022. The network drops a new episode weekly on Thursdays at 3:00 a.m. ET. And the current season will feature 26 episodes in total.
Where To Stream Episode 18 Online?
If you miss the upcoming episode on HBO Max, you can stream it on Amazon Prime Video, Google Play, Vudu, Xfinity, iTunes, Google Play, and Hulu. So, don't miss out on episode 18 and keep returning for more thrilling episode previews only on TechRadar247.com.