It looks like Dexter and Harrison finally feel comfortable around each other in Dexter Season 9 Episode 9. They have been through a lot after Kurt tried to kill both of them. He will continue to come after Dexter and his son to seek revenge. Moreover, he might play some mind games to flush Dexter out.
However, as Angela comes closer to Dexter's truth, things might get tricky for the Bay Harbor Butcher with threats coming from two directions. Hence, continue reading ahead to know all the essential details about the penultimate episode.
Dexter Season 9 Episode 9 Precap: What Will Happen?
The upcoming episode of Dexter Season 9 is titled "The Family Business." Dexter and Harrison will finally feel a connection between them during the Christmas break. Dexter will tell the truth about himself to his son and help Harrison control his feeling using a code just like Dexter's father taught him. They will discuss the details about Dexter's dark passenger in Dexter Season 9 Episode 9. 
However, the father and son duo is threatened by a deadly serial killer in the form of Kurt. He is hell-bent on avenging his son's murder. Moreover, Angela will discover some dark secrets about Iron Lake, which would make her wonder about the hidden realities of the town. Also, Molly will continue to talk about the Bay Harbor Butcher while Angela finds more clues about Dexter being a serial killer.
A Quick Recap!
In the previous episode, Dexter had been kidnapped by Elric Kane. However, he used his cuffs to attack Kane on their way to meet Kurt. The car got crashed, and Deter was thrown out of the windshield. Kane began shooting and hit Deter in the leg. However, Dexter somehow survived to manage to hide in the woods.
Moreover, Logan informed Angela about Dexter assaulting a drug dealer at the bar after Harrison overdosed. She questioned the dealer Miles about what happened that night. Logan also revealed that Miles' boss, jasper Hodge, was found dead in his apartment. Angela and Logan began suspecting Dexter as the two timelines coincided.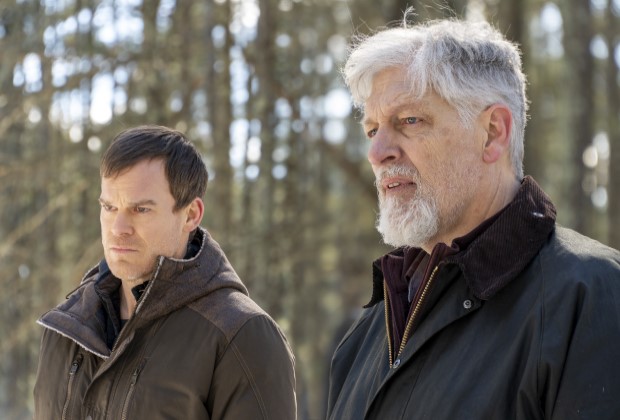 Meanwhile, in Dexter Season 9 Episode 8, Kurt drove Harrison to the school and showed the trophies that Matt had won. He taught Harrison to play baseball and used a machine to hit him. Harrison eventually got angry, remembering about his fights with his father. Dexter laid a false trail for Kane in the woods while escaping through a different route. He managed to reach a summer camp where Dexter found a few tools, including a kitchen knife.
When Kane showed up, Dexter attacked him with a knife. Kane revealed that he was supposed to take Dexter to Kurt's cabin and begged for mercy. However, Dexter killed Kane and left the camp. Moreover, Angela found a needle mark on Jasper's body, suggesting Dexter's involvement in his death. 
Kurt Tries To Kill Harrison!
Harrison received a message from Dexter using Kane's phone, but he ignored it. He was having dinner with Kurt at the cabin, where when he expressed his frustrations towards Dexter, Kurt got up and brought out the rifle and the ski mask. He wanted Harrison to pay for Dexter's sin. Kurt ordered Harrison to run while aiming at his back. Suddenly, Dexter appeared, and Kurt fleed from the spot. The father and son duo reunited and left the cabin safely.
At her house, Angela investigated the matter involving Jasper and miles. She found that Ketamine was injected into their bodies using needles. When Angela looked for cases related to Ketamine in Miami, she came closer to knowing about the Bay Harbor Butcher. In the car, Dexter explained everything to Harrison. He assured Harrison that he was not alone with his dark thoughts, and Dexter would teach him a code to help his son in Dexter Season 9 Episode 8.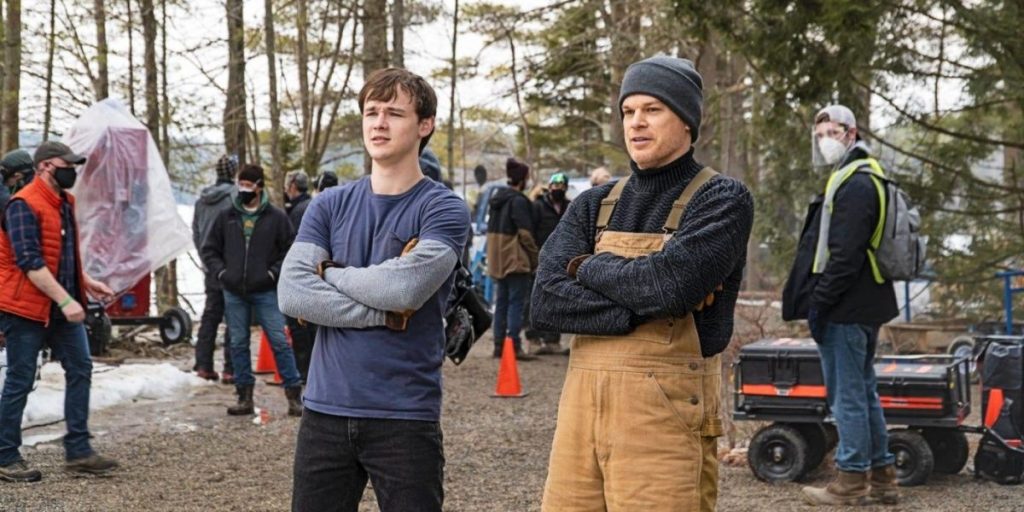 Dexter Season 9 Episode 9: Airing date
Showtime will air Dexter Season 9 Episode 9 on January 2, 2022. The network will air the penultimate episode this Sunday at 9:00 p.m. ET.
Where To Stream The Ninth Episode online?
If you miss Showtime's broadcast, fans can stream the upcoming episode on the network's website, Amazon Prime Video, Fubo TV, Sling TV, and YouTube TV. So, don't miss out on the penultimate episode and keep returning for more thrilling previews.