Wednesday has served as one of those Netflix original series that changed the fate of the streaming giant. The comedy horror series became the second most watched English series and left the viewers awestruck. It not only garnered positive reviews but was highly appreciated for its plot and setting. Moreover, the unexpected turns and twists kept the fans hooked up until the end. On the other hand, Wednesday concluded its story but also left behind many aspects that would be covered in the second installment. However, among all the prominent questions, fans are searching curiously about Eugene. The round-faced guy has helped Wednesday Addams and is considered a good friend of hers. But did Eugene die in Wednesday? Let's find out.
Created by Miles Millar and Alfred Gough, the show debuted on November 23, 2022. Seeing its popularity and overall reception, it received a quick renewal in January 2023. Moreover, the show is set in a fictional private school called Nevermore Academy, particularly for monstrous outcasts. Further, Jenna Ortega portrayed the titular character, Wednesday Addams. Her on-screen cold and emotionless personality won millions of hearts. Her psychic abilities and Nevermore's mysterious history form most parts of the story.
Did Eugene Die In Wednesday?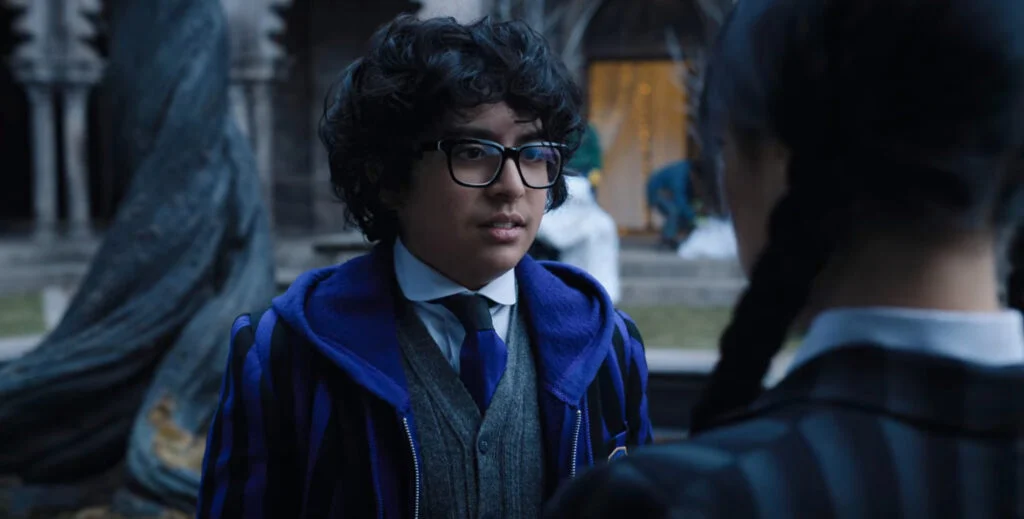 Eugene Ottinger, played by Moosa Mostafa, is a young student at the Nevermore Academy. He has a charming personality and is one of the quirkiest students. Eugene was also appointed as the president of the bee-keeping club. The conversation between him and Wednesday started when the latter saved him from being bullied. She mentioned that Eugene is exactly like her brother, who cannot fight for himself. Further, she elaborated on the story to him. Wednesday said when his brother was bullied, she took revenge by releasing piranhas into the pool where the accused students were swimming.
Wednesday also joined the bee-keeping club and found him there. However, at that moment, Eugene had no idea of the investigative work that she was trying to carry out. Gradually, he became suspicious of her behavior and actions, which ultimately led him to discover a monster cave. On the day when the academy was busy enjoying a party, Eugene rushed into the forests. Meanwhile, Tyler and Wednesday's dance was interrupted, and then suddenly, she received a psychic vision of Eugene. She saw him in danger and quickly followed him into the woods. So, did Eugene Die in Wednesday?
The girl had to search for him before the mysterious monster could harm him. On the other hand, Eugene Ottinger curiously entered the cave with a flashlight in his hands. Unfortunately, the monster showed up and attacked him. Before Wednesday could see him, he was severely injured, and the near to death incident made him lose consciousness. Then after, he was admitted to a hospital, and his condition was critical. Eugene went into a coma, but later on, he recovered and helped Wednesday in finding the monster. Thus, he never died in the series instead was in a coma after the accident.
ALSO READ: Is Bad Bunny Gay: From Queerbaiting To Dating Kendall Jenner, Know What The Rapper Is Up To!
What Did Eugene Say About The Monster?
When Wednesday visited him at the hospital, Eugene said that he did not remember much about the monster. But he mentioned the black clothes and boots that he saw randomly. He added that after a sudden explosion of light, the boots did not seem black to him; instead, they were red in color. Following the description, she went to Marilyn. Wednesday explained everything to her, but she denied the facts at first. The next moment, the teacher showed her true colors ad took her away. Eugene, on the other hand, asked Enid about her.
READ MORE: Love Is For Suckers Episode 13: Yeo Reum Dies? What's Next? Know Where To Watch
How Did Eugene Help Wednesday In Defeating Gates?
In the last episode, Laura Gates arrived in front of Wednesday Addams, pointing a gun toward her. Although Crackstone was destroyed with the help of Bianca, Laura was desperate to kill Wednesday. At first, she was desperate to kill all the outcasts, but the circumstances changed her decision.
Gates said that she would be satisfied if she succeeded in taking Wednesday's life. But, before she could fire the bullet, Eugene appeared with his bees. All the bees attacked Laura Gates, and finally, she was defeated. Lastly, Nevermore was closed for a short period of time.
MUST-READ: Taxi Driver Season 2 Episode 16: Finale! The End Of Do-gi's Saga? What's Next?
Who Killed The Monster?
The monster was none other than Tyler. In his hyde form, he transformed into a psychic and dangerous monster who used to remove a particular body part. Sherrif was also shocked to see his son in such a transformation. Nevertheless, Enid turned into a wolf on the moon day and stopped Tyler. Enid's sharp nails and piercing teeth gave a lot of bruises to his body. They fought vigorously, and finally, Enid's powerful punch defeated the monster.